Shimanami Kaido, a driving route connecting Onomichi city, Hiroshima Prefecture, and Imabari city, Ehime Prefecture, is known not only nationwide, but also worldwide as a popular cycling road where you can enjoy nature. Along the route stretching approximately 70 km there are 6 islands and 8 bridges, with about 200,000 people per year enjoying cycling. This time, I will report for beginner cyclists about information on the Shimanami Kaido, must-visit extraordinary viewpoints along the way, and rental bicycles. How about enjoying cycling while watching the spectacular view along the route connecting Japan's Honshu and Shikoku islands?
Let's cross the Shimanami Kaido by bicycle
World-popular cycling road, Shimanami Kaido
What is Shimanami Kaido? 
The entire country of Japan is composed of 4 major islands: Honshu, Shikoku, Hokkaido, and Kyushu. Shimanami Kaido is a driving route bridging the waters between two such islands. It connects Onomichi city of Hiroshima Prefecture, located in Japan's Honshu island, and Imabari city of Ehime Prefecture, on the Shikoku island.
Fully opened in April, 2006, it is a route by which you can cross the ocean from Honshu to Shikoku without using a boat. Although the Shimanami Kaido was mainly constructed as a motorway, almost all of the route has a bicycle and pedestrian path. The road is surrounded by an endless expanse of nature, and you can enjoy spectacular sceneries with islands and the sea. Many cyclists have been fascinated by this route where it is possible to enjoy superb views while biking above the ocean.
Around 200,000 people per year visit for cycling
Due to its popularity, CNN has introduced this route as one of the world's top 7 cycling locations. Every year, many bicyclists visit to ride not only from Japan, but from around the world.
Travel the full length of the approximately 70 km journey with 8 bridges 
The route for bicyclists and pedestrians has a total length of about 70 km. If you are crossing the Shimanami Kaido by a bicycle or a scooter using the path, the toll fee is 500 yen. 
Between the starting point in Onomichi city, Hiroshima Prefecture, on the Honshu side to the end point in Imabari city, Ehime Prefecture, there are 6 islands scattered along the route: Mukaishima, Innoshima, Ikuchijima, Omishima, Hakatajima, and Oshima. Connecting the 6 islands along the cycling course are 8 bridges named Shin Onomichi Ohashi, Onomichi Ohashi, Innoshima Ohashi, Ikuchibashi, Tatara Ohashi, Omishimabashi, Hakata Ooshima Ohashi, and Kurushima Kaikyo Ohashi. It is a long distance but the further you ride, the more the more satisfying the finish line is.
One of the 8 bridges: Tatara Ohashi
Cycling is not the only thing Shimanami Kaido offers. You can view the rich landscape with the islands and ocean, stay at a guest house and enjoy the companionship of other cyclists, or spend time at cafes and restaurants. Along the trip, you will come across many locations to enrich your cycling journey, and make it an even more memorable experience.
Beginners can take it easy with two days for cycling
The usual bicycle speed is about 10 km per hour. Although the Shimanami Kaido bicycle pedestrian path is maintained, there are many ups and downs. I recommend you to plan for a trip with some leeway, spending a full 2 days for one way.
The prefectural border between Hiroshima and Ehime is Tatara Ohashi
The suitable seasons for cycling are spring or autumn, when the weather is reliably comfortable. Especially during Golden Week in May, there are many cyclists so you might have the chance to meet new people while enjoying the sport.
Relaxing at a guest house during your trip is recommended!
To cross the Shimanami Kaido at your own pace comfortably over two days, it is also important to choose a good lodging facility and rest your tired body after the long ride.  Since you are challenging yourself with the Shimanami Kaido cycling route, I assume that you would like to meet other cyclists. To stay at a hotel or Japanese style ryokan with full hospitality is good too, but I recommend that you stay at a guesthouse where you have the chance to interact with other cyclists. 
There are a variety of guesthouses along the Shimanami Kaido.
The guesthouse is a place where a variety of people gather and share their travel stories, and lone travelers always receive a warm welcome too. Some of the guest houseshave a café or a hot spring. Look around, and you are sure to find the ideal guesthouse for you
Bike rental places facilities are also abundant and great for beginners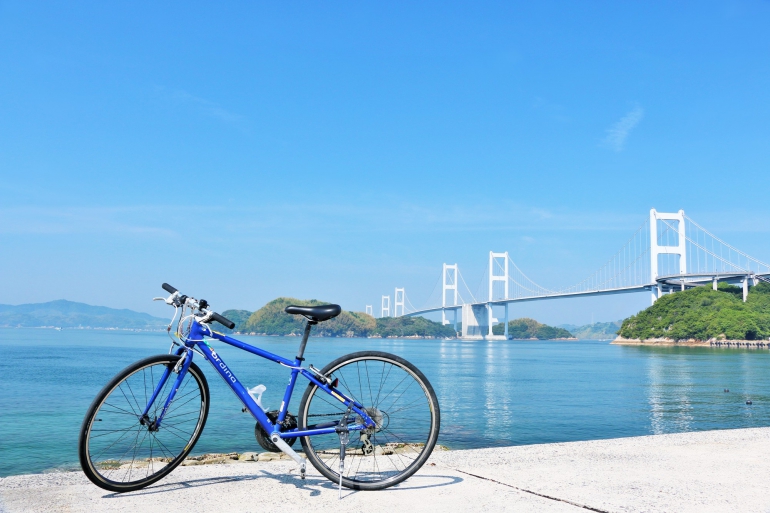 Beginners should check a bike rental store first!
There are 13 publicly managed bike rental locations!
If you do not have a bicycle, you can not start cycling. Even if you do not have a proper bicycle such as an electric assisted bicycle or a cross bike there is no need to worry. Along the Shimanami Kaido, there are 13 publicly managed bike rental facilities to assist cyclists.
There are six types of bicycles that you can rent such as an electric assisted bicycle, a tandem bicycle, a cross bike, a small wheel bicycle, a street bicycle, and a children's bicycle. All of them except for electric assisted bicycles and tandem bicyclescan be returned to any of the 13 locations.
The rental fee and a deposit need to be prepaid. If you return the bicycle to a different location from where you rented then the deposit is not returned. Also, you should note that the charge for each type of bicycle varies. 
There are return-only locations in Imabari city 
By the way, other than the 13 public management rental locations, in Imabari city there are several places that accept returns only such as the bicycle parking lot in front of the Imabari city hall, and 24 designated hotels and Japanese hotels (ryokan) in Imabari city (Only people who stay at a designated hotel can use that hotel as a drop off site). To enjoy care-free cycling, I recommend that you plan beforehand where you will pick up and return the bicycle.    
Use a boat to Mukaishima with the bicycle you rented in Onomichi city
After you rent a bicycle in Onomichi city, Hiroshima Prefecture, your journey through the Shimanami Kaido begins. You will use a boat from Onomichi city to Mukaishima and then your cycling will start. You can ride this boat at a reasonable price of only 100 yen per adult and 10 yen extra charge per bicycle.
On the return trip, enjoy the Shimanami Kaido from a boat
Use a boat and have a smooth trip!
If you finish crossing the Shimanami Kaido in two days, it is also enjoyable to use a boat for the return trip to enjoy a different landscape. Of course you can use the boat for the outward trip to shortcut some of the route. Boats allowing you to board with a bike are operating from each island, so I recommend that you check the schedules.  
Setouchi (Seto Inland Sea) cruising 
An express boat connects Onomichi and Ikuchijima, the third island from Onomichi. The boat ride takes about 40 minutes one way, and takes you roughly to the center of the Shimanami Kaido. 
If you want to get off between Onomichi and Ikuchijima, then you should use the Onomichi~Setoda ferry route, which will stop at Onomichi station, Onomichi Shinhama, Innoshima Shigei-higashi, Sunoue, Setodasawa, and Setoda. Please note that the departure times on weekdays, weekends and holidays are different. Check for further information at their official website.
Geiyo Kisen (ferry boat) 
This is an express boat operating between Imabari and Innoshima, the second island from Onomichi. A one way trip will be about one 1 hour and 15 minutes. Some of the ferries will not allow you to board with a bicycle, so you should check beforehand if you intend to do so.
The boat will stop at 8 points such as Imabari, Tomoura, Kiura, Iwaki, Sashima, Yuge, and Habu. The boat allowing you to board with a bicycle operates 6 times a day. For information, you can visit their official website.
3 superb viewpoints of nature's beauty
Ikuchibashi, the fourth bridge from Onomichi city
The greatest pleasure of cycling the Shimanami Kaido is none other than the many sceneries, whose beauty will surely etch themselves into your memory. The knowledge that you pedaled yourself to that view with your own legs makes it that much more precious. Lastly, I will introduce some great viewpoints that you can see when cycling along the Shimanami Kaido.
See the chalk lighthouse at Innoshima Bridge Memorial Park
You can see the Innoshima Ohashi from the Innoshima Bridge Memorial Park
About 20 km after you depart from Japan's main Honshu island, you will see Innoshima Ohashi Bridge connecting Mukaishima and Innoshima. This is the first bridge that you will cross during your trip over the Shimanami Kaido.
As you almost finish crossing the 1 km length bridge, the Innoshima Bridge Memorial Park will gradually come into view on the right. This park was built to commemorate the completion of Innoshima Ohashi Bridge, and the Ohamasaki Lighthouse in the park creates a beautiful scenery that I truly hope you would visit. The white of the lighthouse contrasts beautifully with the blue sky behind it.

Ohamasaki Lighthouse
The sea that Innoshima Ohashi crosses is called "Mekari Seto" and the Ohamasaki Lighthouse was built for the safety of the strait. Surprisingly, this lighthouse has been working for 125 years since it started operation in 1894.
Beautiful clear water at Setoda Sunset Beach
Setoda Sunset Beach is located about 30 km after you depart from Hiroshima Prefecture.
This beach has been selected as one of the 88 great beaches in Japan and has bright white sand with crystal-clear water. Furthermore, it owns a beautiful view of the sunset that is known to be the best in the Seto Inland Sea. Under the sunset the sky is painted a brilliant red, and the many islands on the horizons become enveloped in shadows. Light and shadow combine to create a fantastic landscape.
After you enjoy the scenery, I recommend that you stop at the beach restaurant and have some food for a brief break. Since there are showers and locker rooms, why don't you refresh your body and relax?
Night view of Imabari City from Kirosan Overlook Park 
Kirosan Overlook Park is located about 65 km from the starting point at Onomichi city, Hiroshima Prefecture. This park is on top of Kirosan mountain on Oshima, the last island of the route just before arriving at Shikoku. I definitely recommend visiting this superb viewpoint during the evening of the second day cycling. 
Kurushima Kaikyo Ohashi view from Kirosan Overlook Park
The peak of Kirosan mountain has an elevation of 307 meters. Pedaling up this incline after a 2-day long cycling journey may be an ordeal, but the vast and breathtaking panorama at the peak is worth the effort. The view from 307 meters is of the vast Seto Inland Sea and the Kurushima Kaikyo Ohashi connecting Imabari and Oshima. The majestic view makes even the longest bridges you encountered, seem tiny.
Let's experience Shimanami Kaido's majestic natural world through cycling.
Shimanami Kaido is a world popular cycling road. The experience of cycling the 70 km route cannot be found anywhere else, not to mention the feelings of success when you finish and see the superb natural views of the Seto Inland Sea.
Since there are various support services available, even beginner cyclists can try with confidence. Invite your family and friends, and embark on this cycling journey through mother nature!