Saitama Prefecture has many sightseeing areas and viewpoints, such as a preserved antique townscape in Kawagoe City, beautiful natural landscapes in Chichibu City, and a new theme park in Hanno City. The Soka rice crackers and Jumangoku Manju are some of the most famous souvenirs of Saitama, but the prefecture also has a wide variety of Manju (sweet bean buns) that have been long-loved by locals.
In this article, I will introduce the specialty must-try Manju of Saitama Prefecture!
*Business hours and prices may temporarily change. Please check beforehand.
1. The Iga Manju of northeastern Saitama inspired a local mascot!
Igamanju is a sweet bun loved by locals of northeastern Saitama Prefecture from many years ago. This Manju is a local sweet which was selected as one of the "Nationwide 100 Best Local Dishes" by the Ministry of Agriculture. Unlike most other Manju that are often wrapped in rice cake or wheat-based breading, This unique Manju is wrapped with red rice and is enjoyed at summer festivals or on auspicious occasions for good luck.

Igamanju handmade every morning at the factory (Photo: Kiyasse Hanyu)
The name "iga" comes from the Manju's appearance. "Iga" is the word for the spikes on chestnut shells, and was adopted into the name because the red rice wrapping was thought to look like a chestnut shell. Why did these Manju come to be wrapped in red bean rice? The official website of Saitama Prefecture explains the history of this Manju.
It is said that the reason to put Manju inside of the red bean rice was to increase its volume because one of the ingredients of standard Manju coating, sticky rice, was very expensive at the time. It is also said that the sweet began from one farm wife's idea to save effort when she thought about making red bean rice and Manju at the same time.
Local mascot "Igaman-chan" (Photo: Hanyu City Tourism Promotion Division)
Hanyu City's local mascot "Igaman-chan" was modeled after the popular sweet Iga Manju. The mascot's most recognizable design is the head that looks like an Iga Manju.

Igamanju ¥130 each (Photo: Kiyasse Hanyu)
There are 7 places in Hanyu City where you can buy Igamanju and one of the stores is in the commercial building Kiyasse Hanyu.
The Iga Manju produced at the store "Cosmos Kobo" inside are made from ingredients such as sticky rice and sasage (red beans) grown in Hanyu City. The wheat, one of the ingredients of Manju, is the Japanese domestic brand "Akane". The bakery has a dedication to make their products with as many local ingredients as possible.
Of course, no artificial preservatives are used. The Manju are all handmade by the wives of local farmers, starting at 6:30 every morning inside the Kiyasse Hanyu factory.
Kiyasse Hanyu also offers a trial Iga Manju cooking lesson. How about trying it for your memorable experience? 
Mujinamo Market inside Kiyasse Hanyu sells Iga Manju (Photo: Kiyasse Hanyu)
In addition to Hanyu City, Iga Manju is produced in Konosu City, Kazo City, and others. Iga Manju made by Cosmos Kobo is sold at a shopping mall, Tohoku expressway rest area, and hot spring facilities in Hanyu City.  
【Cosmos Kobo information】
Address: Inside Kiyasse Hanyu - 1725 Oaza Mitakaya, Hanyu City, Saitama Prefecture  
Phone: 048-565-5255
Business hours: Mujinamo Market | April - October 10:00-17:30 / November - March 10:00-17:00
Closed: Monday (Closed on the Tuesday if Monday is a national holiday)
■ Iga Manju workshop
Price: ¥1,000 / person (1 group of more than 15 required)
*Reservation required
*Foreign language support is not available
2. Misozuke Manju: A delicious street food of Hanno City
Misozuke Manju are freshly baked after the order is taken
Misozuke Manju is the local specialty of Hanno City that has persisted since the Edo period. It is considered an example of a "B-Class Gourmet" food - a Japanese colloquial term for affordable, hearty, and delicious cuisines that often have strong ties to their regions. To make a Misozuke Manju the sweet Manju is first steamed with sake, then baked, and finally coated in a sweet miso sauce. It is said that workers who transported lumber had them in their lunch box.
Misozuke Manju is a Hanno City comfort food, and was awarded second place at the 11th Local B-Class Gourmet Championship in Saitama Prefecture.
 

Ishidaya Confectionery founded about 70 years ago
There are 3 shops selling Misozuke Manju in Hanno City. Ishidaya Confectionery is one of them, and is the most conveniently located one, at a 5-minute walk from Hanno Station.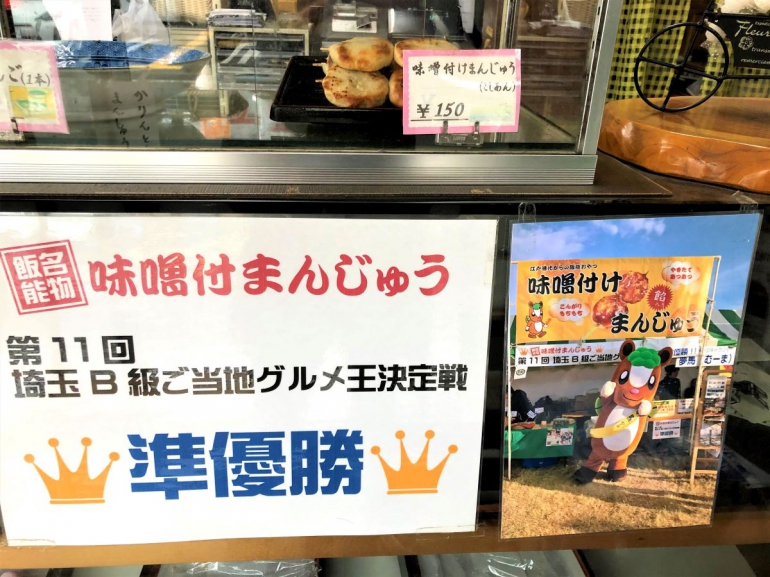 Written on a sign: "Second place at the 11th Saitama Local B-Class Gourmet Championship".
Misozuke Manju at Ishidaya Confectionery is popular because the handmade miso's taste matches with the sake's flavor. Ishidaya also takes pride in baking the buns only after the order has been made.
The crust of the freshly baked hot Manju is crunchy with a solid miso taste. When you bite into the glutinous inside of the Manju, the rich taste of sake and sweetness of the bean paste gradually spread into your mouth.

The third-generation owner Ms. Yuriko Ishida
The second-generation owner, Mrs. Ishida's husband, passed away in 2011. Mrs. Ishida first thought about closing the bakery but many people, including her relatives, neighbors and her child's classmate's mothers, wished for her to preserve the flavor of Ishidaya. Since then, she has been endeavoring to recreate the flavors created by her husband.
Ms. Ishida told me that the most difficult part was manipulating malted rice to shape the Manju dough.
She told me "the dough made from malted rice was very sensitive to temperature, and fermentation often failed due to this, requiring a lot of trial and error. Although this has no effect on the flavor, the resulting Manju might not expand as I want it to, or even fall apart. Every time I failed, I sold them at a cheap price to the neighbors who continued to encourage me. Sometimes frequent buyers gave me advice about the taste, and friends helped with the preparation. If I had not received such help, I could not have made it to this point."
After a whole year of trial and error, she finally achieved the Misozuke Manju that she sought after. She told me that even now, neighbors help out with morning preparation, and when she booths at events. I can feel how her store is loved by locals.

Hanno Station is about 40 minutes by express train from Ikebukuro Station
Hanno City is expected to become more popular after the opening in 2019 of the amusement park  Moomin Valley Park. Please enjoy it together with the unique flavor of Misoduke Manju, only available in Hanno City.
【Ishidaya Confectionery information】
Address: 20-21 Yanagimachi, Hanno City, Saitama Prefecture
Phone: 042-972-4700
Business hours: 9:00 - 18:00
Closed: Monday
3. Imokoi Manju: the natural potato flavor of Little Edo, Kawagoe
In Koedo Kawagoe, a popular tourist area of Saitama Prefecture, one souvenir that is receiving the spotlight is the Imokoi Manju, sold by Kashou Umon and certified as a "Sainokuni Quality Brand".
The #1 Kawagoe souvenir, Imokoi Manju (Photo: Kashou Umon)
This Manju with a nostalgic taste is made with local Kawagoe specialty sweet potatoes and mashed sweet bean paste, then wrapped with dough made from yams and sticky rice flour. The bakery's attention to ingredients has created a Manju with a hearty, mochi-like texture, that has gained popularity for the flavor of its breading.
 

Imokoi Manju are handmade one by one (Photo: Kashou Umon)
Kashou Umon was first founded in Kagurazaka, Tokyo. The Imokoi Manju was born when Kashou Umon established its Kawagoe Branch, and the owner hoped to contribute to the region by making sweets using the local specialty sweet potatoes.

Most of the manufacturing process is by hand (Photo: Kashou Umon)
On busy days, a maximum of about 10,000 Imokoi Manju are made. Starting from the peeling of the potatoes, I am told that the processes are almost entirely done by hand.
The sweet potato's texture and taste will gradually change while they are in storage after being harvested. When freshly harvested, their taste and texture is soft, fluffy, and less sweet. As time passes, the potatoes become sweeter and the texture becomes more glutinous. The craftsperson must rely on their intuition to control the flavor and texture of the dough according to the time of the year.
Since the bakery is not using any additives and preservatives, the freshly made Manju for mail orders are quickly frozen to protect the flavor.
Kashou Umon's Toki-no-Kane branch is next to the sightseeing spot Toki-no-Kane (Bell of Time)
According to the "Kawagoe Recommended Souvenir Survey", Imokoi Manju became the top souvenir and is an indispensable famous confection in Kawagoe.
Of course the Imokoi Manju can be eaten as is, but some customers suggest warming it in a microwave and then baking it in a toaster to enjoy a crunchy surface. There are various ways to enjoy it depending on your preference. The Imokoi Manju are popular to people of a wide range of ages. In one case, I heard that a grandchild bought the Manju to give to their grandmother, and ended up becoming a repeater themself after tasting it.
If you visit Kashou Umon's Toki-no-Kane branch, Ichibangai branch, or Kashiya Street branch, you can taste freshly made Imokoi Manju. How about taking a walk among nostalgic Japanese townscapes while eating it?
*Visit Kashou Umon's Official Website.
【Kashou Umon (Ichibangai branch) information】
Address: 1-6, Saiwai cho, Kawagoe City, Saitama Prefecture
Phone: 049-225-6001
Business hours: 9:00~18:00
Other branches in Kawagoe City: Kashou Umon factory direct sale store / Kashou Umon Toki no Kane branch / Kashou Umon Kashiya Street branch  / Kashou Umon Lumine Kawagoe branch
4. Maneki Usagi Manju: A Urawa specialty based on Tsuki Shrine's rabbits
In Urawa Ward, Saitama City, there is a shrine named Tsuki Shrine whose shrine gates are guarded by a pair of rabbit statues, instead of the usual dog statues. Since the name of the shrine "調" (Tsuki) is the same Japanese pronunciation as the word for moon "月" (Tsuki), the shrine is decorated with many rabbits, who are said to be messengers from the moon.

"Maneki Usagi Manju" is the specialty Manju of Urawa Ward, Saitama CIty
In Saitama City, connected to the rabbit theme, there is a very cute Manju named Maneki Usagi Manju. "Maneki Usagi" means "beckoning rabbit", and like the "beckoning cat" statues that are often seen at storefronts, is a name that sounds like it would bring plenty of good luck.
 

Shogetsudo
The Manju "Maneki Usagi" was created about 20 years ago when Urawa City (now Saitama City) asked the store to develop a city specialty. The bakery producing and selling this Manju is Shogetsudo, located about 7 minutes by foot from the Urawa Station east exit.
 

The second-generation owner, Mr. Kazuo Nakata
Shogetsudo is a long-standing shop with a 51-year history, but as Mr. Kazuo Nakata, the second-generation owner says, "Shogetsudo's dedication is to not have one". Inside the store are a variety of sweets that combine influences of both east and west, with some of them using butter. There are 5 varieties of Maneki Usagi Manju, such as azuki (sweet red bean), yuzu (citrus), ume (plum), kuri (chestnut), and beniaka (sweet potato). Yuzu Manju uses yuzu (citrus juice) harvested by farmers in Moroyama-cho, Saitama Prefecture. The fluffy crust with the yuzu flavor combines into a fresh taste after every bite.
*Beni-aka sweet potatos are seasonal, and numbers are limited. Pre-orders are required.
   
Maneki Usagi Manju dough is made using yam and rice flour. Rice flour is used to express the color of Tsuki Shrine's white rabbits, which regular wheat flour cannot express. The dough mixture of yam and rice flour produces a superb texture that melts in your mouth.
In addition, Kohaku Usagi Manju (red & white rabbit)  is also popular for celebrations (pre-order is required by 5 days before).  Although there are requests to sell them by mail order, this is difficult to  the Manju not staying fresh for more than 3 days (4 days in winter time). The owner's desire to produce high quality products can be felt.
Maneki Usagi Manju 6 for ¥660
The Manju are packed in a cute package perfect for souvenirs or gifts. You can buy them at Shogetsudo and the Urawa Tourist Information Center in Urawa Station.
【Shogetsudo information】
Address:2-8-16 Motobuto, Urawa Ward, Saitama City, Saitama Prefecture
Phone:048-882-5100  
Business hours: 8:30-18:30
Closed: Tuesday
5. Tsuitachi Manju, a one-day event with exclusive Manju!
Manju from 9 different stores, gathered for the Tsuitachi Manju event
In Saitama City, there is an event called Tsuitachi Manju every first day of the month. Various stores make special Manju sold only on that day. 
Originally, there was a custom in Saitama City to make Manju with flour harvested during that year and dedicated to deities on June 1 of the Lunar calendar (July 1 on the modern calendar). It was a day to relax and feast from the morning, after the busiest season of flour-making and rice-planting, evolving into the Tsuitachi Manju event.
Japanese traditional confectionary stores in Saitama City and the Saitama Chamber of Commerce launched the "Tsuitachi Manju no Kai (association)" in 2015 to revive the old custom.
 

Tsuitachi Manju no Kai chairman Mt. Takahiro Sato
Now there are 9 Japanese confectioneries participating in the association. Tsuitachi Manju no Kai chairman Mr. Takahiro Sato, on the staff of Iwatsukikasari Fujimiya confectionery, told me that the two rules for the Manju that can be sold at the Tsuitachi Manju event are: 
【1】Use flour solely from Saitama Prefecture.
【2】Sell Manju made solely for the Tuitachi Manju event 
It is not easy to fulfill the first rule since there is only one flour mill in Saitama producing Saitama Prefecture sourced flour.
The key person in the operation is a registered management consultant, Ms. Maiko Kawahara. 
Mr. Sato, the chairman, said to me how "The posters and displays demonstrate a great attention to detail," showing his full confidence in her ability. I am told that before organizing the Tsuitachi-Manju-no-Kai, Ms. Kawahara thoroughly did her research on the old customs of the area.

Ms. Kawahara takes charge of signs and store advertisements (Photo: Saitama Chamber of Commerce)  
"Since the Edo period, Saitama Prefecture has produced various products for Tokyo (Edo). I would like people to enjoy Saitama less for the tourist spots but instead for the charming local areas and the food of Saitama," said Ms. Kawahara.
At the Tsuitachi Manju event, all Manju are made with confectionery professionals' expertise. It is understandable that many repeat participants are looking forward to the event again.
The event in front of the Urawa Station ticket gate (Photo: Saitama Chamber of Commerce)
If you have a chance to visit Saitama Prefecture, why don't you confirm the date when the Tsuitachi Manju event will be held? Rare Manju which have not been sold at stores will be very special and great for souvenirs!
【Tsuitachi Manju no Kai】
Event date: First day of every month
Event location: West exit of Omiya Station, Sogo Department Store Omiya branch 2nd floor entrance
*Every type of Tuitachi Manju is sold at all the stores on that day.
*In June, July and November, the event is held at the area in front of the ticket gate at JR Urawa Station too.
Event information: Please visit the Facebook of Tsuitachi-Manju-no-Kai
Bring back your favorite Manju as your Saitama souvenir
This time I introduced several types of popular, locally-loved Manju. As you visit Saitama, be sure to visit these less-known Manju stores that are each filled with character, and bring home a souvenir that your friends might not expect!
From Tokyo, Saitama Prefecture can be visited in a day trip. Depart on a journey through Saitama's variety of Manju, to uncover some hidden gems!