Just south of Takehara City, Hiroshima Prefecture stands Okunoshima Island. This small island with a circumference of only 4.3km has grown a reputation as "rabbit island" over the years. This is because of the island's population of over 900 rabbits, all eager to greet their visitors.
Although Okunoshima Island endured a dark past, as well as being completely "erased from the maps" at one point, it has now been granted the status of national park. To mingle with the wild rabbits inhabiting the island, many tourists from both in and out of Japan set foot on Okunoshima Island, making it an incredibly popular tourism destination.
This article will explore the history of rabbit island Okunoshima, and introduce you to the island's rabbits along with images. Maybe one day, you will get to meet them yourself!
About Okunoshima Island
Takehara, Hiroshima Prefecture is a city nicknamed "Aki's Little Kyoto" (Aki being the area's former province name) due to its traditional townscape that is reminiscent of the gone Edo era. There, you will find "Tadano-umi Port" (appropriately nicknamed "the gateway to rabbit island") from which a ferry will take you to "rabbit island" Okunoshima in just 15 minutes.
Okunoshima is a small island only 4.3km in circumference, with no private housing or car access. It is often referred to as being unmanned, but that is not entirely true; 22 employees reside at the island's only hotel, "Kyukamura Okunoshima", and make up the island's entire human population. Okunoshima is a peculiar location where the human population does not even compare to the rabbit population.
On the island, you will find venues such as the Hotel Kyukamura Okunoshima, a camp site, the Okunoshima Poison Gas Museum, and the Okunoshima Visitor Center. All of these facilities combine to provide visitors with a time of learning and communion. Activities such as walking trails, observatories, and bike trails are open year-round for your recreation, and the summertime sees the annual opening of a swimming pool and beach. Just as much as it is the "Rabbit Island" for animal-lovers, Okunoshima is a great travel destination for those who love the outdoors!
Okunoshima Island's Past of Poison Gas Production
Contrary to its current reputation as the "rabbit island" of Japan, Okunoshima carries a dark past of poison gas production.
During the Pacific War of WWII between 1929 and 1945, the Japanese Imperial Army established factories on Okunoshima, in which poison gas was being mass-produced for the war effort. To hide this fact to Japanese citizens, the then-residents of Okunoshima were forcefully evicted, and the island erased from official maps. Even the factory workers were not informed of what they were producing until the post-war period.
Although the poison gas factory was closed down after WWII's end in 1945, the effects of the poison gas lingered on. The workers of the factories would suffer from the poison gas' residual effects, and many unused weapons were found later from the island. After 1960, Okunoshima finally became inhabitable to humans and as of now, it is a safe island with a flourishing rabbit population.
Remains of Okunoshima's poison gas factory
Becoming Japan's "Rabbit Island"
Now that Okunoshima has found its place back on the map, and overcome its past of poison gas production, it has become a popular tourism spot with a newfound reputation as Japan's rabbit island. How was it then, that such a large rabbit population took root in Okunoshima?
A rabbit by the old poison gas factory
There are many theories explaining Okunoshima's boom in rabbit population. Among them, the one thought to be most probable attributes it to the 1971 release of 8 rabbits into the wild, by a nearby elementary school. It is thought that this sparked a long and rapid increase in rabbit population, and the eventual acknowledgement of Okunoshima as the "rabbit island".
A rabbit by the beach
Meeting the Rabbits of Okunoshima
As you set foot on Okunoshima, you will realize that the rabbits are more than eager to greet you. The rabbits are incredibly loving towards humans, and will not be reserved in the slightest. While feeding them is not prohibited, no rabbit food is sold on the island. It will be up to you to bring them cabbage or carrots.
The adorable rabbits of Okunoshima
5 Things to be Mindful of when Meeting the Rabbits
At Okunoshima, rabbits will swarm you the moment you disembark your ferry. Being greeted by an entire flock of sparkling rabbit eyes, it might be tempting to immediately reach out, but there are several things you must keep in mind.
Above all, the rabbits of Okunoshima are wild. Not only are they naturally cautious animals, but they are also not used to being touched by humans. Here are 5 things to remember, to have a good time with the rabbits!
No chasing, no holding
While the rabbits will be eager to come to you, you must not try to pick them up or chase them around.
When held, the rabbits will desperately try to escape, and may injure themselves if they fall on the ground. The island has no vets, and the rabbits are not allowed to be taken out of the island. Rabbits are also known to have poor eyesight, so to avoid the risk of them falling into the water, or off of any ledges, it is best not to chase them either.
Watch where you mingle with the rabbits
Among the biggest threats to the island's rabbits are buses and bicycles. To avoid startling the rabbits and potentially making them run into danger, it is best not to mingle with them at roadsides, streets, and building entrances. Of course, it is dangerous to feed the rabbits at these locations too.
Okunoshima provides bike rentals, but it is likewise important to watch for rabbits when riding around. With a little bit of attention, Okunoshima can be a safe island for both humans and rabbits.
Keep your hands away from their mouths
As you feed and touch the rabbits, keep your hands away from their mouths. Rabbits have poor eyesight, and occasionally mistake human fingers for food. Their teeth are sharp, so be especially mindful of where children have their hands.
No human snacks and bread
When feeding the rabbits, be mindful of what you are giving them. Human foods like potato chips and bread are prone to causing health problems. Instead, bring rabbit-safe foods like cabbage and carrots. Raw vegetables can be bought at the supermarket near Tadano-umi port, and rabbit food is available for purchase at the ferry deck of the same port.
No littering
During your visit, hang onto the garbage that you produce. Not only does littering detract from the island's natural beauty, but it can also pose a threat to the rabbits that may accidentally eat the garbage.
Okunoshima also has locations for fishing, but you must also be mindful to not leave any fishing line behind. If they get tangled in the fishing line, the rabbits could get injured.
4 Must-Visit Venues on Okunoshima
Okunoshima is well-known for its rabbits, but there is more! To educate its visitors, the island inherits its dark history in the form of wartime ruins and the poison gas museum. To provide hospitality and recreation, the hotel "Kyukamura", a walking trail, and bike trail offer activities that envelope visitors in the island's rich nature.
In this section, we introduce 4 must-visit venues that prove Okunoshima is not just about the rabbits!
Kyukamura Okunoshima Hotel
Kyukamura Okunoshima is the only accommodation facility on the island. It comes from a chain of 37 resort hotels that all locate themselves in national parks, and in the case of Okunoshima, the entire island is part of the Kyukamura resort. Along with accommodation, camp sites and local food buffets are offered to hotel guests.
Keep an eye on the daily event programs too! Without reservation, hotel guests are able to participate in all kinds of events. Nighttime firefly-watching and morning walks with the island's rabbits are just a few to mention.
Kyukamura Okunoshima Resort
Okunoshima Poison Gas Museum
To never forget the existence of the former poison gas factory on Okunoshima, the Okunoshima Poison Gas Museum was constructed in 1988. To maintain the memory of those who fell victim to the island's history, the museum records historical documents, and displays maps during WWII when Okunoshima did not officially exist on them. The museum is a place of peace education that should be stopped by at least once during any visit.
Poison Gas Museum
World War II Ruins: Power Plants, Cannons & Poison Gas Warehouses
Across the island, a number of ruins remain from when Okunoshima still housed the poison gas factory. You will see remains of the former electricity plant, cannon batteries, poison gas warehouses, and several more.
Okunoshima was developed as a strategic point of defense for the Seto Inland Sea during the Meiji period, and had 3 cannon fortifications built in the northern, middle, and southern parts of the island. These were abandoned in the later Taisho period, but as WWII and the Pacific War arrived with the Showa period, were repurposed as poison gas storages.
Although the ruins are not open to the public, they are abundantly telling of Okunoshima and humanity's dark past that must not be repeated again.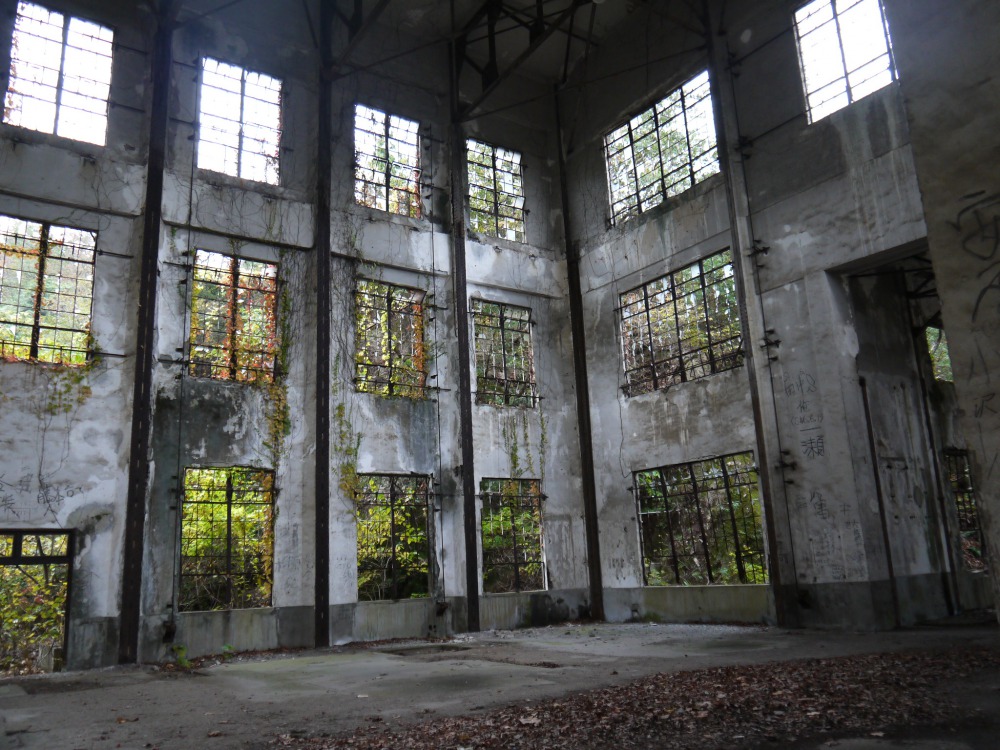 Power plant ruins
Observatory
The hilltop observatory can be reached via stairs too, but we recommend using the island's bike rental service. E-bikes are available too, so you do not need to be an athlete to try the climb! It does take some time and energy, but the island's very best viewpoint from this observatory is worth the effort.
The view from the observatory
Access
Nearest Station: Okuno Port 大久野港 (Omishima Ferry)
From Hiroshima Station 広島駅
【Hiroshima Sta.】Akiji Liner / for Itozaki
→【Tadanoumi Sta.】5-minute walk to Tadanoumi Port
→【Tadanoumi Port】Omishima Ferry / for Sakari
→【Okuno Port】
From Mihara Station
【Mihara Sta.】JR Kure Line / for Hiroshima
→【Tadanoumi Port】Omishima Ferry / for Sakari
→【Okuno Port】
From Hiroshima Airport
【Hiroshima Airport Sta.】Hiroshima Airport Line / for Mihara
→【Mihara Sta.】JR Kure Line / for Hiroshima
→【Tadanoumi Port】Omishima Ferry / for Sakari
→【Okuno Port】
Follow the Rules when Interacting with the Rabbits!
Okunoshima is otherwise known as a paradise of rabbits, and a slow day with the animals is no doubt any animal-lover's dream. Remember though, that the island originally belonged to the rabbits. Us tourists are merely visitors, and must not be a nuisance or threat to their everyday lives. To keep Okunoshima the safe island for rabbits that it is, it is important to follow the designated rules as we enjoy our stay.
Information
Address
Okunoshima, Tadanoumi-cho, Takehara-shi, Hiroshima