Hot springs are so abundant in Kagoshima that there is a saying "If you dig, you find a hot spring." The nationally famous Kirishima and Ibusuki Hot Springs are just a few of the many hot springs that Kagoshima proudly offers. There are many other unique hot springs throughout the prefecture that please hot spring fans all year round.
Out of the various hot springs all over Kagoshima Prefecture, for this article I have selected two special hot springs, Yunomoto Hot Springs and Kushikino Shirahama Hot Springs. Both hot springs are actively promoting local revitalization and intergenerational exchange, adopting the energy and of the ideas of the younger generation.
Kagoshima: Where hot springs flow left & right
Even when compared on a nationwide basis, Kagoshima is said to be a place with a large concentration of hot spring fans. In Kagoshima, it is not rare for people to have a set of "hot spring amenities'' prepared in their car. Since there are hot springs throughout Kagoshima Prefecture, it is possible to just drop into one and take a bath on a whim while driving.
In Kagoshima, even hot springs in the city centers draw from natural hot springs! Some unique hot springs include sand-steamed hot springs (Ibusuki Onsen) where guests are buried in hot sand, and Higashi Hot Spring in Satsuma Iwojima, where you can soak in a bathtub which appears as if hollowed out from a rocky bench.
"Hot springs kingdom" Kagoshima
The "Hot springs kingdom" Kagoshima is the "Land of Volcanoes"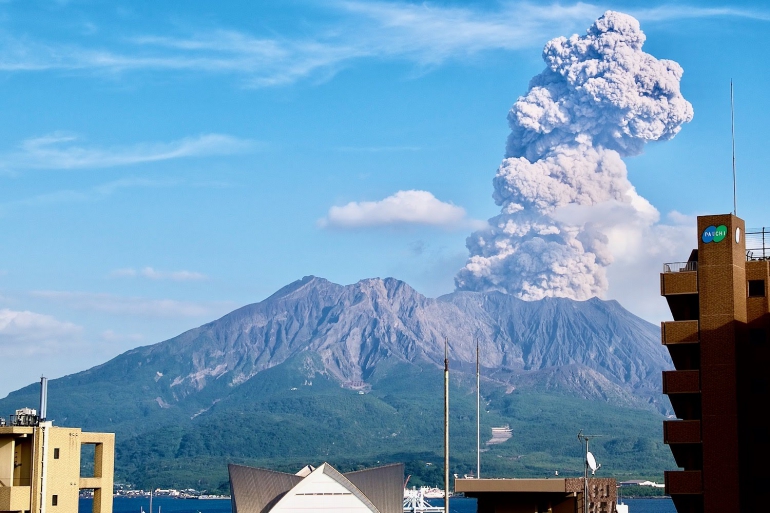 The volcanic smoke of Sakurajima
The reason why there are so many hot springs in Kagoshima is the entire region's active volcanism.
Sakurajima Island in Kinkowan (Kagoshima Bay) or Shin-moedake Mountain in the Kirishima Range are nationally famous active volcanoes. Remnants of ancient volcanic activity such as round crater ponds, are also common. Kinkowan itself is a remnant of a huge eruption about 29,000 years ago, and is called the Aira Caldera.
2,753 hot springs in Kagoshima! 
The hot springs source is from deep underground
There are 2,753 hot springs in Kagoshima Prefecture, which records as the second highest number in Japan after Oita Prefecture.  The volume of released hot spring water is about 158,000 liters/minute, which is the third largest amount in Japan. Both numbers reinforce the catch phrase "Hot springs kingdom Kagoshima".
Hot springs in Kagoshima have been loved from old times
Shiobitashi Hot Spring where Ryoma Sakamoto visited
Many of the hot springs in Kagoshima have a long history. For example, Shiobitashi Hot Spring in Kirishima is famous as a place where Ryoma Sakamoto, a hero of the Meiji Restoration, visited on his honeymoon.
Yunomoto Hot Spring, introduced in this article, also has a long history and was developed about 400 years ago. It was used as a hot spring by the feudal lord family of the Shimazu clan of the Satsuma domain in the Edo period.
Hot springs loved by all generations
The culture surrounding hot springs in Kagoshima is great, in the way that it includes people of all generations into a common love of bathing. It is not uncommon to see local elders and young travelers chatting while they soak in a hot spring side by side.
Hot spring story ① Yunomoto Hot Spring & its proud 400-year history
The first hot spring I will introduce is Yunomoto Hot Spring in Hioki City, Kagoshima Prefecture. It is said that this hot spring was developed around the year 1640, and flourished as a hot spring under direct control of the Satsuma clan. At the time, Yunomoto Hot Spring was a hot spring town of 24 bathing facilities, with separate "Gozenyu" baths for the domain lord's clan, and "Uchikomiyu" baths for commoners. The hot spring is clear and colorless, and is said to aid the healing of skin conditions, gastrointestinal issues, neuralgia, and gynecological diseases.
The "Motoyu & Uchikomiyu" with about 400 years of history
Even now, there are more than 10 kinds of hot springs at Yunomoto hot springs, including both hotels and day-use hot springs. Among them, the "Motoyu & Uchikomiyu" have an especially historic feel.
The "Motoyu & Uchikomiyu" are located where a "Gozenyu" once stood. Of the two baths, the Motoyu draws its bathwater from the source of the former Gozenyu, while the other draws from the source of the former Uchikomiyu. Both hot springs are sulfuric, but due to differences in the dissolved minerals the effects of each spring is different.  
It takes about 30 minutes by local train from Kagoshima Chuo Station to Yunomoto Station, where Yunomoto Hot Spring is located. I heard that Yunomoto Hot Spring is very popular with tourists from abroad, as a hot spring which can be enjoyed on a daytrip from central Kagoshima city.
【Information: Motoyu & Uchikomiyu】
■ Address: 2231 Yuda Higashiichiki-cho, Hioki City, Kagoshima Prefecture
■ Phone: 099-274-0326
■ Business hours: summer 6:00 - 21:30 / winter 6:30 - 21:30
■ Holidays: Apr. 1st, Sept. 1st
■ Fee: ¥150 (Free under elementary school age)
The "Yunomoto Future 80 Members Conference" promotes the region across generations
Mr. Nagayama, a member of the "Yunomoto Future 80 Members Conference", promoting revitalization of the region
An interesting aspect of Yunomoto Hot Spring is that regional volunteers are actively working to revitalize its community. Organizations such as the "Yunomoto Future 80 Members Conference", composed of men and women of a variety of ages, and the "Yunolabo", made of younger members from the Conference, promote Yunomoto Hot Springs by producing a regional map, maintaining the "Onsen Shrine", and organizing events.

Onsen Shrine torii gate
Mr. Yoshitaka Nagayama, one of the Conference members, said that one of the special characteristics of Yunomoto Hot Springs is that "Young people and veterans cooperate together".  While walking around the town, I indeed got the impression that there were many young people owning and managing local facilities such as hot springs, restaurants, Japanese sweets shops, convenience stores, and electric goods shops. It really did seem like every resident was looking out for each other, and for their own town.
Recommended Spots in Yunomoto Hot Springs
Among the many unique stores and facilities in Yunomoto Hot Springs, I want to introduce a few that are especially appealing to travelers.
Meguminoyu Kinryukan Public Bath
Meguminoyu Kinryukan
Meguminoyu Kinryukan is 5 minutes by foot from Yunomoto Station. Since it was recently remodeled, the facilities are convenient and spacious. Not only is there a standard large public bath and open air bath, but also a family bath for hourly use, so this facility is great for small groups or families!

Open air bath at Kinryukan
Family bath at Kinryukann
【Information: Meguminoyu Kinryukan】
■ Address: 3355 Yuda, Ichikicho, Hioki City, Kagoshima Prefecture
■ Phone: 099-274-2311
■ Business hours: 9:00~23:00
■ Holidays: Friday
■ Price: adult ¥420 / child ¥150 (Family bath ¥2,500/hour + ¥1000 for every additional 30 minutes)
Yunomoto Senbei Baigetsudou
Yunomoto Senbei Baigetsudou
Yunomoto Senbei Baigetsudou is a sweets store founded in 1921. There are a variety of selections including traditional Kagoshima sweets such as Yunomoto Senbei (sweet cracker), decorated with Japanese pepper leaves, to newer-style confections such as their original sweet Nure Dorayaki (pancake like patties with sweet azuki bean paste) and Rumdora, that combines homemade rum raisins with bean paste. Since Nure Dorayaki also has changing seasonal varieties, this bakery continues to offer new surprises to repeaters as well..
Kagoshima traditional sweet "Yunomoto Senbei"
Unique sweets Nure Dorayaki and Rumdora
Restaurant: Shiki-Oriori Yunohana
Shiki-Oriori Yunohana
Shiki-Oriori Yunohana is a restaurant where both casual lunches and authentic Kaiseki cuisine (traditional Japanese course dishes) can be enjoyed. Inside the restaurant is a calm and peaceful atmosphere, where you can enjoy exquisite Japanese cuisine made from local seasonal ingredients. Being only a 10-minute walk from Yunomoto Station, this restaurant makes it possible to enjoy a full dinner at Yunomoto Hot Springs, then take the train back to Kagoshima City. Lunch menus change every 2 weeks, making it perfect for frequent visitors too.
Convenience & Souvenir Store: Y-Shop Harimaya
Y-Shop Harimaya
Y-Shop Harimaya is located in front of Yunomoto Station. At first glance it looks like an ordinary convenience store, but it is also a local products shop that sells items such as large lunch boxes made by local people, regional vegetables, and handmade traditional sweets like Daifuku and Odango. Since you can also purchase Yunomoto Senbei here as a souvenir, how about stopping by before you get on the return train?
Hot spring story ②  Kushikino Shirahama Hot Spring, popular with all genders & ages
Introduced next is Kushikino Shirahama Hot Spring, on a hill overlooking the East China Sea. This family-run hot spring inn opened in 1997 and is popular with a wide audience including both young travelers and elderly locals. The hot spring water is a high-salinity chloride spring which can be effective in healing cuts, burns, chronic skin disease, chronic gynecological diseases, neuralgia, and fatigue.

Kushikino Shirahama Hot Spring outside looks like an American beach
With a stylish coffee stand, an event and barbecue space facing the sea, and a guesthouse with a chic aesthetic, Kushikino Shirahama has become a hot spring resort with a unique twist. The current look of the family-run Kushikino Shirahama Hot Springs, was brought about by the current young owner who inherited the resort.
Kushikino City, where Kushikino Shirahama Hot Spring is located, was a gold and silver mining town for over 300 years. I heard that the hot water source for Kushikino Shirahama Hot Springs flows through the gold vein.
The open-air bath has a beautiful sunset view
Overlooking the East China Sea from the open air bath
One of the special features of Kushikino Shirahama Hot Spring is an open-air bath. There is a wide spectacular view of the East China Sea and it is possible to enjoy the setting sun and the hot springs at the same time, if the weather allows. Of course, the daytime blue ocean scenery also makes you very relaxed!

If the weather is good, enjoy the hot spring while viewing the sunset
The hot springs close at 22:00.  A day trip is also possible, but it is recommended to stay and completely relax after enjoying the sunset.
Simple Japanese style rooms are suitable for staying alone or with few people, and a guesthouse limited to one group per day is also available for a larger party up to 10 people.

Japanese-style room suitable for small groups
The guest house accommodates up to 10 people
【Kushikino Shirahama Hot Spring Basic Information】
■ Address: 265-1 Hashima, Ichikikushikino City, Kagoshima Prefecture
■ Phone: 0996-35-0031
■ Business hours: 8:00 - 22:00
■ Holidays: First Thursday of month
■ Price: adult ¥420/ child ¥150
Challenges faced by the brilliant young owner
Mr. Tominaga returned to Kagoshima to inherit the hot spring
This is Mr. Tominaga, who manages the Kushikino Shirahama Hot Spring. 
Taking advantage of his experiences in the United States and Tokyo, he developed a new model of a family-owned hot spring inn. Other staff members were initially opposed to the modern coffee stand in the corner of the lobby, but it has come to be very popular with both young travelers and long-time regulars. We were told that many elderly people use the corner for chatting with a cup of coffee after they take a bath.

The coffee stand in a corner of the lobby
We could feel Mr. Tominaga's sense of design throughout the facility.
For example, the garden facing the ocean has a tropical resort atmosphere with artificial turf and wooden decks. It is a great place to enjoy the beautiful ocean view with a cup of coffee or a beer after taking a bath. He said that local festivals are also held on the deck, and it has truly become a place of constant exchange between locals and travelers.

Wood deck in the garden
The guest house on the grounds, which was originally for long-term stays of staff members, was renovated into lodging. The American style interior renovations, a favorite of Mr. Tominaga, stands out. This is a very rare hot spring inn.     

The living room of the guest house
Enjoy local vegetables and cuisine too! 
Freshly harvested local vegetables
Displayed in the lobby are locally harvested fresh vegetables and fruits. It is like a small product exhibition space. It is recommended also for travelers to stop by during their drive.  
Handmade Tsuke-age
If you arrive at the right time, you can try freshly fried handmade Tsuke-age (a kind of Satsuma-age = fried fish cake). The fluffy texture with a sweet and flavorful taste is exquisite, and can only be tasted here. While enjoying the flavors in the lobby,  it might be possible to chat with locals.
How about going to a hot spring along the East China Sea?
Although not as well-known outside the prefecture, the hot springs along the East China Sea are well known by everyone with local knowledge.
The size and histories of Yunomoto Hot Spring and Kushikino Shirahama Hot Spring are different, but these two hot springs that I introduced in this article were full of young energy, seeking to revitalize their local hot spring towns.
Visit these unique hot spring towns, and feel the volcanic blessings of the "hot spring kingdom" Kagoshima Prefecture!