Sendai Aoba Festival is held annually on the third Saturday and Sunday of May, when zelkova trees are surrounded by beautiful greenery in Sendai City, Miyagi Prefecture. More than 10,000 local residents as well as almost 1,000,000 tourists participate in this festival each year, which makes it one of the Great Three Festivals of Sendai. The others are Sendai Tanabata Festival (Festival of the Stars) in August and Matsutaki Festival of Osaki Hachiman Shrine in January. In this article, we will introduce the history of Sendai Aoba Festival and tips on how to enjoy the festival, shared by locals. We will show you the highlights of the two days: when people dance, eat and get roused.
What is "Sendai Aoba Festival", where verdurous Sendai is showcased in a "Date" ambiance
Dedication lanterns hanging from the Date Gate(Main Greenery Road of Jozen Temple)
What is the Sendai Aoba Festival? Its historical origin is related to Date Masamune
Sendai Aoba Festival is held on the third Saturday and Sunday of May, when zelkova trees in Sendai City, Miyagi Prefecture are surrounded by beautiful greenery. As one of the Great Three Festivals of Sendai, it is so popular that it attracts many tourists from other prefectures as well as local residents.
During the Edo period, when Date Masamune was the feudal lord of Sendai, "Sendai Festival", an annual festival of Sendai Toshogun Shrine  was the biggest festival in Sendai. Sendai Festival was splendidly held from 1655 through the end of the Edo period with the entire han (feudal domain) participating, and it is said that as many as 70 Yamabokos* went around the castle town on the festival day. 
However, in the Meiji era, Aoba Shrine's annual festival, Aoba Festival, replaced Sendai Festival as the most popular with Date Masamune as the object of worship. Festivals, including Mikoshikotogyo (carrying a portable shrine around the town) were practiced every year on May 24, the day of Date Masamune's. After 1965, however, Aoba Festival was suspended for a while because of the difficulty to control traffic.
A row of participating corporate groups that lead a Yamaboko tour at the main festival (Zyouzenzi Street)
Inheriting the spirits of both "Sendai Festival" and "Aoba Festival," the current "Sendai Aoba Festival" was reborn in 1985, 350 years after the death of Date Masamune, as a "festival all residents can participate in". This festival takes place to honor the triumph of the founding father of Sendai, Date Masamune. Through the festival, it is hoped for the culture and history of the Date Family to be passed down to further generations. Nowadays, more than 10,000 residents participate throughout the in two days. It has been established as an early summer feature of Sendai where you can enjoy a "purely-Date" ambiance. This has increased the number of tourists in Sendai year by year, and the 35th festival reached a record 971,500 this year (the Sendai City Chamber of Commerce).
Highlights of Sendai Aoba Festival
The preparation period is just as festive!
Setting up a Yamaboko in the middle of a night (entrance to Sunmall Icchome )
One week before the festival, people start setting up Yamabokos all over the commercial arcade in the center of Sendai City. In order to avoid disturbing traffic, most work is done during the night time. You may come across some preparation work on your way home. Also, if you listen carefully, you hear music of "Sendai Sparrow Dance" from buildings all over the town. You can see the 11 Yamabokos set up from a close range, and three days prior to the festival, the lanterns get lit up, which further enhances the festive mood. 
Enjoy the Mai (a type of traditional Japanese dance) performance on the Date-no-Kaze (Wind of Date) Stage in the civic square
Date-no-Kaze Stage" at the performance hall of the civic square
If you would like to enjoy a lot of stage events, such as Sendai Sparrow Dance, Deer and Sword Dance, and a Japanese drum performance, we recommend you go to "Date-no-Kaze Stage" at the performance hall of the civil square.During the stage events, the Ohsu and Sendai Hospitality Corps (the Corps of Commander Date: https://datebusyou.jp/) and many local characters also appear on stage. During the intermissions, you can see ceremonies, including the opening ceremony, an awards ceremony and a pre-war ceremony, allowing participants to fully enjoy the festive mood even if they do not have much time to attend the events. 
Enjoy the food culture of  Miyagi and Sendai at "Mori-no Ichi"
At the civil square, which is the main venue, restaurants, such as food stalls that mainly sell specialties of Miyagi Prefecture, are set up in a row. At Kotodai Park, across the street, a temporary food stand village "Mori-no Ichi" is set up.  Restaurants that are currently trending in Sendai City and Miyagi Prefecture are selected to participate in Mori-no Ichi and serve unique local dishes to visitors.
"Date Enishi", where you feel as if you were in the Edo period
At Kotodai Park, you can also find "Date Enishi", a reproduction of the town scape in the era of feudal system, which generates an ambiance unique to the historical festival. Here, you can enjoy storytelling at a theater, a cafe, bar, open-air tea ceremony, haunted house, and Japanese slaying performances. Also, the "Stall of Date Craftspeople" near the entrance offers many appealing Japanese features. For instance, you can enjoy a workshop on playing the Japanese flute and have names put on lanterns. Furthermore, glass beads and other traditional Japanese crafts are also available. 
Matchlock guns and old-style archeries. Nishiki Cho Park offers activity-based events. 
In Nishiki Cho Park, which is just a step away from the main venue, traditional Date-related events are held, including warrior performances with old-style Date matchlock guns and traditonal hashigonori (an acrobatic performance on a ladder) by seven volunteer fire departments in Sendai City. You can also directly experience traditional Japanese culture by trying on traditional wardrobes from the era as well as Ninja experiences, such as trying traditional archery art and blowguns, throwing stars and making paper throwing stars. 
A colorful parade complimented by fresh green zelkova trees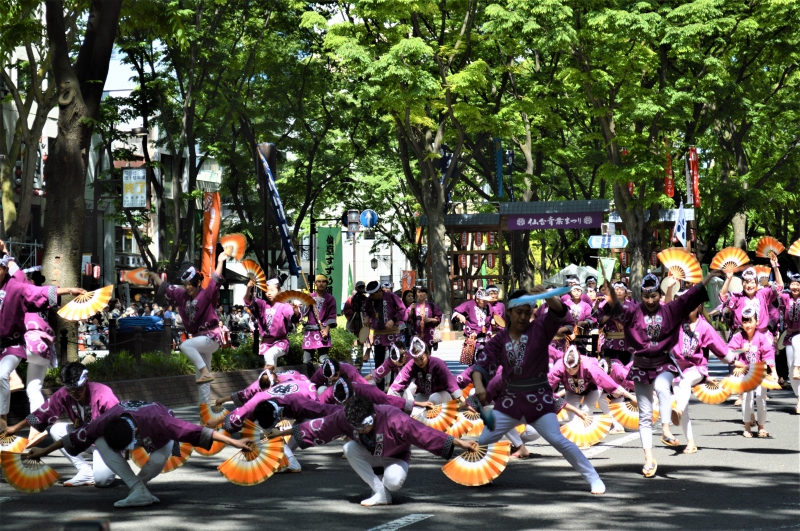 Jozenji Street Parade (Sendai Sparrow Dance)
Jozenji Street Parade (Sendai Sparrow Dance)
In Jozenji Street, you can enjoy a festival procession of more than 140 people dressed in a colorful happis (Japanese festival coats) and about 4,500 people performing the vibrant "Sendai Sparrow Dance." You can enjoy a pleasant view of the sparrows jumping and dancing to lively music. In addition, a "historical picture scroll procession", "Yamaboko procession" with gorgeous decorations, and "Masamune Ko(Aoba Shrine) Festival Float" tour around during the festival. 
Then, "Suzume (Sparrow) Oh-nagashi" perfects the finale of this festival with all the dancers converging on the main street to conclude the two-day festival.
The yoi-matsuri is a perfect occasion to enjoy a festival at night.
In Sendai Aoba Festival, the first day of the festival is called the yoi-matsuri (festival on the eve) and the second, hon matsuri (the main festival) with the the main difference being the ending times. Please beware since you can enjoy the yoi-matsuri until 9:00 pm ("Yoiyoi Suzume" in the Inari Alley ends at 10:30 pm) whereas the hon matsuri ends before nightfall at 5:00 pm.
■What is Sendai Sparrow Dance?

Sendai Sparrow Dance. The center of the photo is the character "Aoba Suzunosuke
"Sendai Sparrow Dance" is also performed at the Sendai Aoba Festival. You can see the dance at various festivals in Sendai City, and while inheriting the tradition, it is popular as a dance of Sendai that anyone can take part in.
The origin of the Sparrow Dance can be traced back to 1603, when Sendai Castle was completed. At a cerebration, masons involved in the construction performed an impromptu dance in front of Date Masamune. The dance was named "Sparrow Dance" since its pleasant tempo and springy choreography looked like sparrows picking up food. The Date family's crest was "bamboo and sparrows".
Based on the traditional dance that has been passed down, sparrow dance has been elaborately reworked into the current Sendai Sparrow Dance, which everyone of all ages can enjoy. Click the link to learn the choreography of the Sparrow Dance before you participate in the Sendai and Aoba Festival.
11 Yamabokos embellish Sendai and Aoba Festival
Masamune Yamaboko with an upper-body statue of Masamune (the vicinity of crosswalk in Plandome Ichibancho)
Currently, 11 Yamabokos tour around during the Sendai and Aona Festival.  All of them are made and operated by companies or organizations near Sendai City. In the thorough production process, restoration plans are drawn with reference to old drawings and pictures.Specialized carpenters use their expertise to build the Yamaboko based on the plans. At the yoi-matsuri, three Yamabokos go around praying for recovery from the Great East Japan Earthquake. The Yamaboko is about 5.2 to 6.2 meters in length and 5.5 to 8 tons in weight.
1. Masamune-ko Kabuto Yamaboko
The Yamaboko has a bust of Masamune in an armor on the top. The Yamaboko carries his legal wife Princess Mego on the tour to hope for further development of Sendai. The role of the princess is filled through recruitment open to sixth graders since Princess Mego married into the Date family at the age of 12.
Masamune-ko Kabuto Yamaboko (in front of Kinkodo Bookstore in Sunmall Ichibancho) - the quarter moon crest is impressive
2. Shichi-fuku Big Drum Yamaboko
This Yamaboko features a Big Drum of Shichi-Fuku,which told time in the castle town of Sendai during the era of the feudal system.  The drum's diameter is as large as 2.2 meters. The drum makes a large volume of sound called "the sound of Shichi-Fuku Jin (the Seven Gods of Fortune)", bringing happiness to people. 
3. Odai Yamaboko
Located in the Sanriku Coast, Sendai is blessed with abundant seafood. The Yamaboko tours around to pray for success in fishing and harvest. It has a huge carp decoration and lots of emas (small wooden plates to put wishes on as Shinto and Buddhism practices) put around the body. In the standstill performance, the Ebisu God fishes a huge carp in a festive mood. 
Odai Yamaboko (the vicinity of Iroha Yokocho in Sunmall Ichibancho)
4. Aobagoma Yamaboko  
Kinoshita Goma, or Aoba Goma, is one of Japan's Great Three Toy Horse Brands. Aoba Goma, which were made to pray for the safety of fine horses that were to be dedicated to the Imperial Court, are placed on the top of the Yamaboko. Courageous warriors and ladies with Usuginu (traditional Japanese sheer silk) tour around while adding a sense of majesty to Morino Miyako in early summer.
Aoba Koma Yamaboko
5. Miyabi Yamaboko
The Miyabi Yamaboko showcases the architectural style of the Momoyama period through the reminiscent, elegant decorations of Imperial Kyoto. The traditional Japanese dance performed by an employee of the JR Sendai Branch and his family is worth a look.
6. Ebisu Yamaboko
The Ebisu God is a popular god who brings happiness and commercial success as well as eliminates disasters. The Yamaboko is dedicated to a prayer for happiness and further success of the commercial town, Sendai. Employees of Fujisaki, a long-established local department store, performs flamboyant traditional Japanese dance.
7. Hayashishi Yamaboko
Since Date Masamune was a fan of an extensive types of entertainment, including Noh (traditional Japanese drama) and Kyogen (traditional Japanese comic theater), festive music is played by flute and drum on the Yamaboko while dancers in colorful wardrobes perform splendid dances to the music.


Hayashi Yamaboko's characteristic is a big square bell (Sunmall Ichibancho)
8. Masamune Yamaboko
Every year, the Mayor of Sendai, Chairperson of Sendai City Council, and Chairperson of Aoba Festival Sponsor Association ride this Yamaboko in wardrobes worn in the era of Masamune. The Yamaboko is decorated with the Date Family's three-line crest, which is also used for the emblem of Sendai City. Sendai City employees and resident volunteers take the lead while making a brisk call.
9. Goshinsen Yamaboko
Goshinsen Yamaboko represents magnificence of vessels that were used in the feudal era, later in Tenzai Canal for freight and fishing and the divine ship used to carry Shiogama Shrine across the sea.
10. Daikokuten Yamaboko 
The Yamaboko features the Daigokuden God, a god of huge harvest. It is operated by six media organizations based in Sendai.
11. Karajizhi Yamaboko  
This Yamaboko features Karajishi, or China-lion, to pray for protection against fires and disasters and longevity as well as exorcism. Despite its dynamic dignity, Karajishi is popular for its somehow adorable face.
Charming Karajishi Yamaboko (Plandome Ichibancho)
Local residents share pro tips on how to enjoy Sendai and Aoba Festival
Original wooden tags to enhance festive mood
wooden tags
The recommended festival goods are "wooden tags" worn by all the dancers in Happi. There are several types, but the ones with the year of the festival on them are the most popular. Furthermore, a regular participant said, "You can have your name put on its backside". After you purchase a wooden tag, you can select a pattern you'd like to order from a wide selection. Then, your original wooden tag with your name is completed in about an hour. In addition to kanji and hiragana, the alphabet is also available. Many foreigners apply kanji to their names in making their tags.
Samples of wooden tags with names on. You can choose your favorite from these patterns
Only available at the yoi matsuri. Participate in the festival at "Tobiiri Suzume/ Majarain"
"Majarain" is a dialect of Miyagi which means "Please join us". With the choreography learned on the spot, anyone can participate in the sparrow dance. To participate, just go directly to the reception at the meeting time. In addition to dancing on the big stage of the civil square, you can also dance on Zenjoji Street. We definitely recommend you take part. 
We also recommend participants who want more involvement to check Tsunagi Yokocho for happi rental services, hand-made fans and sparrow makeup. 
Would you like to enjoy the view seen from the top of the Yamaboko?
Of the 11 Yamabokos, the only one that can actually ride is "Daikokuten Yamaboko." Around noon on the yoi matsuri day, you can take pictures with men in happi from the Yamaboko Admiration Association and receive commemoratives. I wonder what the festival looks like seen from over 5 meters high.
Dads in happi repeatedly saying, "Great for Instagram pics!" (Plandome Ichibancho)
Enjoy local specialties only available at Sendai and Aona Festival
At Sendai Aoba Festival, you can find various food stalls. In addition to local specialties and locals' favorites, these stalls offer various tasty dishes, some of which are only available at the festival.
■ Sendai City certified! Green "Aoba Dumplings"
 Viridity-like  green Aoba Dumplings are a local specialty with Sendai Yukina kneaded in abundance into the skins. The sweetness from the vegetables is so rich in flavor. The Dumpling skins are chewy and do not harden easily even if they get cold. Also rich in calcium and vitamin A, these dumplings are flawless.
Aoba Dumplings are easy to eat (4 pieces 300 yen)
■ "Ichi Gori" is a sweet treat served at a strawberry farmhouse
Yamamoto-cho in the southern part of Miyagi Prefecture is one of the biggest strawberry producing areas in the prefecture. For the sweet treat "Ichi Gori," they use only some of the sweetest and softest of fully ripe strawberries grown with tender loving care. To make Ichi Gori, strawberries are frozen as they are into shaved ice, and the flavor and sweetness of strawberries spread in your mouth every time you take a bite. Furthermore, with the secret conserve of well-simmered ripe strawberries and special milk added, Ichi Gori has an incomparable delicious taste.
Ichi Gori" is also very popular amongst the locals. If you try this once, you will definitely want to try it again. (Food Stall Village "Morino Ichi")
■Feeling puckish? Try the local dish "Okuzu-kake"
"Okuzu-kake" is one of Miyagi's local dishes. Soy-sauce-based soup made with shiitake mushrooms are added with finely chopped vegetables and Shiroishi Umen (a type of noodles). Then, cornstarch is added for thickness, creating a warm starch sauce dish. Since Okuzu-kake is a home cuisine served during Obon and Ohigan holidays (Japanese Buddhist holidays), not many restaurants have this dish. However, it is available during lunchtime at "Miyagino" on the basement floor of in the restaurant mall of in Sendai Station. 
Hot starch sauce dish with lots of vegetables and Umen noodles
Enjoy dancing and eating - Two-day "Sendai Aoba Festival" 
Sendai Aoba Festival will be held in early summer, when the whole city is surrounded by greenery, turning Sendai into true "Morino Miyako" (Mori means having lots of nature). The festival, which features Date Masamune, unfolds in bright fresh greenery and fresh wind.As the yoi matsuri starts at 11 am and the hon matsuri at 10 am, it may be a good idea to visit Aoba Shrine in the Northern Sendai and Sendai Castle Remains in Aoba Mountain in the morning to search for remains for Date Masamune. Sendai in May is hot during the day, but in the morning and the evening, the temperature often falls to a single digit, so we recommend you carry a jacket with you. 
Information
Address
3-9-2 Honmachi, Aoba-ku, Sendai City, Miyagi Prefecture , 980-0014
Phone
022-223-8441(Sendai / Aoba Festival Sponsor Association)
Hours
<Day1 the yoi matsuri >
10:00 amto9:00 pm
※Varies depending on the program
<Day2 the hon matsuri (the main festival) >
10:00 amto5:00 pm
※Varies depending on the program