Have you ever seen a large Kamakura (an igloo) made of snow? It takes a lot of skill and hard work to make a dome-shaped kamakura large enough for people to sit comfortably. I am sure the experience of eating hot pot inside the kamakura is very rare, even for those who grew up in a snowy region! 
I am thrilled to introduce you to Kamakura no Sato, where you can enjoy such an enviable kamakura experience. Here, you can have a dining experience in one of the many large-scale kamakuras! Let me describe the experience at the spectacular Kamakura no Sato, which lasts only for one month every winter.
(Main photo by Kamakura Support Team)
There is nothing like Kamakura no Sato, in Iiyama, Nagano
Kamakura no Sato is located in Iiyama, the far north of Nagano. Situated at the boundary of Niiigata, Iiyama is famous for its heavy snowfall, where they experience 2 meters of accumulated snow every winter.
Large kamakuras are lined up in Kamakura no Sato
Kamakura no Sato, a village of snow igloos, opens up for a very limited period, from late January to late February. In Kamakura no Sato, you can dine in one of the 15 to 20 large-sized kamakuras, and enjoy  multiple activities in the surrounding area. The reason the locals decided to open Kamukura no Sato was the closure of the local ski resort.  This challenged the locals to boost the economy of the area.
The kamakuras are built on agricultural lands such as rice fields. The locals utilize it for Kamakura no Sato during the winter time, when the field is covered with snow. The people who operate Kamakura no Sato are farmers and retired locals. They are known as the Kamakura Support Team.
This year, 2020 is the 20th year since Kamakura no Sato first started. However, due to a relatively warm winter there was a record lack of snow. The Kamakura Support Team even commented that it was their first winter with such little precipitation.
Rice field across from Kamakura no Sato
Usually, the building in the photo would be covered with snow in the winter time. However, in 2020, even in the midst of winter in early February, there was no snow on the road. Due to these circumstances, the Kamakura Support Team brought snow from nearby mountains to create kamakuras for Kamakura no Sato. I saw many trucks driving back and forth to bring the snow here.
※When I reported in early February, there was only a little snow.  It started snowing a few days later, and finally the place is beginning to look like how Iiyama should in the winter time.
Look! Play! Eat! What You Can Explore at Kamakura no Sato!
What You Can Explore at Kamakura no Sato
How can we best enjoy Kamakura no Sato? I will guide you to explore the many exciting features and activities at Kamakura no Sato!
1. The Spectacular View of Kamakuras 
The very first thing I recommend is to take in the spectacular view of the beautifully lined kamakuras in their snowy landscape! In a vast field, you will see 15 to 20 large kamakuras, taller than average adults. This is nothing but awe-inspiring!
The usual scenery of Kamakura no Sato in heavy snow (Photo by Kamakura Support Team)
This photo shows a Kamakura no Sato in the usual snowfall. Every year, the entire region becomes completely pure white. The background mountains are all snowcapped, so you will feel completely enveloped in an genuine world of snow! The pure white of kamakuras and the mountains, and the cobalt blue sky make a heavenly contrast.
Miniature kamakuras
At the center of the Kamakura no Sato, many cute kamakura miniatures are lined up to form a straight walkway. At night, these kamakuras are lit up to illuminate the walkway.
Torii gate of Kamakura Shrine
At the far back of the walkway of miniature kamakuras, you'll find the stunning red-colored Torii gate emphasized by the pure white of the snow. As you pass through the gate, look for a shrine! It is the Kamakura shrine on display for only this limited time.
The square block of snow that you see next to the shrine, is the base material for a snow sculpture that will be made by a student volunteer. These sculptures will be displayed during the Kamakura Festival held annually on February's second Saturday and Sunday. (In 2020, it will be February 8th and 9th.)
At Kamakura Festival, many events as well as fireworks will be held. The Iiyama Snow Festival also takes place on the same day. They are an exciting two days, filled with fun-packed events all relating to snow and held many places in the city.
■Fantastical Night Scene of Kamakura no Sato

Night Scene of Kamakura no Sato
Kamakura no Sato is not only enjoyed during the day. At night time, under the starry sky, the kamakuras are lit up in fantastic display, showing a very different face from the daytime.
At twilight, before the sky is darkened, the kamakuras are illuminated. As the night gradually darkens, the entire scenery turns to a mystic blue. This scenery is called Kamakura Blue.  How romantic!
Illuminated miniature kamakuras
Illuminated miniature kamakuras guide the way leading up to the shrine.
Starry sky viewed from Kamakura no Sato
Take a look up at the night sky, and you'll gaze at the thousands of twinkling stars. Since there are few street lights in the area, a night of good weather will give you a sky filled with stars to see. As the snow absorbs much of the area's sound, the entire scenery carries an air of serenity. The marvelous view will even make you forget the severe cold.
2. Spending Time in the Kamakura
A table and chairs are placed inside the kamakura
Not only can you view the incredible sights around the kamakuras, you can also step inside them at Kamakura no Sato!
Although the entrance is small, the inside is spacious enough for 6 adults. The room is tall enough for me to stand up straight.  Since the wind can not blow inside, it is surprisingly warm and quiet. A visit inside kamakura gives you an intimate and private experience, so I recommend this to couples as well as families.  
 
Although entering a kamakura, requires payment of a meal plan, you may be able to enter inside for free if there is/are kamakura with no reservation(s). Please check with the reception staff before you go.
■You May Be Able to Observe the Process of Building a Kamakura

Kamakura Built by Kamakura Support Team
The Kamakura is maintained in a regular basis.  As time goes by, kamakura will melt little by little, so after some days they need to be re-built. If you are lucky, you may be able to witness Kamakura as they are being built.
Balloon used for making kamakuras
To construct kamakuras, they start with special balloons. These balloons are taller than the average adult's height, and sturdy enough to hold heavy snow.
Kamakura Support Team building a kamakura
The process of building Kamakura involves continuously adding snow little by little to the surface of this balloon. By stomping down on the accumulated snow, the kamakura becomes tighter and sturdier. I was amazed at how accurate the snow blower manipulated the snow when building Kamakura.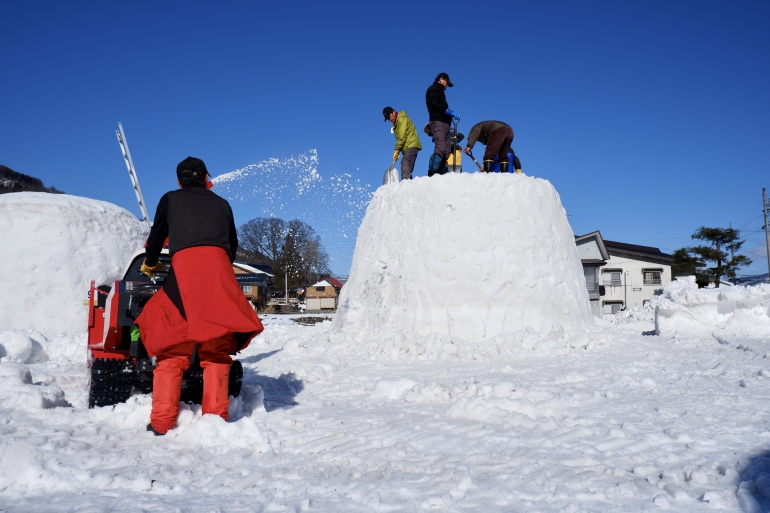 Kamakura, large enough to cover the balloon
Even after the top of the balloon is covered, they still keep accumulating snow until the thickness of the ceiling becomes about 1 meter. They say that this is the level of thickness required for a sturdy kamakura.
The process of digging the entrance of kamakura
The completed Kamakura is about 3 meters high. It becomes so tall that you need a ladder to climb down! Once a A hole is dug for the entrance, the balloon is aired-out, and the interior is polished, and it's done! After 1 hour of work, every team member was drenched in sweat even in the midst of winter.
The Kamakura Support Team's skill is so renowned that requests to build kamakuras occasionally come from distant parts of Japan.
The Kamakura Support Team says happily: "We'll be there to help, as long as we're able to". They are definitely professionals when it comes to building kamakuras.
3. Hot Mouth-watering Food you can Enjoy inside of a Kamakura
Kamakura no Sato offers a variety of menu plans for when you spend time inside of a Kamakura.
For example, there is the casual Sweets Plan, and the hearty Hot Pot Plan. There is also the Overnight Plan that gives you a night's stay in a nearby accommodation after your time in a kamakura. From all of the options, I will specially introduce 2 Plans and menus.
The first one I recommend is the Noroshi Nabe hot pot, that you can order through the Hot Pot Plan. The Hot Pot Plan is the main featured plan of Kamakura no Sato. Having warm Hot Pot inside a Kamakura is an experience sure to be envied by others!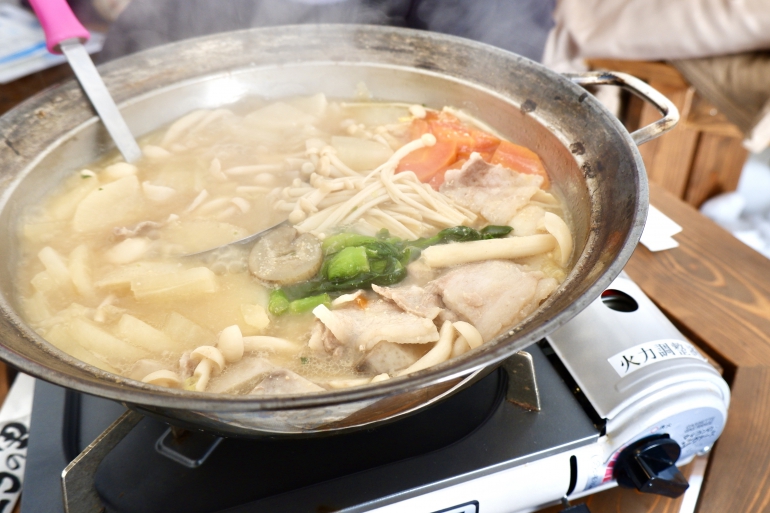 Noroshi Nabe
Noroshi Nabe is named after the Noroshi (signal fire) tower used by the armies of Kenshin Uesugi, a samurai military commander in the Sengoku (Warring States) Period. It is a specialty hot pot filled with locally-grown fresh vegetables and mushrooms, and Miyuki pork of northern Shinshu region seasoned with miso (soy paste). This plan can be booked for a minimum of 2 people. Although you can purchase the plan at the reception on the spot, we strongly recommend that you make a reservation ahead of time since this plan always sells out fast! 
Basket for the Noroshi Nabe Set
At the reception, I received a colorful basket with the Noroshi Nabe set. This includes bowls, chopsticks and Onigiri (rice balls made with locally grown Koshihikari brand rice seasoned with salt). I eagerly anticipated the dish as I waited inside kamakura…. then here came a boiling hot, tasty Noroshi Nabe! The way this hot pot warms your body from the inside out, is an experience that you cannot miss.
【Hot Pot Plan (Includes Usage of Kamakura, Noroshi Nabe, Rice Balls)】
*Plan Fee
・Lunch
Adult:¥3,500
Child:¥2,100
Preschool Children : Free
・Dinner
Adult:¥4,000
Child:¥2,500
Preschool Children : Free
※Reservation shall be accepted up to 4 days before the plan. After that, ¥500 or adults and ¥400 for children per person shall be added respectively to the above fee.
*Hours of Operation
Saturdays/ Sundays / Holidays:11:00~12:15 (Closed on every Wednesday) / 13:00~14:15 / 17:00~18:00 / 18:30~19:30
Monday through Friday:11:00~12:30 (Closed on every Wednesday) / 13:15~14:45 / 17:30~19:00
*Note
Hot Pot can be reserved for minimum 2 people.
Another plan I recommend is the Sweets Plan. This plan is restricted to a limited time between 3pm and 4pm, Monday through Friday. It can be reserved for 1 person. You can select either one of *Oshiruko or Amazake and savor it inside of a kamakura! 
(*Oshiruko is a sweet and hot drink made with red beans, with rice cakes in it. Amazake is a fermented sweet drink made of rice, and tastes like a sweet version of sake.)
Oshiruko that comes with the Sweets Plan
I especially recommend Oshiruko in this plan. It is quite sweet and tasty with the soft rice cake, and will warm up your chilled body.
■With the Sweet Plan, you can experience riding on a snow car!

Snow car (Photo by Kamakura Support Team)
A ride on a snow car is included in the Sweet Plan. You can enjoy the awesome snowy scenery while riding on the snowmobile, which is an exciting and very rare experience!
Scenery from the snow car (Photo by Kamakura Support Team)
You can also ride the snow car in a plan of its own, separate from the Sweets Plan. Why not experience riding through the pure white, snowy wonderland?
【Sweets Plan】
*Plan Fee
Adult:¥1,800
Child:¥1,200
Preschool Children : Free
※Reservation shall be accepted up to 4 days before the plan. After that, ¥500 for adults and ¥400 for children per person shall be added respectively to the above fee.
*Hours of Operation
15:00~16:00
*Days of Operation
Monday through Friday
※Depending on the amount of accumulated snow, riding on the snowmobile may be cancelled. Please inquire for more details.
"Kamakura Shoten", Kamakura no Sato's souvenir and food store
At Kamakura no Sato, there is a Kamakura Shoten, a shop where you can purchase tasty meals and souvenirs. They offer hot foods like *Oden, soba noodles, Yakitori, cotton candies, etc. (*Oden is a Japanese hodgepodge, including boiled eggs, radish, fish-cakes, seaweed, and etc. in soy-based broth.)
My favorite one among them is uniquely named Yakiemo, (regional dialect of Yakiimo), which is a charcoal-grilled sweet potatoe. Except for Noroshi Nabe, the foods available at Kamakura no Sato are available for purchase here. Let's savor some authentic Japanese cuisines!
4. Activities to Enjoy in the Snow
Vast Sledding Ground
Kamakuras are not the only attraction at Kamakura no Sato. There is also a vast sledding ground. Here, you can sled over the glistening snow on a rented sled; no preparation is needed!  I suggest you wear a ski suit so that you can enjoy sledding to the maximum, without getting too cold or wet.
Snowmen in Kamakura no Sato
Other than riding on the snowmobile, you can also play in the snow in the large rice field area (if there's enough accumulation of snow, of course)! Visitors of all ages can enjoy creating snowmen or miniature kamakura.
Furthermore, they offer plans in collaboration with nearby hotels or Bed and Breakfasts. There are a variety of fun activities, including skiing, snowshoeing, or even making ice cream. Some activities may be cancelled depending on snow accumulations. Please inquire before the trip.
Enjoy a one-of-a-kind experience at Kamakura no Sato, in Iiyma!
When I reported in early February, 2020, they had a lack of snow due to relatively warm winter.  Under this circumstance, I suppose it must be hard for them to maintain the kamakuras. Thus, the Kamakura Support Team was putting extra effort into building and maintaining kamakuras for people looking forward to seeing and experiencing kamakuras. I was impressed by how cool they were!
It turns out that it snowed a A couple of days after I reported, so you can expect a white and beautiful Iiyama in the middle of February that is just like every winter. Kamakura no Sato is an attraction limited only for a month in the winter time in Iiyama. Why don't you go there and experience this rare and fairy tale-like landscape?