Amidst the buzzing ads and high-rises of Shibuya, Tokyo, one photo studio goes centuries back in time to give you the experience of wearing accurate historical replicas of samurai armor, worn by the warlords of feudal Japan.
At "Samurai Armor Photo Studio", you can don the same samurai armor suits worn on the battlefield centuries ago, and take to the streets of Shibuya, Tokyo! This unique experience is great for both history buffs of feudal Japan, and tourists that want a genuine taste of Japanese culture.
Get ready with your helmet, gauntlets, and greaves; the city of Shibuya, Tokyo, and some awesome photos await!
Be a warrior for a day at Samurai Armor Photo Studio
In front of Shibuya Station, before our studio visit
The Samurai Armour Photo Studio is a 10-minute walk from Shibuya station. The studio boasts a collection of ancient armor wear and takes pictures of you dressed in them.

Inside Samurai Armor Photo Studio
Samurai Armor Photo Studio is located inside a building in Shibuya, Tokyo, and doubles as an armor costume rental shop. Upon entering, you will be greeted at the reception, and a private changing room. In the back are the photography set, and in the center hall is a display space for the samurai armor and equipment.
Full armor suits
The samurai armor kept at the photo studio are all intricate pieces handmade by craftsmen. Their authentic constructions have been widely well-regarded, and have been used in many television dramas and historical documentaries.
Transforming into a Samurai with Sengoku Period Armor
On this day, we opted for the "Shibuya City Photo Course."
After we put on the armor, we went out for a photoshoot at some of Shibuya's famous landmarks with the studio's cameraman. While there is the basic "Armor Experience Photo Course" that lets you take photos in the indoor studio, in addition to that, this city photo course takes you to the streets of Shibuya with a professional cameraman. With Shibuya, Tokyo's world-famous landmarks in the backdrop, you will look like a time-traveling samurai warlord! The photos that you take on this day will prove to be lifetime memories of your time in Tokyo.
【Course details】
Shibuya street shooting course / duration: about 2 hours
Armor fitting by specialist
Photo shoot indoors using studio's original props(about 2 poses & 10 shots)
Photo shoot outdoors in Shibuya (about 10 poses & 170 shots)
Photo shooting around Shibuya
Samurai armor studio shooting course / duration: about 90 minutes
armor fittings by specialist
photo shoot using studio's original props (about 10 poses・170 shots)
The studio used for your samurai armor photoshoot
Choosing your Samurai armor
The first thing we had to do was to choose our favorite armor out of the 7 available options. Kimono stylist Shinpei Takemura showed them to us, and helped us decide. Mr Takemura, who was in samurai clothes, learned about kimonos and how to wear them in Kyoto. He also knew a lot of fascinating facts about samurais.
Our stylist, Mr Takemura was dressed as a samurai
We took our time selecting our favorite armor. The beautifully decorated samurai armor sets all carried a sense of historicity. Just looking at them made us feel energized.

Sanada Yukimura suit
I chose the 'Sanada Yukimura' model, which is a red armor suit paired with a helmet decorated with huge deer horns. My colleague selected the black armor suit with a stylish crescent moon helmet (the 'Date Masamune' model.) The contrast of black and red proved stunning in photos.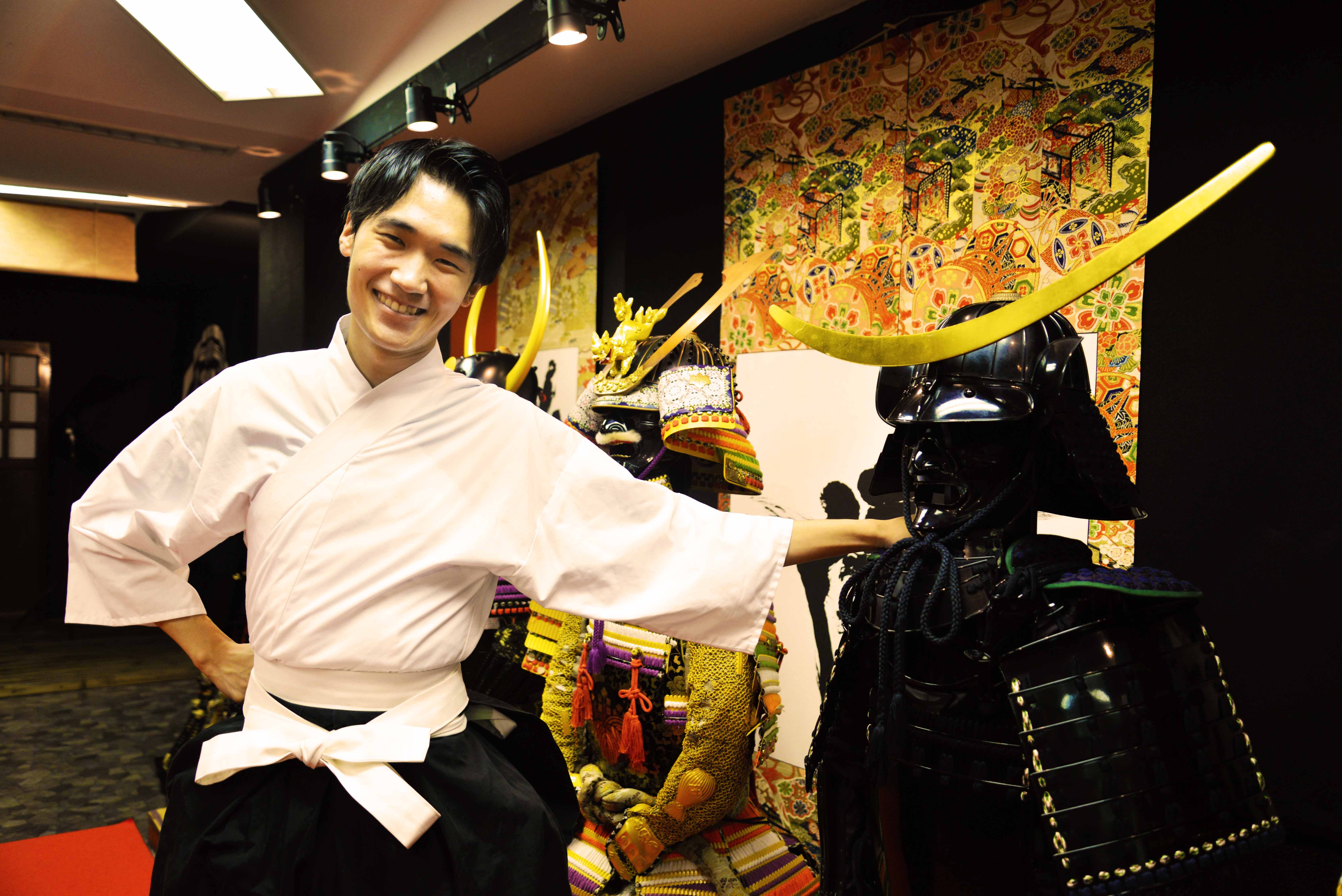 Date Masamune armor suit
Mr Takemura shared an interesting episode about Sanada Yukimura and Date Masamune. He tells us that the two warlords are said to have been the same age, and despite being enemies known for sharing a strong bond. 
 
Masamune sided with the Tokugawa clan, which became the predominant power in Japan in the early 17th century. The Tokugawa family went on to rule the nation for more than 250 years. Sanada on the other hand, sided with the opposing Toyotomi clan. Although the story is surrounded in historical debate, Masamune is said to have sheltered Sanada's children after their father's death, allowing the Sanada family line to continue to this day. 
This fascinating story made us see our armor suits in a different light, and even feel an emotional bond to them.

Our kimono stylist knew a lot about samurai history
Wearing the Samurai armor! A total of 20kg
Now it was time to try on our armor suits. 
The armor fitting experience is completely hassle-free. All necessary items are available at the studio, so no preparation is needed. One can even borrow T-shirts and trousers to wear underneath the armor, and the 'tabi' toe-socks are gifted to the participants afterwards.

wearing armor
We wore the tabi socks and trousers first. Then we covered our arms, hands, lower body and shins before protecting our torso with heavier gear. 
The torso piece was very heavy and restricted movement. By actually trying them on, it was easier to imagine how such bulky and durable gear protected warriors from attacks. 

Strong, durable gear
We completed our samurai warrior look with kabuto helmets, and Jin-baori (a decorated cloth garment, similar to the European surcoat). Experience your gradual transformation, as you slip into the shoes of Sengoku period warlords one piece at a time.

Even a small accessory such as a headband can alter looks

The helmet completes the warrior look
The entire armor costume, including the helmet, weighs about 20 kg. It feels heavy but when worn, they are surprisingly easy to move around in. I could tell that the armors were built to be robust, but with mobility in mind too. The real armor suits worn in battles used metal plates, and are said to have weighed around 40 kg.
Time for photos
Once we were done with fitting, we were ready to shoot photos. We spent the next hour with the studio photographer, posing with various accessories such as swords, fans and commander batons. 

Taking on a dauntless pose with a prop sword
From time to time, Mr Takemura gave out energetic shouts to hype up the atmosphere and make us feel like proud samurais. We also had fun trying out the many poses and facial looks he suggested.

Fun-filled photo session

Like a brave warrior
Group visitors can pose together. On this day, it was just the two of us, so we had fun reenacting battle scenes. The photos resembled images straight out of a samurai TV show. 

Reenacting a battle scene
Shibuya street visit in samurai armor
It was noon on a weekday. Just like any other day in Shibuya, the streets were bustling with activity. Passersby stopped us and asked for photos.
As we marched on, we soon learned it was easy to move around in armor suits. We felt anxious yet excited to be out wearing armor.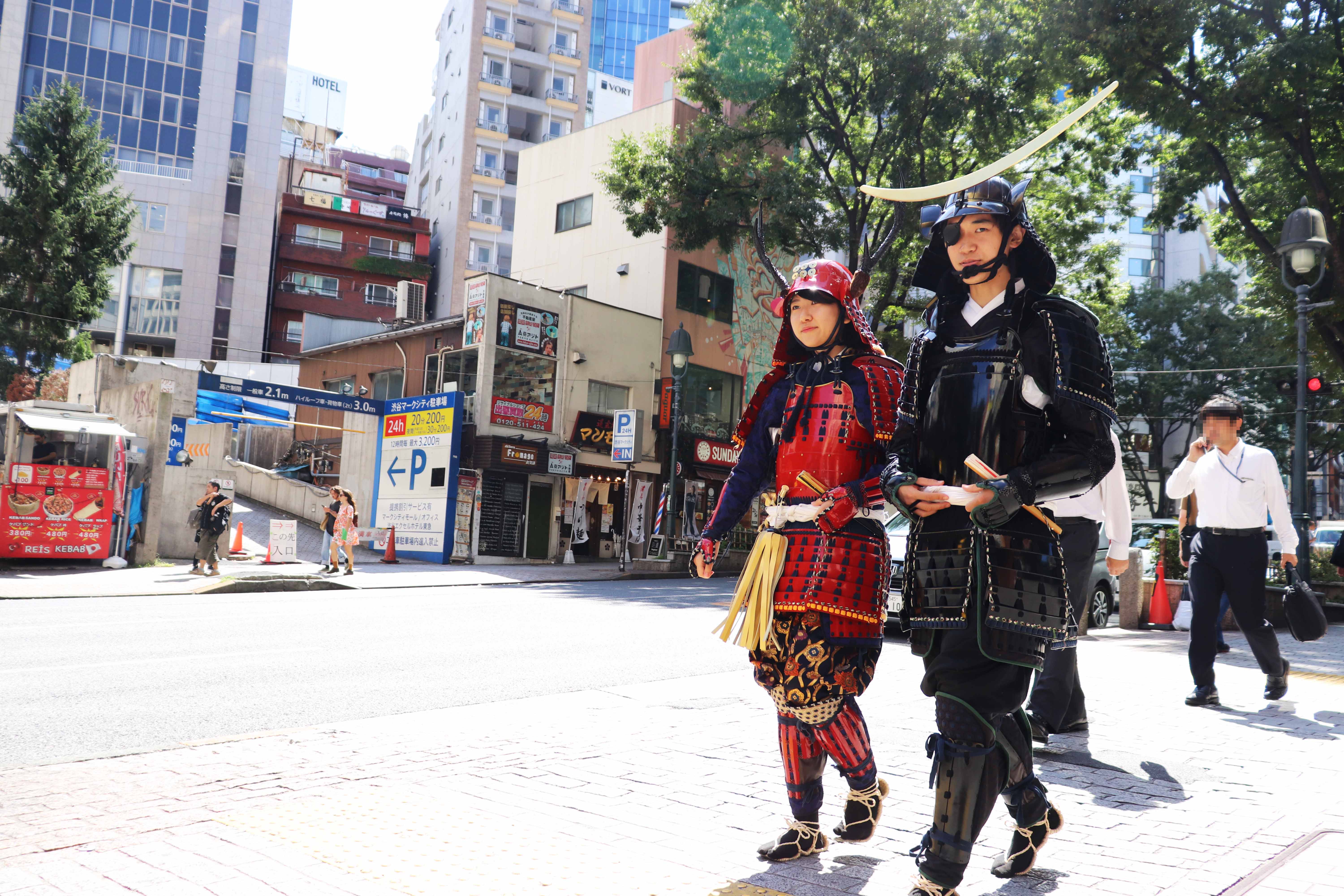 Despite our fierce looks, we felt anxious inside as we passed by onlookers
Instead of shoes, we wore straw sandals once used by samurai warriors. The ankles are secured by straw, making these sandals ideal for long distance walking.
Although they are easy to walk in, they are not fully cushioned like today's shoes. We could feel the hard concrete directly beneath our feet. It was completely different from walking in everyday shoes. We felt light-footed and ventured out into the streets of Shibuya.
We descended Dogenzaka slope
The studio is just outside the rows of shops and commercial buildings along Dogenzaka slope. We walked down the slope towards Shibuya station. To be honest, we felt a little shy about walking past curious spectators. But we held our heads up high like proud samurais and marched down into one of Shibuya's most popular spots.
We marched into Shibuya center-gai street
Shibuya center-gai street / Shibuya scramble crossing
Shibuya center-gai street is packed with restaurants and shops and attracts many young people throughout the day. We braved the crowds and posed at the beginning of the street -- one of the neighborhood's busiest spots. Many tourists asked us to pose for them. We felt flattered. Shibuya is probably one of the least likely places associated with samurais and everything felt surreal. We took more photos with the batons and fans we brought with us from the studio.

We patiently waited for the perfect moment...

Photos at Shibuya scramble crossing
The statue of Hachiko / In front of Shibuya station
We hoped to capture a few photos with the statue of Tokyo's most famous dog, Hachiko. It was just a quick walk ahead, in front of Shibuya Station. The statue is a popular meeting point and tourist destination in itself. Sadly, it was very crowded and we had to take photos from a distance.

photo shot against the backdrop of Tokyo's famed dog statue Hachiko
We found ourselves surrounded by many tourists eager to take photos with us. Among them was a tourist who identified himself as a great admirer of samurais. He even had a samurai tattoo.
By then, we felt more comfortable in our samurai costumes and enjoyed mingling with visitors from across the globe. It was a special moment.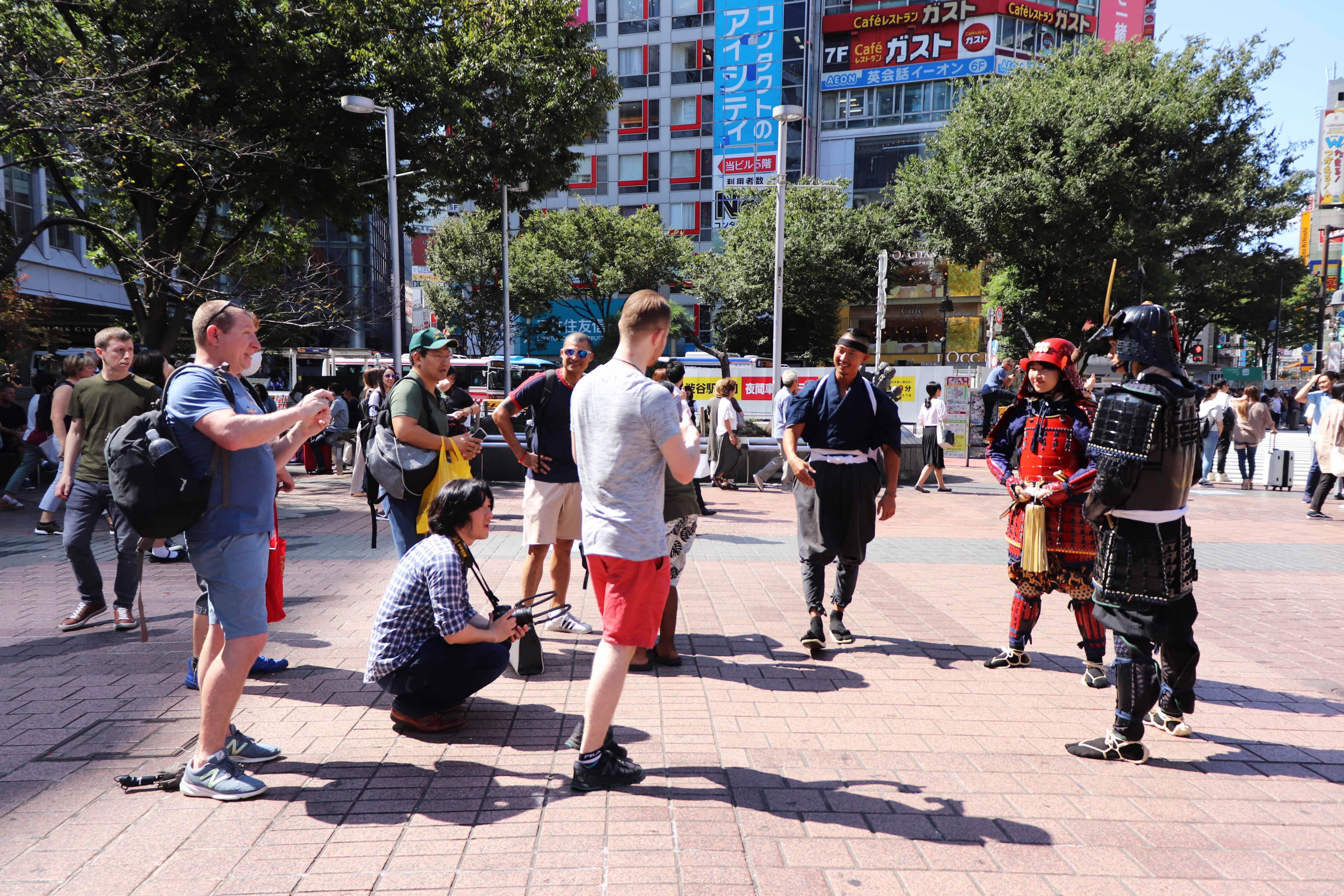 Our samurai costumes attracted a lot of attention

Samurai encounter -- a pleasant surprise for foreign tourists
Our outdoor photo session lasted for nearly an hour. As we headed back to the studio, we began to feel the weight of the armor.... and a renewed sense of admiration for the powerful samurais. They fought battles in armor suits that were twice as heavy as the ones we wore!
Once back in the studio, we changed clothes and checked our photographs. The photos are stored in SD cards that we took home.
Japan's iconic samurai warriors and their armors
Let's take a closer look at the four most popular samurai armor suits available at the studio.
The protective suits are uniquely decorated and showcase their owners' distinctive characteristics. This was because a high-ranking samurai's armor was not only a piece of protective gear, but also a symbol of their family histories, status, and personalities.
Of course, picking your armor based on looks is one way to go about it, but to make the most out of your experience it would be great to learn about the lives and stories of the historical samurai. Perhaps, that would influence how you pose and emote during your photoshoot too! Hopefully the next section, and the facts
Date Masamune (1567-1636) : Founder of the Sendai Domain
Date Masamune armor suit
Date (pronounced da-teh) Masamune is one of the most iconic figures from the Sengoku period, or the period of the warring states, which was one of Japan's most violent times. 
 
Masamune is the founder of the Sendai domain in today's Sendai city in northern Japan. He sided with the predominant Tokugawa clan in the 1600 Battle of Sekigahara, which changed the course of Japanese history. The Tokugawa won and ruled over a unified Japan for more than 250 years. 
Date fought for the Tokugawa again in Osaka in 1614 and 1615 against forces that threatened the stability of their regime. He was highly trusted by the second and third Tokugawa rulers, Hidetada and Iemitsu.
Unlike other samurai who tended towards colorful garments, Date's gear was painted black through and through, including his kimono underneath. His helmet is one that has become synonymous with his name, and is characterized by the wide crescent moon attached to the front. It is said to have been designed to contrast Date's domain flag, which symbolized the sun. His great attention to his garments and gear continued to be known in the word "date-mono", which was coined to describe something fashionable or glamorous.
 
Date is also widely portrayed as wearing an eye patch over his right eye, which is said to have been blinded by smallpox. There are actually no historical records of Date wearing an eye patch, but the imagery frequently appears on TV and films as one of his trademarks. If you wish to imitate Date Masamune's fearless look, don't forget to ask for an eye patch!
The Sengoku hero : Sanada Yukimura (1567-1615)
Sanada Yukimura armor
Sanada Yukimura is another samurai hero hailing from the Sengoku (Warring states) period. He fought in battles during the late 17th to early 18th centuries.
Yukimura wore a striking red armor suit with a helmet decorated with large deer horns. His helmet also shows his family crest of six coins called "Rokumonsen". According to Buddhist teachings, the coins are needed upon death to cross over to the underworld.
Yukimura is probably best known for his brilliant defense of Osaka castle against Tokugawa troops in 1614 and 1615, which won him praise as the greatest warrior of Japan. In the battle, he launched three devastating attacks on the Tokugawa base. As the story goes, the Edo Shogunate ruler Ieyasu feared defeat and considered committing suicide many times. Yukimura was also said to be a skilled handler of cross-shaped spears, which further boosted his reputation as a dauntless warrior.
Yukimura was the same age as his arch-rival Date Masamune, and this has fueled speculation of a special bond between them. Some suggest they even had secret deal, because Masamune sheltered Yukimura's family members after Yukimura's brutal death.
The first ruler of the Fukuoka Domain : Kuroda Nagamasa (1568-1623)
Kuroda Nagamasa armor
Kuroda Nagamasa served two of Japan's feudal leaders, Toyotomi Hideyoshi and Tokugawa Ieyasu. Nagamasa was the son of Kuroda Kambei -- the chief strategist and advisor to Hideyoshi, who united the nation at the end of the 16th century. Later, Nagamasa aligned with the Tokugawa clan when it became the predominant force after Hideyoshi's death.
Nagamasa's armor is characterized by his helmet, which features a striking contrast of black and gold. It is decorated with a sun-shaped crest and large water buffalo horns lacquered in gold. Nagamasa was fond of helmets decorated with water buffalo horns and is said to have owned several versions of them.
During his childhood, Nagamasa was held hostage by the powerful warlord Oda Nobunaga. In his early teens, Nagamasa fought alongside his father for Hideyoshi, who was Nobunaga's successor. When he was 16, Nagamasa played a crucial role in the battle of Shizugatake, which consolidated Hideyoshi's power.
After his father retired, Nagamasa joined the Japanese invasion of the Korean peninsula in the late 16th century. During the Battle of Sekigahara in 1600 -- one of the most important battles in Japanese history -- Nagamasa sided with the Tokugawa clan, which emerged as the dominant power. The Tokugawa family rewarded Nagamasa's services by granting him a large fief in what is today's Fukuoka Prefecture in southwestern Japan. This developed into the Fukuoka domain, and Nagamasa was its first ruler.
From rags to riches : Toyotomi Hideyoshi (1536-1598)
Toyotomi Hideyoshi armor
Toyotomi Hideyoshi was the second of three Japanese rulers who unified the country, and his life is a true example of a rags-to-riches story.
Hideyoshi was born into a family of farmers, which was then considered a lower social class. After serving as an foot soldier under Oda Nobunaga, Hideyoshi was promoted for his loyalty and gradually climbed up the ranks. He became one of the few men Nobunaga trusted.
In 1582, Nobunaga committed suicide following a revolt by his retainer, Akechi Mitsuhide. Hideyoshi avenged his master's death by defeating Mitsuhide in the Battle of Yamazaki. This episode marked a milestone in Hideyoshi's quest to conquer rival warlords and unify Japan.
In the following years, Hideyoshi built a castle in Osaka and took the position of kampaku, or chancellor to the Emperor. He later became daijyo-daijin, or the chief minister, and the Emperor granted him the surname Toyotomi. In 1590, Hideyoshi became the ruler of Japan, completing the unification started by his former lord, Nobunaga.
Hideyoshi is remembered for his flamboyant taste and many of his armor suits were decorated with eye-catching patterns and colors. The Hideyoshi armor suit at Samurai Armor Photo Studio is no exception. The glittering armor piece is covered with colorful intricate patterns.
Dress up in armor and be a samurai for a day
The samurai has become a worldwide icon of Japanese history, and the subject of many films, video games, and documentaries. Many samurai costumes have flooded the markets for decades, but not many are as historically accurate as the ones at Samurai Armor Photo Studio! The photoshoot is sure to satisfy history buffs, tourists, and fans of Japanese culture alike with a wide variety of outfits and knowledgeable staff. Take this chance to have an unforgettable photoshoot like no other, with your friends, family, and travel companions!

posing for photos at Dogenzaka slope