Rickshaws were introduced to Japan in the late 19th century and were once a popular form of transport. Today, the two-wheeled carts can be seen dashing through the streets of historical sites, such as Asakusa, Kyoto and Kamakura. Rickshaw rides are a tourist favorite.
In Japan, rickshaws are called Jinrikisha, which literally means, a manually pulled vehicle. The drivers are known as shafus.
At a first glance, pulling a rickshaw seems like a tough, masculine job. However, it requires more than just physical strength. A rickshaw driver must know the ways around town, have good speaking abilities and great hospitality. We interviewed two shafu drivers of Ebisuya, a rickshaw company in Asakusa. Let's take a closer look at the valued rickshaws and their drivers.
Rickshaws are the best way to see Asakusa
Asakusa is one of the most traditional neighborhoods in Tokyo, and draws crowds of tourists throughout the year. Although the area is just a stone's throw from the SkyTree -- one of Tokyo's ultramodern landmarks -- Asakusa has always been popular for its down-to-earth, nostalgic atmosphere.
The main attractions of Asakusa are Tokyo's oldest temple, Sensoji, and the shopping streets that lead to the temple. Nearby are Japan's first amusement park, Hanayashiki, and Hoppy Street, a tiny back alley lined with old Japanese-styled taverns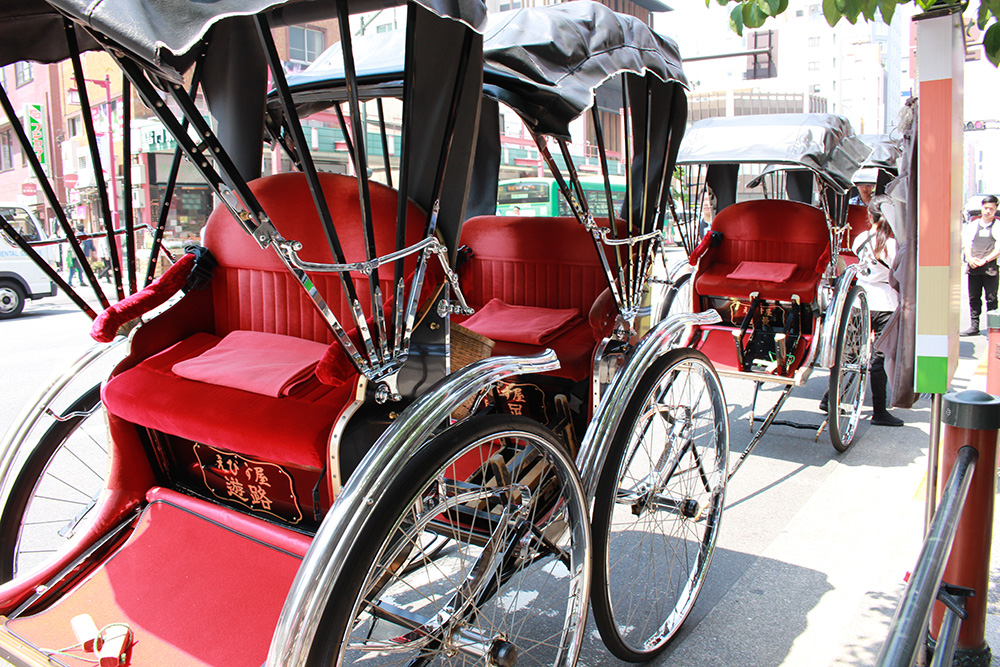 Once you're in Asakusa, rickshaws are hard to miss. Shafu drivers are everywhere around the iconic Kaminarimon Gate. Their fitted cotton trousers, happi coats tightly wrapped with cotton belts, and split-toed shoes evoke the Japan yore.
Hiring a carriage and its cheerful driver is one of the most popular ways to see Asakusa. It may seem faster and cheaper to walk around and explore on your own, but these drivers will prove you wrong.
The role of shafus used to be dominated by Japanese men, but times are changing. Their dapper looks now inspire women and foreigners to join the profession.
So, what's behind the unique appeal of rickshaws and shafu? To find out, we hired a driver from Ebisuya.
The rickshaw experience
We chose a 30-minute route that visits both the eastern and western neighborhoods of Asakusa. Starting from Kaminarimon Gate, the rickshaw travels through Dempo-in Street, passes by Asakusa Shrine, and then to a spot where you'll get a great view of the SkyTree. From there, we continue onto Orange Street and back to Kaminarimon Gate. This is route focuses on the areas surrounding Sensoji Temple, while showing a glimpse of the different atmospheres of the eastern and western sides of Asakusa. The ride costs 7000 yen for a single rider, or 4500 yen each for two passengers.
Shafu driver, Shingo Takayasu, is all smiles
Our driver, Shingo Takayasu, is a handsome young man from Ibaraki Prefecture, northeast of Tokyo. He had his mind set on becoming a rickshaw driver upon his visit to Asakura in high school. After graduating, he moved to Tokyo to pursue his dream. Now, he is considered an experienced shafu driver, with 5 years of experience. We climbed onto his rickshaw for a short ride.
We forgot about the scorching summer heat for a while
On this day, the temperature soared to 33 degrees Celsius in Tokyo. However, it felt surprisingly cool on the rickshaw. There was a nice breeze and the rickshaw roof shaded us from the summer sun.
Mr. Takayasu joked that we were probably feeling 100 times more comfortable than him, then glided out into the traffic.
An enchanting half-hour rickshaw tour
Off we went on a 30-minute ride
■Running into legendary figures at Dempo-in street-- the east side of Sensoji Temple.
Our rickshaw headed eastward, toward Dempo-in Street. This part of town is lined with souvenir shops.

Entering Dempo-In Street
Mr. Takayasu explained that this street was once home to the 19th century writer, Kawatake Mokuami. His tales about five bandits from the Edo period are a popular Kabuki play.
In this part of town, figures of the five thieves are on display in a playful manner. Mr. Takayasu gave us some clues as to where to find the unexpectedly placed clues. We spotted one climbing a wall, and another resting atop a roof.
this kind of knowledge makes the role of the shafu extra special. As they show you around, they will dive deep into details you would never find in travel guidebooks.
Most knowledge is self-taught. When shafus are off work, they spend a lot of time honing their skills to better serve customers. This involves reviewing history and exploring neighborhood shops.
So, the work of a shafu driver is not just about being extremely fit. They know just about everything on Asakusa, and they are excellent storytellers.
Time for photos at Nitenmon, an important historical treasure
Let your shafu driver take care of the pictures
Our next stop was Nitenmon, which stands in front of Asakusa Shrine.This gate, which dates back centuries, is registered as an important cultural asset.It was our first photo opportunity during the 30-minute tour.
This route stops at three locations for photo ops and the driver takes photos of you while you remain eased in your seat.
■On the way to the SkyTree
After Nitenmon, our rickshaw headed for Tokyo's ultramodern landmark, Tokyo SkyTree.
As our shafu dashed through the streets, we asked him something that had been on our minds… Do his sock-like shoes hurt?
Mr. Takayasu said they fit snugly -- almost like sneakers. He says the quality of these traditional shoes has improved a lot, and he loves how they grip the ground and prevent slipping. It turns out that a shafu outfit is not only eye-catching but actually practical.
When we were parked safely, it was time for some face-to-face talk
As we continued chatting, we soon arrived at a spot with a fantastic view of the SkyTree. This is our second photo opportunity. Two rickshaws traveling in front of us were carrying a family of tourists from overseas.
Groups of more than three travel in separate rickshaws

■Experiencing Tokyo's downtown at Orange Stree
From SkyTree, we headed west to a road affectionately known as Orange Street. Along the way, we passed by Tobu Asakusa Station and Kaminarimon Gate.
How did Orange Street get its name? Mr. Takayasu told us that locals thought it was a refreshing name that was easy to remember.
Bright orange paving of Orange Street

Needless to say, the roads here are covered with bright hues of citrus that give a cheerful feel. We, too, felt uplifted and happy after travelling through the area.
■Dropping by the west side of Asakusa
The end of the street connects to Dempo-in street. From there, our rickshaw traveled through the west side of town back to Kaminarimon Gate. Before heading back, we made one last stop at the gate at Dempo-in street to take our last photo.
Our rickshaw caught the attention of overseas tourists who snapped photos of us as we passed by. We definitely recommend exploring Asakusa on a rickshaw, while hearing great stories from the drivers.
Posing for our last photo at Dempo-in
Our rickshaw tour was over in exactly half an hour. We wished it had lasted longer. Mr. Takayasu was all smiles until the very end. His interesting stories made the rickshaw ride even more enjoyable. The tour highlighted all the skills required by rickshaw drivers – their strength, in-depth knowledge, great communication skills, and perhaps most importantly, their hospitality.
■Special gifts given out at the end of the tour
At the end of our tour, Mr. Takayasu showered us with gifts.

Passengers receive special post cards and stickers
We were given postcards with drawings of the major sites of Asakusa, stickers, and discount coupons for a nearby shops.
You can receive a shafu driver shirt by collecting all the seasonal stickers.
Ebisuya's unique drivers
There are many shafus just as charming as Mr. Takayasu who work for Ebisuya. About 70 drivers work for the company in Asakusa (some are working temporarily at other locations)
Shafu drivers are often viewed as boisterous, straightforward and cheerful, just like traditional Tokyoites. Many of the drivers are Japanese men.However, there is a growing number of women and non-Japanese shafus as well.
We were curious to learn how they entered the field, and interviewed two drivers at Ebisuya.
Female shafu Shin Hyan Lyon
Female shafu Shin Hyan Lyon
Ebisuya has an increasing number of women on its payroll. In Japan, shafu is considered to be a man's job, so we wanted to know how she got started.
-- Ms Shin, how long have you been working as shafu?
I started in March of 2019. I've been working for only about three months.
-- What made you want to become a shafu?
I've actually never been on a rickshaw. I once saw a driver gliding through the streets of Asakusa and it was love at first sight. Everything looked very cool and I just wanted to do the same.
Some people might say that it's a tough job for a woman…. Well it is, and I just have to toughen up!
Also, I love interacting with people. Being a shafu lets you meet people from all walks of life, both young and old. I thought it would be fun to speak to a lot of people.
-- Did your work turn out as expected?

A gorgeous smile that's almost contagious
My work isn't just about pulling around a rickshaw. I need to be a guide, while entertaining my customers. I need to multitask.
It was challenging at first trying to figure out how to explain things in an amusing way. I want to make everyone happy so I'll try to approach my clients according to their age or personality. At times, I'll even change the tone of my voice, or the stories I tell.
-- Could you share any episodes about the hardships of being a female shafu?
Well… to begin with, men and women aren't physically equal. Once you get used to pulling a rickshaw, it doesn't feel that heavy, but it is a bit of a challenge running for long periods. So, I do a bit of training on my own, going running at night and checking out the routes.
--That's impressive. Tell us what kind of shafu you want to be.
My goal is to build enough strength and be able to pull a rickshaw all day. I'm currently studying at a vocational school and my dream is to become a wedding planner. It helps being a shafu now because there are plenty of opportunities to learn about hospitality.
I'm constantly thinking about my customers and how to make them happy, so this job is very rewarding. I'll try to learn as much as I can about hospitality while working as a shafu and apply my skills to my future job.
Taiwan-born Mr. Ho Jun Yang
Taiwan-born Mr. Ho Jun Yang
Mr. Ho has been working as a shafu driver for four years.
The Taiwan-native has been living in Japan since he was 10. We asked him to describe his idea of a perfect shafu driver.
-- What inspired you to become a shafu?
I spotted rickshaws during a trip to Kyoto and was particularly drawn to the drivers. They looked amazing. I was living in Tokyo then and decided to join Ebisuya to become a driver myself.
-- Since you're a foreigner, I suppose you receive many overseas guests. Have you had any difficulties with them?
Japanese speaking drivers do a lot of research about history and culture to make their rickshaw tours more interesting. But if you're a visitor from overseas and not familiar with Japan, some details could be hard to follow. Even our jokes are sometimes difficult to understand, unless you're Japanese.
I've learned to deal with overseas visitors differently. For instance, when I'm entertaining Chinese tourists, I'll tell them stories they can relate to. The details are a bit different from what I'd explain to Japanese passengers.
-- Tell us about your happiest episode so far.

Bilingual shafu, Mr. Ho, is the perfect guide for overseas visitors
Well, it's definitely when my passengers thank me after the tour. Some passengers send letters to Ebisuya's office. It makes me really happy to know that they've enjoyed having me as their guide. It's very rewarding.
-- You're originally from Taiwan, What is your ideal image of a shafu driver?
My goal is to become a bilingual shafu driver who can fully convey Asakusa's charm to visitors overseas. Being a Taiwanese shafu in Japan puts me in a unique position. I'm able to tell stories in Chinese about Japan's beauty. It's not something that everyone can do. The best I can do is be myself and do my best to be a good host.
Shafu drivers are dedicated to transporting their passengers and being a hospitable guide. It's a passion that all started when they first spotted their predecessors pulling carriages in style. Shafu drivers seem to have a unique attractiveness that inspires onlookers to join the field. Perhaps someone is being inspired at this very moment too...

Drivers' names are proudly displayed on rickshaws
Visit Asakusa and meet Ebisuya's charming rickshaw drivers
Rickshaws once roamed the streets of Japan as a popular form of transportation.They have taken a new role today as a favorite for tourists seeking an exotic experience.
Our driver, Mr. Takayasu, and the other shafu drivers featured in this article were contagiously cheerful and energetic. It is easy to see why rickshaw rides are so popular. The smiling, happy drivers and their dedication to hospitality will add that much more fulfillment to your trip.