In a scenic day trip from Tokyo, the Kamakura area offers easy access to gorgeous beach views and photogenic eats. Beat the sunrise and find your 1-day adventure there with the Enoden, a train line connecting Kamakura station to the area's tourism, neighborhoods and coastal sceneries. The Enoden has an picturesque retro look that makes it great photo material in itself!
From sunrise to sunset, this article introduces to you a full day-trip itinerary of landmarks and restaurants around the Kamakura and Shonan area.
6:18 - Sunrise at Shichirigahama Beach (@ Shichirigahama Sta.)
From Tokyo, take a 90-minute train ride on the JR Tokaido line and Enoshima Dentetsu. Get off at Shichirigahama station, and a quick 2-minute walk brings you to this beautiful scenic beach.
The Eno-den train  (the official name is Enoshima Dentetsu) runs from Kamakura station to Fujisawa Station in Kanagawa Prefecture. The trains come in a variety of colors, but their typical form is a warm green and yellow combination. Their cute shape and retro interior are perfect for a sightseeing adventure around the ancient town of Kamakura and its surrounding areas.
Ride on the Eno-den, a train beloved for over a century
When I travelled here in late February, sunrise was at 6:18 am. During the spring season between March and April, the sunrise will be around 5:30 am.
This area is usually crowded with tourists, but crowds are much more sparse in the morning. I strongly recommend that tourists experience this scenic beauty in the early morning, just as the locals do when they wake early to walk this beach. Seeing the sun rising on the horizon always makes me feel revitalized!
If the weather permits, you may be able to see Mount Fuji on the right (Toward Enoshima)
You can view a lighthouse and Mount Fuji
On your left is the lighthouse of Enoshima, and on your right is the majestic Mount Fuji. Once you breathe in the fresh morning air in this panorama of nature's grandeur vast paradise, your elegant holiday starts!
【Access】
2-minute walk from Shichirigahama Station, Enoden Line
7:00 - Taste the pancakes at Bills Shichirigahama (@ Shichirigahama Sta.)
The exterior of Bills Shichirigahama
After taking a refreshing morning stroll on the beach, it's time to satisfy our hunger. Let's check out Bills restaurant, directly across the road from the beach!
Bills was originally founded in Australia, and is known for serving the "best breakfast in the world". Bills is now a chain restaurant in Japan. Luckily for us, at Bills of Shichirigahama, we can enjoy the marvelous scenery from the terrace seats. Feeling the ocean breezes and viewing the grand Pacific Ocean while eating the sumptuous breakfast will be a heavenly experience! It makes sense that many people get up early to come here all the way from Tokyo, just to enjoy their breakfast.
Bills Shichirigahama
Bills Shichirigahama opens at 7AM, so it's perfect to come by here right after sunrise. I recommend you make a reservation if you would like to get the terrace seats, since they are super popular.
Everyone's favorite dish at Bills is the Ricotta Cheese Pancake! While many restaurants offer pancakes flooded with toppings for Instagenic effects, the pancake offered at Bills is quite simple. I could taste the perfectionism in the quality of the pancake batter itself, which certainly does not rely on the supporting role of toppings.
Ricotta Cheese Pancake (¥1,500+Tax), Pineapple&Turmeric Juice (¥920+Tax)
Topped with banana and honeycomb butter, the pancake melts like a marshmallow in your mouth, due to the ricotta cheese in the texture. You can add maple syrup, if you like. In my opinion, the best matching drink with the pancake is a Pineapple Juice Blend. It is a healthy drink combining sweet and sour with a little bitterness, so it's perfect for a refreshing morning.
【Information on Bills Shichirigahama】
Access: 2-minute walk from Shichirigahama Station, Enoden line
Address: 1-1-1, Shichirigahama, Kamakura, Kanagawa, 248-0026 
Phone: 0467-39-2244(Inquiry) / 050-3188-5090(Reservation)
Hours of Operation: Monday~Thursday: 7:00~18:00  / Friday~Sunday & Statutory Holidays: 7:00~21:00
Official website: Bills Shichirigahama
9:00 - Recreate the opening cut of the Anime Slam Dunk! (@ Kamakura-kokomae Sta.)
After savoring the fantastic breakfast at Bills, I took the Enoden from Shichirigahama to Kamakura-kokomae Station. This is a famous, very exciting spot for Slam Dunk fans.
Kamakurakokomae Station
Kamakura-kokomae Station is famous for becoming one of the locations appearing in the world-famous Anime, Slam Dunk. The opening cut of the railway crossing and the train scene is depicted from this real place. This location has become a 'sacred spot' for foreign fans as well, and some of them even visit here in uniform for their 'pilgrimage'.
Captured the same cut from the opening scene in the Anime, Slum Dunk
I tried to capture exactly the same cut with my camera, but it was quite tough! When the crossing is coming down and there is no car coming by, that is the perfect timing for the shot!
In my case, I finally got the satisfactory photo similar to the cut in the Anime, after having to wave off 4 trains. My advice is to use a burst capture feature as the train is approaching, since the shutter chance passes instantly.
【Access】
1-minute walk from Kamakurakokomae Station, Enoden Line
11:00 - Taste local specialty Ramen at HYBRID(@ Shichirigahama Sta.)
Loved by locals, Ramen shop, HYBRID
 
After finishing my pilgrimage to the famous anime location, I walked back to Shichirigahama Station.  If you're still hungry, I recommend the Ramen shop HYBRID for an early lunch. This Ramen shop has been in business for 32 years, and is loved not only by the locals but tourists as well. It is lovingly referred to as 'Hybri-san' and has great accessibility, being located just outside the ticket exit.
Menu in the shop
Their Menu is prepared in 4 different languages (Japanese, English, Chinese and Thai) and the compact shop is crowded with customers from many different countries. 
Their specialty is their original Milk Ramen!
The taste is unexpectedly light, but also deep, and very addicting! They offer many types of original ramen, such as Mekabu (root of the wakame seaweed) ramen. What a joy to eat ramen with beer right by the beach in the afternoon! I guarantee you that it's going to be an amazing holiday!
Their best-selling, Milk Ramen (¥750)
Check out the limited-time eats & drinks!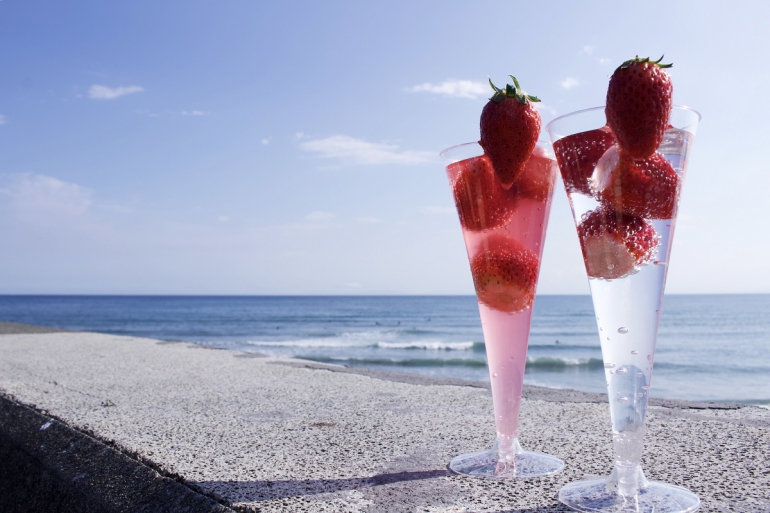 Instagenic menu, Strawberry Champagne
HYBRID not only offers ramen, but also fancy limited-time menu items, which is a key factor behind HYBRID's popularity. The Strawberry Champagne in the photo is one example, that was served during Golden Week in 2019 with the idea to offer something seasonal. As I mentioned, these menus are available only for a limited time.
The owner, Yu Ishibashi, continues to create drastic plans that go far beyond the standard ideas of an ordinary ramen shop. For example, they went to Myanmar to offer ramen to children of ethnic minority groups. They also purchased stationery with a portion of their profits to donate to them. It's no surprise that their charitable activities in the past have appeared in newspaper articles.
The shop is closed on Mondays, but it also closes irregularly so I suggest you try if it's open. You may even experience one of their unique events or enjoy a limited-time menu!
【Information on HYBRID】
Access: Out the ticket gate of Shichirigahama Station, and to the left.
Address: 1-1-19, Shichirigahama, Kamakura, Kanagawa, 248-0026  
Phone: 0467-32-4847
Hours of Operation: Tuesday ~ Saturday: 11:00~14:00 , 18:00~23:00
 / Sundays & Statutory Holidays: 11:00~18:00
Closed: Mondays *Closures may occur without prior notice
12:30 - Sweet potato ice cream at 'KAFFEE BICYCLE' (@ Shichirigahama Sta.)
After tasting their deliciously unique ramen, I treated myself to dessert at KAFFEE BICYCLE, near Hybrid.  KAFFEE BICYCLE is a dessert shop serving baked sweet potatoes within the Spanish-style bar, Izakaya morimori.
The exterior of KAFFEE BICYCLE
The owner researched many sweet potatoes to find the best variety for baking, which he eventually decided was the "Silk Sweet" brand of potatoes. The ice cream made from this baked sweet potato is delicious!
Many people were surprised by the ice cream's abundant sweetness, saying it almost tastes like honey. The potato itself is quite sweet, making it a perfect match for the ice cream.
Baked Sweet potato ice cream (¥500)
They offer sweets such as baked sweet potato, sweet potato brulee, and the popular stone baked buttered potato. They also offer a unique drink menu that you won't be able to find in any other café. Be sure to check them out!
House-made ice ginger milk (¥450) & Hot lemon highball (¥500)
【Information on KAFFEE BICYCLE】
Access: Near by Shichirigahama Station, Enoden Line
Address: 1-2-27, Shichirigahama, Kamakura, Kanagawa, within the Spanish-style bar, Izakaya morimori, 248-0026
Hours of Operation: 11:00〜19:00
Closed: Irregular *Closed on rainy days
Official website: Kaffee Bicycle
15:00 - Sunset at Inamuragasaki Beach (@ Inamuragasaki Sta.)
After satisfying yourself with the delicious dessert, take a stroll through the neighborhood, then head off to Inamuragasaki Station with the Enoden for the next site. Since I started the trip at sunrise, it makes sense to finish up with a sunset at the beach! You can't miss the sunset here that dyes the sky into a deep orange.
While you will be able to enjoy the sparkling reflection of the sun on the sea at the beach, overlooking the sunset from a hilltop at Inamuragasaki Beach Park gives you a gorgeous view too!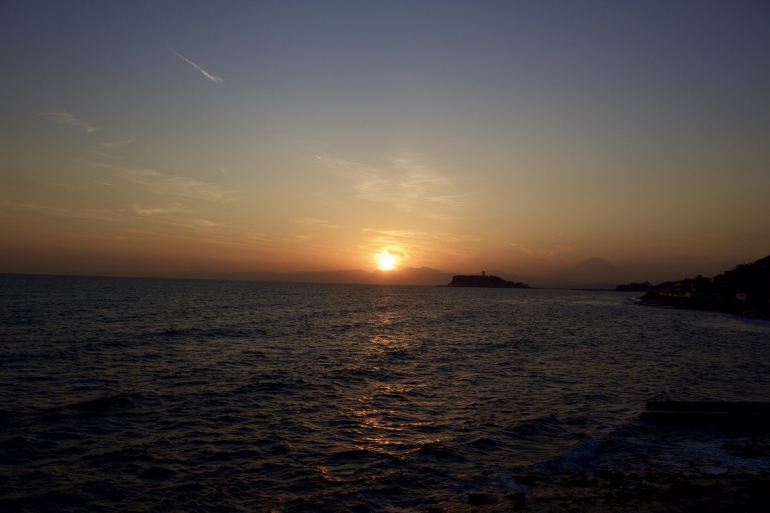 The view of the sunset, looking like the sun floating in the sea.
The sun looked like as if it was floating in the ocean.  I was entranced by such a fantastic view, and at that moment, my heart was fulfilled. After the sun went down, many people chose to stay a little longer to bask in the afterglow. 
【Access】
4-minute walk from Inamuragasaki Station, Enoden Line
17:30 - Juicy Yakitori Skewers at Yakitori Hirano (@ Kamakura Sta.)
The finale of the trip is a Yakitori restaurant near Kamakura Station
On the Enoden once again, I travel from Inamuragasaki Station to Kamakura Station for our final spot, Yakitori Hirano, a family business established 40 years ago. The ramen shop, Ramen Hirano on Komachi Street is also run by the same family. Yakitori Hirano's seating is exclusively counter seating, which is arranged in a U shape . This popular restaurant has a constant stream of customers showing up one after another.
All the juicy Yakitori are carefully grilled one by one
The average price of Yakitori is ¥200 per skewer. All the Yakitori are carefully grilled for each order, and taste exquisite! Today, the Yakitori I ordered were heart, liver, quail eggs, gingko nuts, and tomatoes. On this trip, I walked a lot and ate a lot. I am so satisfied! Since the shops around Kamakura close relatively early, you can enjoy a silent night walking down Komachi Street.
Ramen Hirano on Komachi Street
On the way home, I found Ramen Hirano, so I took a photo. Today, I am already full with Yakitori, so I will keep this place in mind for my next trip!
【Information on Yakitori Hirano】
Access: 5-minute walk from Kamakura Station
Address: 2-11-11, Komachi, Kamakura, Kanagawa, 248-0006
Phone: 0467-25-0717
Hours of Operation: 16:30〜21:00
Closed: Tuesdays
Only a 1-Day Trip From Tokyo! A Picturesque Kamakura trip with the Enoden
How was your day on the Enoden? The slow trip through beautiful beachside views and local restaurants is a great, easy change of pace from the rapid hustle of urban Tokyo.
To make your trip even more carefree, I strongly recommend the one-day free Enoden pass. The pass is called 'Noriori-kun', and it costs only ¥650 for adults and ¥330 for children. This makes the Enoden not just a means of transportation, but a casual way of enjoying Kamakura's views. You can also get off freely to explore, as your heart guides you!
From sunrise to sunset, a day trip using the Enoden is packed with fun attractions. Use our itinerary as a guideline, but also try venturing off from a variety of stops to discover your own Kamakura day trip!