Kamakura is a popular choice for a day trip from Tokyo. Especially in the autumn, people flock to Kamakura to catch the fall foliage. Make sure to stay a full day though, to catch the fall foliage light up after sunset. Here is a 1-day itinerary for visiting all of the big fall foliage spots in Kamakura.
Before you go…
What to wear
Since this itinerary is filled with walking, make sure to wear comfortable shoes. Also, since it can get chilly after sunset in the autumn, it might be a good idea to have a jacket or cardigan.
When to go
The leaves change color around mid-November to mid-December in Kamakura. Check online regularly to figure out when would be the best time to visit.
Start at Kitakamakura Station (10:00a.m.)
Kitakamakura Station
In order to efficiently get to the fall foliage spots, start at Kitakamakura Station. Around this station, there are many spots you can go to.
Access
Kitakamakura Station is one line from Tokyo Station with no transfers.
【Tokyo Sta.】JR Yokosuka Line / for Zushi
→【Kitakamakura Sta.】
1. Engakuji Temple (10:00a.m. – 10:30a.m.)
Entrance to Engakuji
Engakuji Temple locates right in front of Kitakamakura Station. It is one of the most significant Zen temples in Japan, and one of Kamakura's five great Zen temples. The temple premise is spacious, and there are many fall foliage spots.
Access
Engakuji Temple is a 1-minute walk from Kitakamakura Station.
2. Meigetsuin Temple (11:00a.m. – 11:30a.m.)
Meigetsuin Temple fall foliage from the circular window
The second you step inside Meigetsuin Temple, you will be surrounded with beautiful fall leaves. Don't miss out on the hondo (main hall), where you can see the fall foliage from the circular window. The scenery with the window and the fall leaves is like a painting.
Access
Meigetsuin Temple is about a 10-minute walk from Engakuji Temple.
3. Kenchoji Temple (12:00p.m. – 12:30p.m.)
Kenchoji's fall foliage
Kenchoji is one of the five great Zen temples of Kamakura. It was founded in 1253, and was the first ever Zen dojo built in Japan. Its sanmon gate, Buddha hall and karamon gate are designated as important national cultural properties.
The temple is grand and formal, and the fall foliage suits the temple's atmosphere wonderfully.
Access
Kenchoji Temple is about a 10-minute walk from Meigetsuin along Prefectural Highway 21.
4. Shishimai Valley / Tenen Hiking Course (1:00p.m. – 4:00p.m.)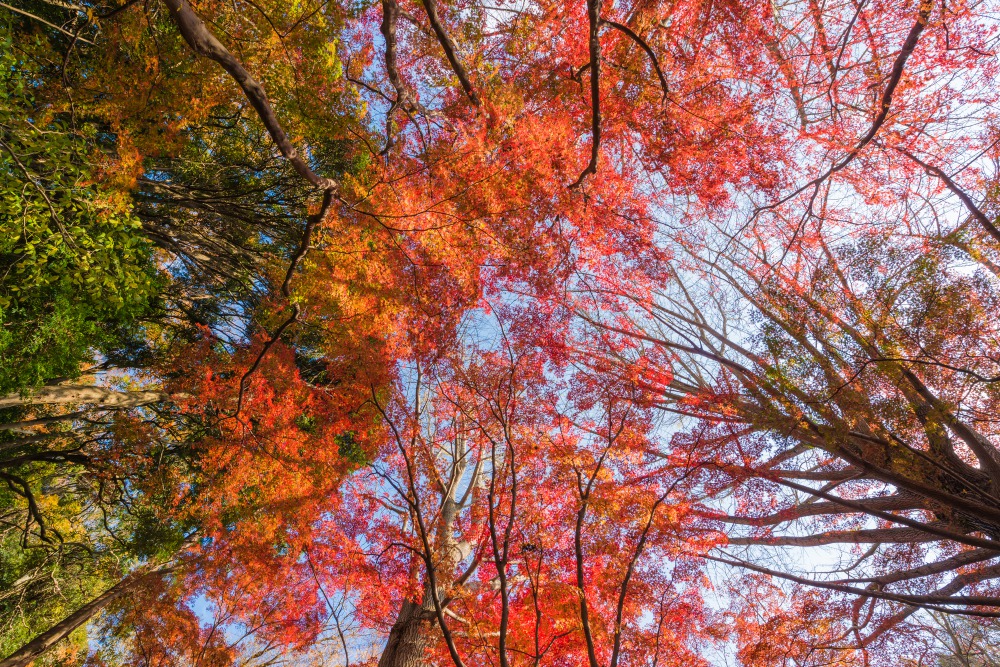 Shisishimai Valley's fall foliage
You can find Shishimai Valley on the Tenen Hiking Course. It is a stunning fall foliage spot surrounded by nature.
The 4-kilometer hiking course takes about 2 hours to complete. After reaching the Tenen Resting Area, hike down towards Zuisenji Temple. On your way down, there will be a beautiful fall foliage view.
Access
From Kenchoji Temple to the Tenen Hiking Course is about a 20-minute walk.
5. A break at Tenen Resting Area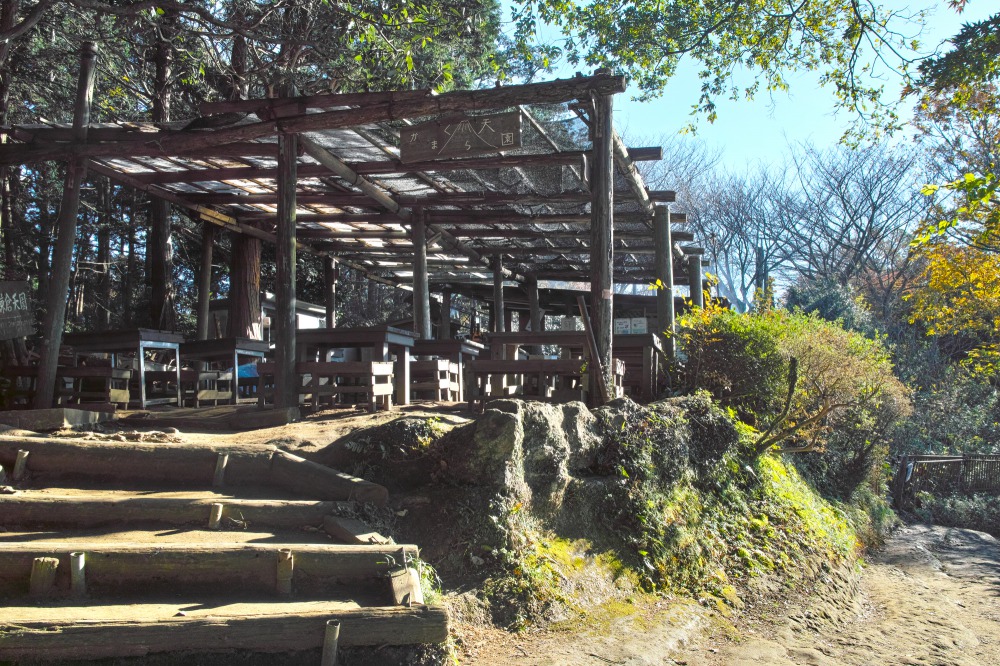 Tenen Resting Area
The Tenen Resting Area on the hiking course is great to take a break and enjoy the view. Here, you can buy food, snacks and drinks. The oden, a Japanese hotpot list, is amazing for chillier days.
Information
Opening hours: 11:00a.m. – 5:00p.m. (may change without prior notice)
6. Hokokuji Temple (4:00p.m. – 5:00p.m.)
Hokokuji Temple's bamboo forest and fall foliage
Hokokuji Temple is known for its bamboo forest, which has about 2,000 bamboo trees. In the fall, you can enjoy a view of the bamboo forest with the fall foliage.
Since Hokokuji Temple is a bit further away from the other spots, it is less crowded and kind of like a hidden gem.
Access
From the Tenen Hiking Course to Hokokuji is about a 30-minute walk along Prefectural Highway 204.
7. Take the Enoden train to Hase Station
Enoden train
The Enoshima Electric Railway, or more commonly referred to as Enoden, runs between Kamakura Station and Fujisawa Station. It gets to most of the core sightseeing spots in the Kamakura area.
The train cars have a cute retro design, and match the beautiful coastal scenery. It goes through some residential areas, and the train cars get super close to some of the houses.
Access
From Hokokuji Temple to Kamakura Station, take the bus. Then, hop on the Enoden train to Hase Station.
【Hokokuji Sta.】→ about a 2-minute walk to Jomyoji Bus Stop
→【Jomyoji Bus Stop】Keikyu Bus 鎌36 / for Kamakura Station
→【Kamakura Station】
8. Hasedera Temple (5:30p.m. – 6:00p.m.)
Fall foliage light up
Hasedera Temple is just five minutes from Hase Station. The temple is known for its seasonal flowers, and is packed with visitors throughout the year.
This is the only temple that does the fall foliage light up in all of Kamakura. The fall foliage light up is the perfect, romantic way to end your fall foliage day trip.
Access
From Hase Station, Hasedera Temple is a 5-minute walk.
Information
When: Nov. 25 to Dec. 10 (as of 2017)
Time: From sunset to 6:00p.m.
Fee: ¥300
Check the dates for this year's fall foliage!
Typically, the leaves start changing color between mid-November and early December. However, it is a good idea to check online now and then to keep up with the fall foliage conditions.