Japan, which has volcanoes all over, is well-known for its world-class abundance of hot springs. Hot springs have been rooted in Japanese life since ancient times, and it is strongly recommended that you visit hot spring resorts if you come to Japan. 
Did you know that hot springs actually vary in color, smell, effects, etc. depending on the spring quality? Among many hot spring resorts in Japan, We would like to introduce six of the Hakone hot springs in Hakone-machi Kanagawa Prefecture, some of Japan's most popular, and show you the unique qualities of each. Hot springs are an essential part of sightseeing in Hakone; wouldn't it be great to choose hot springs according to the spring quality? We spoke with Miyuki Uetake, an All About guide and hot spring expert to find out about the characteristics of the six spring qualities and the effects women would enjoy. In addition, we will introduce four hot spring resorts that are perfect for a day trip selected by our editorial department.
The qualities of six Hakone hot springs
Mt. Fuji and Lake Ashi in Hakone
One of the world-class hot spring nations, Japan has as many as 2,983 hot spring resorts nationwide (the Ministry of Environment, 2017). The popularity of hot springs has remained solid in Japan, and some people love them enough even to enjoy day-trip hot spring facilities on their way home from work as well as on their trips and casual outings on their days-off. 
Among all the hot springs in Japan, we will highlight the qualities of some hot springs in Hakone in Kanagawa Prefecture, which are renowned tourist destinations. Though it may also be nice to choose hot springs for their locations and fees, how about choosing some based on their qualities?
The qualities and features of six hot springs explained
There are 17 hot springs known throughout the Hakone area, known as "Hakone Ju-nana Yu (Hakone 17 hot springs)." Though they vary in quality, their characteristics fall under six large categories, with each having its own color, smell, texture and effect. Try and find your favorite. 
First Ms. Uetake told us about the characteristics of each spring quality. 
■ Simple hot springs
This is a non-irritating, easy-on-your-body hot spring that everyone can enjoy regardless of one's age. Hot springs with less than 1000mg/kg component is considered simple, which are actually rare since many hot springs contain a mixture of various components. 
Main effects ... helps with insomnia / depression ,etc. 

Hakone Ju-nana Yu... Hakone Yumoto Hot Spring, Ohiradai Hot Spring, Ominato Hot Spring, Lake Ashi Hot Spring
■ Sulfur springs
This type of spring smells like sulfur or, rotten boiled eggs, which is classic to hot springs. Sulfur spring helps extend peripheral blood vessels, coronary arteries and cerebral arteries and prevent lifestyle diseases. 
Main effects ... prevents lifestyle diseases, etc.

Hakone-Ju-nana Yu ... Yunohanazawa Hot Spring / Ashinoyu Hot Spring 
■ Chloride springs
This is also known as "warming springs" because chloride on your skin prevents sweat from evaporating. "The mask of salt" helps enhance your skin's heat retention and increase moisture. Chloride improves blood circulation, preventing you from getting chilly after you get out of the spring. 
Main effects ...warms up cold hands and feet, improves peripheral circulatory disorder, etc.

Hakone Ju-nana Yu ... Tonosawa Hot Spring, Dogashima Hot Spring, Miyanoshita Hot Spring, Sokokura Hot Spring, Ninohei Hot Spring, Lake Ashi Hot Spring
■ Acid springs
As the name suggests, this refers to acid hot springs and are also called "sterilizing springs." Because it is very stimulating, the elderly and those with sensitive skin should be careful. Acid spring is sour like lemon and is highly sterilizing, so it has a therapeutic effect on athlete's foot and heat rash. 
Main effects ... therapeutic effect on atopic dermatitis, diabetes etc.

Hakone-Ju-nana Yu... Sengokuhara Hot Spring
■ Hydrogen carbonate springs
These are known as "cooling springs" or "skin beauty springs." Hydrogen carbonate springs help soften your skin, so they have a heeling effect on burns, skin diseases and cuts.  
Main effects ... Cuts, burns, dry skin, etc.

Hakone Ju-nana Yu ... Ninohira Hot Spring/ Yuzu Hot Spring
■ Sulfate springs
Though sulfate springs can be further classified depending on the mixture of compositions (calcium, sodium, etc.), overall, they have a therapeutic effect on injuries and help prevent arteriosclerosis. They are also called "injury healing springs" or "rejuvenation springs".
Main effects ... healing effects on peripheral circulatory disorder, cold hands and feet, dry skin etc.

Hakone Ju-nana Yu ... Kamogawa Hot Spring, Sengokuhara Hot Spring, Kushi Hot Spring
Why is Hakone famous as a hot spring resort?
River in Hakone Yumoto
As indicated earlier, hot springs in the Hakone area can be classified into six different types of quality and are truly great in variety. When hot springs had just been discovered, there were seven hot springs to represent the area, which were called hakone Nana Yu. The number has now increased to 17, or even 20 with three added recently, which are altogether called "Hakone Niju (twenty) Yu. This shows how the Hakone area is blessed with hot springs. 
So why has the Hakone area become one of the most popular hot spring areas in Japan? Of course, the tourist site's prosperity is partly attributed to its easy access from Central Tokyo, and enjoyable traditional crafts and nature. However, the main reason is that it has long been rooted in people's life as a "resort of therapeutic springs" to treat diseases.
The Owakudani volcano is still active
Hot springs in the Hakone area have been discovered mainly around Hakone Volcano. Hakone Volcano is believed to be about 4 million years old, and historically, various hot springs have sprung up all over Hakone since the Nara period. In the Meiji, Taisho and Early Showa eras, writers and celebrities from around the world also visited Hakone in search of healing. Since Hakone has been popular as a resort of therapeutic springs among cultural figures, it still attracts attention from tourists from all over the world as well as Japanese people.
Also check the nice effect for women
Woman in the hot spring
As described above, each type of spring varies in characteristic, including appearance, smell, and effect. Some of those types have pleasing benefits for women, such as hydrogen carbonate springs called "skin beauty springs." Ms. Uetake told us that the six types of spring qualities in the Hakone area offer benefits that women like. It is also recommended to choose the spring qualities to try according to the condition of your skin.
■ Simple hot springs ... removes the old skin keratin
There are many hot springs with more than one type of quality mixed, which vary from resort to resort. Some resorts offer hot springs with gommage effects, which helps remove the old skin keratin.
■ Sulfur springs ... detoxing effects
This type of springs thins the stains and freckles by decomposing melanin and removes the old keratin for more beautiful skin.  In addition, these hot springs have detoxing effects to eliminate waste. 
■ Chloride springs... moisturizes skin
This type of springs moisturizes skin with the heat and moisture retaining effects of salt coatings. 
■ Acidic springs ... natural skin peeling to smooth out your skin
This type of springs has strong acid, which has "natural skin peeling" effects, and also have a therapeutic effect on pimples. 
■ Hydrogen carbonate springs... softens the skin
It emulsifies and softens the skin. Your skin will get moist and smooth without using soap.
■ Sulfate springs ... increases firmness and elasticity of the skin!
"Rejuvenating hot springs" resuscitates the firmness and elasticity of the skin. Enjoy immersing your skin in the hot water that is like face lotion. 
How to bathe to get beautiful skin
There are certain steps to keep in mind when bathing in hot springs in order to achieve beautiful skin. Most people wash the body and hair before bathing; however, this way, you cannot get sufficient skin beauty effects. It is strongly recommended that you try the following steps in order to enjoy the benefits to the maximum.   
①Douse hot water: At first, douse your body quickly. You do not have to wash your body with soap. In this step, make sure you get rid of noticeable dirt so that you won't bring it into the hot spring. 
②Bathing:Immerse yourself in the hot spring to the shoulder for about five minutes to warm up your body. 
③Wash your hair: It is important that you wash your body and hair separately.
④Bathe: For three to five minutes, relax and soak in the hot spring so that the hot spring will penetrate the skin.
⑤Wash your body: Now wash your body. Though you use soap, wash your body gently by hand instead of rubbing it hard with a towel.
⑥Bathe: Finally, bathe once more. While warming the body to the core, let your skin absorb the hot spring.
The important point is to divide your bathing into several times and take your time to  warm the body to the core and let the hot spring penetrate your skin. Please be aware that if you soak in hot spring continuously for a long time, you may get cold or dizzy after bathing or even cause your skin to get dry. 
Recommended by our editorial department: Hakone spring facilities for day trips
Finally, here are hot spring facilities for day trips in Hakone recommended by our editorial staff. We are proud to present these 4 hot spring places that represent Hakone with superb views, rare milky-white hot springs, and etc. Find your favorite based on the quality and skin beauty effects.
"Kawara No Yu Hot Spring Mountain View Hakone" - Enjoy rare nigori-yu
Kawara No Yu Hot Spring Mountain View Hakone
Kawara No Yu Hot Spring Mountain View Hakone is located in the Sengokuhara area, approximately 20 minutes by bus from Hakone Yumoto Station. Here, you can enjoy milky-white hot springs that are rare in the Hakone area and the suburbs of Kanto. The spring is sulfuric acid, and you can enjoy Hakone's unique natural scenery and a hot spring rich in sulfur, iron and minerals at the same time.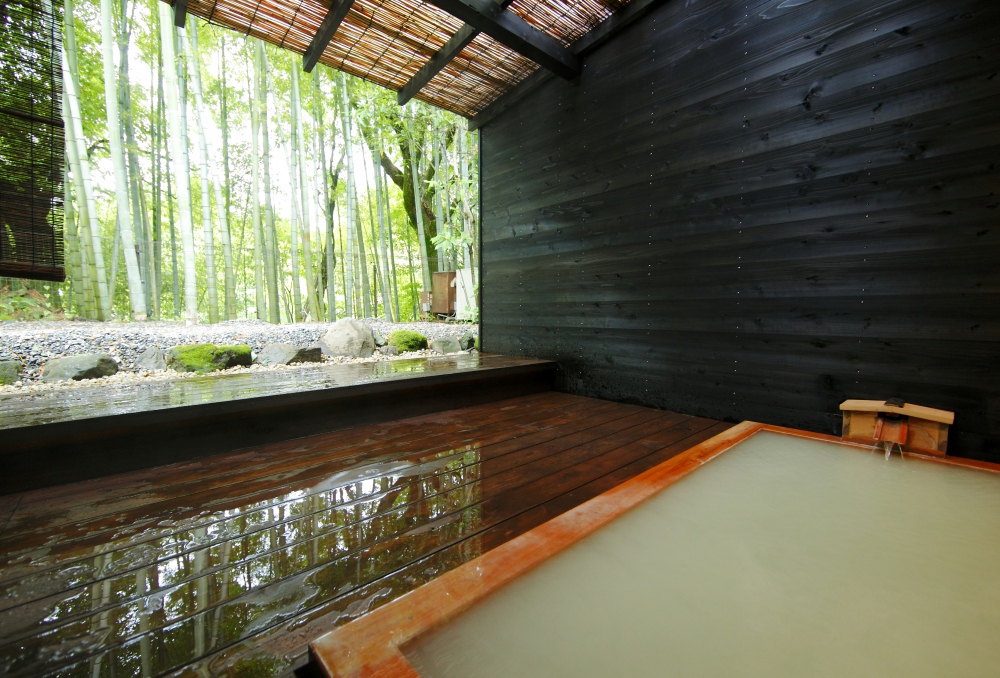 Private open-air bath Kaguya
Especially recommended are the 3 private open-air baths, which vary in bathtub size and landscape. If you make a reservation at the reception, you can have a hot spring to yourself for 3,500 yen or 4,000 yen per hour. Since they accept reservations on a first-come, first-served basis, we recommend booking early.
【day-trip hot spring bathing】
90 minutes Adult 1,200 yen/ Child 630 yen
【Private open-air baths】
◆ Kaguya
60 minutes 4,000 yen
◆ Medaka/Goldfish
60 minutes 3,500 yen
※ All the above are open from 11:00 am (reception ends at 2:00 pm / first-come-first-served basis)
The 44℃ hot water makes you want to come back! "Hakone Ohiradai Hot Spring Himenoyu"
Hakone Ohiradai Hot Spring Himenoyu
The Ohiradai area is famous for its beautiful hydrangeas that bloom along the railway during the rainy season. Himenoyu is located about a 5-minute walk from Ohiradai Station. It has a long history, and the communal bath was established in 1951, about 70 years ago. Ever since it opened, it has been providing 100-percent natural Ohiradai Hot Springs. The colorless and transparent spring is chloride.
Warm up your body quickly with 44℃ hot water
The biggest feature of Himenoyu is its 44℃ water temperature, higher than many other hot springs. This high temperature allows you to quickly warm up your body. Many regular customers visit this facility for this hot water.
Old-fashioned ticket vending machines are also charming
Approximately 70-year-old Himenoyu offers a fascinating view of a traditional type of communal baths.
【Overview of the bathing experience】
Price: Adults (junior high school students or older) : 550 yen / elementary school students: 300 yen / younger children: free
Time: 9:00 am to 9:00 pm
Closed: Thursday
Hakone's closest hot spring to the sky "Hakone Yunohana Prince Hotel"
Annexed to a large golf course
"Hakone Yunohana Prince Hotel" is popular for its open-air baths and it is located approximately 30-min away by bus from Hakone Yumoto Station and perches at a 935 m altitude, the highest of all Hakone Ju-nana Yu. The facility offers Yunohanazawa Hot Spring, a sulfur spring slightly colored milky-white.
Bathing with nature of Hakone at an altitude of 935 around
In Hakone's closest open-air baths to the sky in Hakone, you can relax while surrounding yourself with the smell of sulfur and a distinct view during the nighttime and daytime. One characteristic of Yunohanazawa Hot Spring is that the spring comes from the facility's own source.
【hot spring bathing】
Price: Adult 1,800 yen / Child 1,080 yen
Time: Monday-Friday 1:00 pm to 6: 00 pm (final entry: 4:00 pm) / Saturday and Sunday noon -6: 00 pm (final entry: 4:00 pm )
【hot spring & room plan】
Price: One room two people 6,600 yen ...
Time: Check-in 1:00 pm / Check-out 5:00 pm 
※ Room type: traditional Japanese room size: 12 tatami mats 
※ You can bathe as many times as you would like during your stay
※ Lunch service is also available at the restaurant on the adjacent golf course (extra charge, last order: 1:00 pm)
A 5-minute walk to Lake Ashi! "Ubako Hot Spring, Ashinoko Ichinoyu"
Distinctive lodge-like external appearance
"Ubako Hot Spring, Ashinoko Ichinoyu" is one of the "Ichinoyu" Group's eight facilities in the Hakone area. In this facility, which is favorably located 5-minute walk away from Lake Ashi, you can enjoy the Ubako Hot Spring. 
You can also enjoy an open-air bath on the first floor
The indoor baths offer a 100-percent sodium hydrogen carbonate natural spring with calcium (magnesium). On the first floor, it has an open-air bath for three people or so. 
If you take a day-trip to the Ubako Hot Spring, you also get free access to the large communal baths of other facilities in the Ichinoyu Group during the day (the offer is limited to facilities that accept day-trip bathing). It would be a great idea to go around to try the group's day-trip hot springs. 
【Stopover bathing】
Price: Adult 770 yen / Child 380 yen
Time: Indoor baths 1:00 pm to 8:00 pm/ open-air bath: 1:00 pm to 3:00 pm 
Hakone hot spring tour by spring quality
There are multiple hot spring resorts in the Hakone area including Hakone Ju-nana Yu. Although it may be nice to decide on resorts to visit according to the areas you plan to visit during the trip, it is also recommended to choose hot springs in terms of  spring quality. If you are conscious about the spring qualities you bathe in, you will notice the differences in smell and texture. 
Why don't you enjoy an advanced hot spring tour in Hakone and find your favorite based on qualities?