Tokyo is home to a natural black water hot spring called "kuroyu", many of which are concentrated around the Kamata area of Ota Ward. Of all the 23 wards of Tokyo, Ota has the largest number of public baths, many of which draw from these natural black springs. This time, we'll take a look at two public baths that are especially notable. Both were fully renovated after 2010, and reinvented themselves as uniquely charming baths. Do check them out if you plan to visit Kamata's hot springs.
Must-visit bath houses in Kamata: designed with character and attention
This time we feature the Kamata area of Ota Ward, which has the largest concentration of public baths in Tokyo. The hot springs of this area are mostly "kuroyu" - black water - springs, and while its darkness can vary by the facility, many of the public baths in the Kamata area channel these kuroyu hot springs to their bathtubs.
 

Within Ota Ward, the Kamata area is particularly known for being among Tokyo's prime spots for public baths. Kamata's bath houses aren't just special for their black water springs. Some of them might host regular events, or attract the eye with modern, aesthetic architecture. Some bath houses offer unique merchandise, in addition to amenities.  
                 
The Kamata area is dotted with many attractive public baths, but we have specially picked two to present to you. Why are do these bathhouses continue to be frequented by locals and visitors alike? We have visited them to explore what it is that makes them special. 
Kaisei-yu's exceptionally dark black hot springs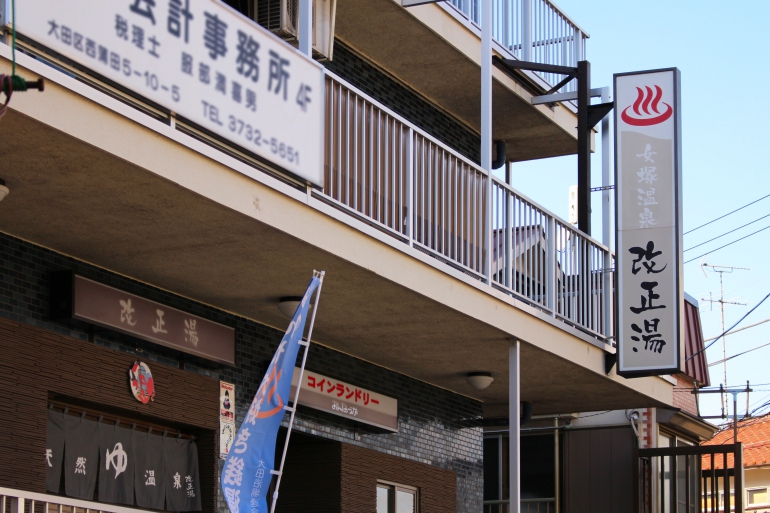 Kaisei-yu is located inside a building
Our first featured bathhouse is Kaisei-yu, which stands in a residential area about a 7-minute walk from Kamata Station's west exit. Kaisei-yu has had a strong local following since it first opened in 1929. Kaisei-yu is widely recognized as the "bathhouse with fish", because of the aquariums installed in the bathroom walls which allow bathers to enjoy the view of carp and goldfish gently swim inside the tank. 
 

Kaisei-yu's iconic aquarium
This aquarium came to be when Kaisei-yu renovated its grounds in 1971. The outdoor pond that originally housed the carp was buried, and the fish were relocated to an indoor aquarium built by the bathtubs.The carp and goldfish became a cherished symbol of Kaisei-yu since then, delighting both the young and old.
After a 2011 renovation, the logo of Kaisei-yu also adopted imagery of the carp and goldfish.
The bathroom displays Kaiseiyu's logo mark
A tile mosaic image of Mount Fuji adorns the bathroom wall
■Enjoy three black hot spring baths
At Kaisei-yu, one can enjoy exceptionally dark black water that flows from a natural hot spring. If you scoop up the water with your hands, you'll see how dark the water is.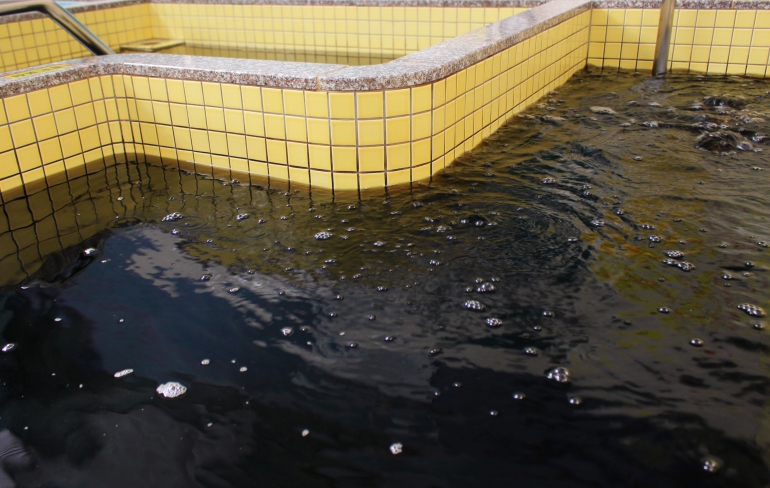 Dark, brown colored water
Kaiseiyu has three baths filled with natural black hot spring water for you to enjoy -- a regular Kuroyu (black water) bath, a cold Kuroyu bath, and a carbonated kuroyu hot spring, infused with carbon gas. The carbonated bath is a new type of kuroyu bath that was launched after Kaisei-yu fully remodeled. It's a combination of black hot spring water which is said to beautify skin, and carbonated hot spring water which improves blood circulation. I heard that many visitors, especially women, are greatly pleased with the combined benefits of this bath, that are expected to further promote beautiful skin. 
The dark spring water is thick enough to cover one's hand
■A place to socialize - the bathhouse hosts various events
Another reason why Kaisei-yu is popular, is because it holds various events intermittently. The renovation was designed to create flexibly usable space, and this allowed Kaise-yu to host yoga/exercise classes, as well as seminar. Through a variety of uses, Kaisei-yu was able to gain recognition beyond its regular bath-seeking audience.
Resting area. The wall at the back can be removed to create more space.
Most households nowadays have bathrooms. Very few people bathe at public bathhouses everyday, with the exception of regulars.  Visiting a public bath is no longer a part of one's daily life -- it's rather more of a special occasion. Kaisei-yu's fourth generation proprietor Kobayashi-san expressed hopes of working on behalf of Ota-ward and collaborating with Tokyo's other wards on fun ideas.  He said he wants to cooperate with officials and launch various projects.
One of such projects resulted in Kuroyu Beer -- a local craft beer produced by Ota Ward's sole brewery. The dark brown bottle contains a dark beer, visually inspired by the kuroyu hot springs.  
Kuroyu Beer(¥660 per bottle)is produced by a brewery in Ota
This beer has a cooling and refreshing taste, perfect for enjoying after a bath. It's also sold at Kaisei-yu, so be sure to experience the crisp and smooth taste for yourself after bathing.
【Kaisei-yu basic information】
Address:〒144-0051 5-10-5 Nishikamata, Ota Ward, Tokyo 
Phone:03-3731-7078
Hours:15:00〜24:30
Holiday:Friday
Fee:Adults(12 years and older)¥470 /  Elementary school students ¥180 / Preschoolers ¥80  *¥100 coin required to use locker (¥100 refunded after use)
Amenities for purchase:Tebura-de set (shampoo, rinse, soap, toothbrush, towel) ¥220 etc.
access:about a 7-minute walk from Kamata Station
Hasunuma Onsen: pretty retro style interior 
The next bathhouse is Hasunuma Onsen, which was renovated in 2017. It's about a 2-minute walk from Hasunuma Station. 
Renovated in 2017. The resting area is decorated with a Mount Fuji painting by public bath mural painter Kiyoto Maruyama
Despite being in the Kamata area, the water at Hasunuma Onsen isn't black. Hasunuma Onsen's baths are filled with amber-colored water channeled from a sodium-chloride carbonated cold spring. The slightly colored natural hot spring is alkalescent, and is considered to have skin-conditioning effects. 
Three baths. From front to back; cold water bath, carbonated hot spring, natural hot spring
Hasunuma Onsen also has a carbonated hot spring, which is popular with women. It's an infusion of hot water with carbonated gas, and is said to help improve blood circulation, as well as warm up the body to the core. Soaking in this bath wraps your skin with fizzy bubbles that leave your skin feeling smooth. 
■ A Taisho-era aesthetic: renovated to invoke Japanese culture and technology
When Hasunuma Onsen was renovated in 2017, it adopted a retro look inspired by the aesthetics of the Taisho era (1910-1926). Special attention was paid to the interior to showcase Japanese culture and technology. 
To resemble an older style of Japanese architecture, the interior uses a great amount of wood, and the walls and lattice ceilings are filled with plaster. The changing rooms, bathrooms and resting area are fitted with stained glass windows that pour the warm, vibrant sun rays into the room to create a calming space with a retro atmosphere.
The ceilings above the changing rooms are reminiscent of the Taisho roman style
Stained glass windows are also installed in the resting area
A special feature is installed in the floor of the resting area where the reception desk is located. Digital signage technology is used to create an image of a small pond. Look through the round hole and you'll find a lively projected carp swimming freely inside.
Virtual pond under the floor
Images are rotated according to the season. When we visited in February, we spotted a mermaid appear behind the carp.
Many bathhouses in the old days used to have carp ponds. Hasunuma Onsen used cutting-edge technology to reenact a traditional scenery of a public bathhouse. Enjoy the pond's many faces as it changes through the four seasons.
The proprietor's wife told us that if we listened closely, we'd hear the sound of birds chirping too. Like she said, the resting area was filled with calming music including water sounds and singing birds. It showed me a completely new style of bathhouse that lets one visually and audibly appreciate Japan's four seasons. 
■ Hasunuma Onsen retains the unchanging charm of its "good-old"
Hasunuma Onsen renovated and reinvented itself with a Taisho-era style interior, but it kept the old cherished features of its founding days.  
One such example is the original tile art used to decorate the bathroom walls. Many public baths in the Kanto area surrounding Tokyo decorate their walls with images of Mount Fuji. Hasunuma Onsen has a tile mural depicting two waterfalls. The proprietor and his wife call this tile work "Hasunuma Onsen's treasure". This original piece dates back to Hasunuma Onsen's starting days. Two different waterfalls were chosen respectively by the proprietor and his wife, and creatively stitched together to resemble a single sweeping scenery.
Waterfall tile mural in the men's bathroom
The women's bath. The two tile paintings meet at the center and blend into a single landscape
The wife said the couple chose photos of different waterfalls, and asked a tile maker in Gifu Prefecture to merge them into a single painting. Since Hasunuma Onsen first started, the tile mural has been a relaxing visual image for regular clients and many others. The tile work remains a symbol of Hasunuma Onsen even after its renovation. 
The bath house preserves other pieces of its history, such as the thick pillar that has deteriorated over the years. It also continues to use rattan baskets, albeit new ones. Hasunuma Onsen is a public bath that cherishes both the past and present in its design, and is sure to be a great addition to your trip to Kamata's hot springs.
Rattan baskets are classic bathhouse items
【Hasunuma Onsen basic information】
Address:〒144-0051 6-16-11 Nishi-kamata, Ota Ward, Tokyo
Phone:03-3734-0081
Business hours :15:00〜25:00
Holiday:Tuesday
Fee:Adults  ¥470 / Junior high school students ¥300 / Elementary students ¥180 / Pre-schoolers  ¥80(free entry for two preschoolers if accompanied by an adult)
Amenities for purchase:Towel (white) ¥100, (color) ¥230 / soap (small) ¥20, (large) ¥100・¥140
*body soap and two-in-one shampoo available in bathrooms. Makeup remover available in female changing rooms
access:about a 2-minute walk from Hasunuma Station
A closer look at Kamata's kuroyu: the black natural hot spring flowing in Tokyo's prime hot spring area  
Kuroyu is the black-colored hot spring, representative of Ota Ward. Kuroyu can be enjoyed at Kaisei-yu and many other bath houses, but what health benefits does it offer? Before closing this article, we'll take a look at the characteristics of Tokyo's famous Kuroyu hot spring.
The water gets its black color from a rich concentration of humic acid 
Kuroyu's main feature is its black color, which derives from the fact that kuroyu is a marine underwater hot spring. Marine hot springs flow from sedimentary layers on the seafloor. As a side note, hot springs are generally categorized as either volcanic or non-volcanic types, and marine hot springs are non-volcanic hot springs.    
These seabed layers contain thick layers of accumulated seaweed, tree leaves and other plant material, as well as volcanic ashes and debris. Kuroyu gushes out from such layers that have dissolved over hundreds of millions of years. These deep-sea deposits include a plant-based organic compound called humic acid, and this is what dissolves into the natural hot spring to create kuroyu's foggy, dark brown hue.
Many kuroyu spring sources are below 25℃
Volcanic hot springs have generally hotter water because they're heated by magma. Kusatsu Onsen and Hakone Onsen, both popular hot spring destinations accessible from Tokyo, are categorized as volcanic hot springs. 
On the other hand, most Kuroyu springs are marine hot springs with cold spring sources with waters below 25°C. It is only when kuroyu springs are drawn from a depth of around 1,500 m, that geothermal heat allows it to have a temperatures of 40℃.
Does kuroyu make skin beautiful?
Kuroyu is considered to be rich in marine minerals as it contains humic acid, an organic matter. Kuroyu looks and feels different depending on the spring source, and the particular kuroyu springs flowing in Kamata feel smooth on the skin despite its appearance, leaving the skin feeling refreshed after a bath. Black water is rich in mineral content, and is known to have warming and moisturising effects.
Kuroyu is also said to relieve various symptoms including nerve pain, muscle pain, chronic skin disease, and shoulder pain caused by aging. Make sure to check out the different hot spring qualities at the Kamata area's many bath houses.
Black water hot springs and more! Visit Ota Ward's public baths and bathe to your hearts delight
Kamata is one of Tokyo's best known hot spring areas whose appeal lies beyond its iconic black water. This area is home to numerous public baths, which in itself shows how local residents and visitors to Kamata share a great love of public baths. Instead of simply promoting the neighborhood as a destination for experiencing "kuroyu" black water hot springs, Kamata's public bath houses are passionate about making visitors happy and spreading the appeal of public bath houses. Why don't you explore Kamata too, to find a public bath that you love?