In Japan, there is a widely shared culture of gift-giving among travelers. When Japanese people travel, they buy gifts called "omiyage" for families, friends and co-workers back home. They can be a variety of things, but a common choice is an edible specialty of the region they travelled to. It's of course important that the gift tastes good, but a nice-looking omiyage is always a pleaser!
This time, we'll take a closer look at a widely-loved omiyage that hails from Gifu Prefecture in central Japan, "ayu-gashi". Ayu-gashi is a sweet shaped like the ayu sweetfish, that is filled with a sweet paste. These treats are sold at various shops around Gifu Prefecture, and are a widely recognized specialty of the region.
Although many assume that ayu-gashi are all the same, these pastries come in many sizes and flavors, and even have different faces depending on the store at which you get them. In this article, we'll explore the origins of this famed confectionary of gifu, and its variations that depend on the many makers. Join us for a deep-dive into the world of these fish-shaped sweets!
※ Shop hours and prices may be subject to change. Please check before visiting.
What is the Gifu Specialty "Ayu-gashi"? We ask the Ayu-gashi Promotion Association
Gifu's famous ayu-gashi
Gifu's famous ayu-gashi sweets were inspired by the ayu sweetfish that inhabit the clear waters of the local Nagaragawa River. The small fish-shaped treats are made by wrapping a layer of soft castella cake around a soft paste called gyuhi made from sticky rice, then stamping on its face with a hot iron. Ayu-gashi are sold at more than 30 shops in the Gifu area, which offer all different versions of the traditional sweet. 
Ms Satomi Fujiyoshi represents a Gifu group that promotes ayu-gashi
In 2010, the Ayu-gashi Promotion Association was launched in Gifu to promote ayu-gashi sweets. The group even introduced a cute mascot called Hi-ayu-maru to help publicize Gifu's ayu-gashi across Japan. 
We spoke to the group's representative, Satomi Fujiyoshi of confectionary maker Shinkoh-seika Co., ltd.
"Many regions in Japan have ayu fish-shaped Japanese sweets, but they use different fillings. It is said that most of those which are filled with only gyuhi paste (a glutinous rice paste), are from the Gifu and Kyoto areas. Also, while in most areas of Japan ayu-gashi pastries are available only during the summer, they are sold all-year-round in Gifu."
Meet Hi-ayu-maru, the ayu-gashi mascot
Take a good look at the ayu-gashi pieces and you'll notice they're branded with different faces depending on the maker. In fact, the pancake color, the softness and moist texture of the filling are will also be different. Visiting Gifu's confectionary stores to find an ayu-gashi of your liking, is a great way of exploring the prefecture!
The origins of Ayu-gashi
Let's take a quick look at how Gifu's iconic pastry came into being. In the late 16th century, the Gifu area was ruled by the powerful warlord Oda Nobunaga, who occupied Gifu Castle and made it a stronghold for unifying Japan. The ruler is known to have had one weakness -- he loved sweets. Ms. Fujiyoshi told us that the roots of ayu-gashi may be traced back to around that period, although it was probably shaped differently. 
Ryokusui-an's package is adorned with a Gifu map
Oda developed an interest in the sweets that Christian missionaries introduced to Japan, and old documents describe how Oda treated his guests with what appear to be like Japanese-style crepes and glutinous rice cakes similar to gyuhi rice paste. Ayu-gashi is speculated to have originated from such sweets.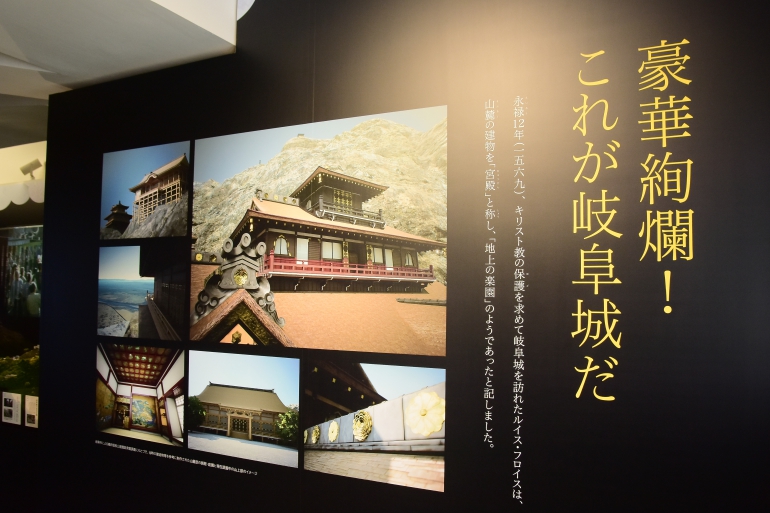 Recreated image of the extravagant Gifu Castle
Excavation work has been underway in recent years at the foot of Gifu Castle, focusing on the remains of Oda's residence where he worked and hosted guests. This place is thought to have been lavishly decorated in its heyday, and it is where Oda, known for his generous hospitality, is said to have treated his guests with meals. Perhaps knowing a little Japanese history will make you see ayu-gashi in a different light.
How to find the ayu-gashi of your liking
You're surely spoiled for choice when it comes to finding an ayu-gashi that suits your taste. To make your pursuit easier, we We suggest shopping around to compare ayu-gashi's according to three features that can vary from store to store.. 
The filling  
Many kinds of filling of ayu-gashi
As we've mentioned earlier, a standard ayu-gashi is filled with a sweet rice paste called gyuhi. Some shops use gyuhi only while others add sweet red-bean paste. Confectioners are introducing new ingredients into the mix too, such as honey and fruit pieces. 
 
If you want to keep things simple, go for a traditional ayu-gashi filled with gyuhi. Being a little adventurous certainly won't hurt either, so you can also try gyuhi mixed with other ingredients to discover new flavors. Also take note, that ayu-gashi shops use different amounts of filling with various levels of chewiness. The best way to discover your favorite filling is to simply visit many shops and compare!
The size  
Ayu-gashi pieces are available in various sizes, ranging from the size of the palm to around 5cm
A standard ayu-gashi is about a hand-sized piece the size of the palm. Bigger and smaller sizes are also available depending on shops. Some confectioners even offer mini-sized ayu-gashi, which are about 5cm long. With all the different sizes, you're sure to find something to your liking.
The different stamped expressions 
Different shops, different expressions
The faces and fins are all stamped with a hot iron, and their expressions can vary greatly depending on the maker. Some appear to be smiling, while others have amusing or adorable looks that'll make you smile too. 
Ms. Fujiyoshi said ayu-gashi sweets have garnered a serious following. Some ayu-gashi fans can identify from which shop a certain piece came from even without checking the packaging! It goes to show how unique each ayu-gashi's face is to their confectioner.
Our 3 picks of popular ayu-gashi shops
There are many places in Gifu Prefecture where you can find great ayu-gashi. Here's our 3 picks of popular shops that are definitely worth a visit!
1. Tamai-ya-honpo: over 100 years of history
Tamai-ya-honpo is inseparable from Gifu's ayu-gashi tradition. The store was founded more than a century ago, and stands in Kawaramachi, near the Nagara-gawa river which is famous for cormorant fishing. 
Nobori-ayu (10-pieces for 1,674 yen) (photo courtesy: Tamai-ya Honpo)
Tamai-ya-honpo's signature confectionary is called "nobori ayu," created by Tamai-ya's founder. 
Nobori-ayu is characterized by its slim, elegant shape, and smooth softness of the wrapping. This gem of a treat has won many hearts with its sophisticated sweetness that never tires. 
Yaki-ayu(2-piece box for 648 yen)(photo courtesy: Tamai-ya Honpo)
The Yaki-ayu is a long-selling item that's still popular. This baked sweet is made without water, using carefully selected ingredients, such as flour, eggs, sugar blended with yam.
Lithuanian wind (275 yen/piece)
In 2019, the store launched a new product called Lithuanian Wind. It's modeled after the nobori-ayu, and was added to the store's Tamai-ya Classics series.  
Lithuania is far away from Gifu, but they share a tie that date back to World War Two. Japan's first consul to Lithuania was Chiune Sugihara, a native of Yaotsu-cho town in Gifu. He is known today for his act of saving countless Jews from Nazi persecution by issuing them visas.
This history led the two countries to launch an economic exchange program, and pure honey was one of the first Lithuanian exports to Gifu.  
In tribute to this history, this new product of Tamai-ya uses Lithuanian honey and berries in the sweet gyuhi paste. 
Tamai-ya's other popular items include "Fukurai-ayu" -- which is made with mirin sweet sake matured for three years -- and "Kiwa-mi-ayu" -- which uses fermented fish sauce made from wild ayu fish caught in the Nagaragawa River. "Kiwa-mi-ayu" is a heavenly treat filled with sweet red bean paste and Gifu's renowned shiro-juku cream, or rice blended with fresh cream and sour cream. 
Gekoku-joa-ayu (large) (540 yen per piece), Gekoku-jou-ayu (small) (4 piece pack 1,080 yen)(photo courtesy: Tamanoi-ya Honpo)
In December 2019, Tamai-ya launched its latest product -- Gekoku-jou-ayu.
While production method is similar to Tamanoi-ya's popular yaki-ayu, the ingredients are different. Yaki-ayu is made of wheat flour. The upper half of the Gekoku-jou-ayu (the cormorant piece) uses barley flour and adds flavor with brown sugar or matcha green tea. The lower half (the ayu fish) uses locally harvested rice flour and wasanbon sugar, which is widely used in traditional Japanese confectionery. 
These biscuits are a fun take on Gifu's traditional cormorant fishing. The animals' roles are reversed to depict a Japanese historical term known as "gekoku-jou", or the overthrowing of one's superior. Gifu is actually home to one of Japan's most famous gekoku-jou episodes. Remember Oda Nobunaga -- the samurai with a soft spot for sweets? He was destroyed by his retainer Akechi Mitsuhide, who was a Gifu native. The gekoku-jou-ayu biscuits might prove helpful when you need to take on a challenging opponent. 
【Okashi-tsukasa Tamaiya-honpo basic information】
address:42 Minato-machi, Gifu City, Gifu Prefecture
phone:058-262-0276
hours:8:00~20:00
closed:Wednesday
2. Ryokusui-an : try the multi-flavored Hiayu 
Hiayu boasts a variety of flavors (110 yen per piece)
Japanese confectionary maker Ryokusui-an runs seven shops in Gifu. The most popular product called "Hiayu" has an adorable face. It's shaped to resemble a jumping ayu fish with its tail pointing upwards. 
The castella pancake is made with great care, using different egg varieties depending on the season to achieve the moist, smooth texture. Hiayu is available in many flavors, including plain and strawberry, which is a strong seller. Ryokusui-an also draws ideas from the local community to create deciding flavors such as blueberry, which was suggested by Nagarawaga's hot spring managers, and green tea which was the idea of a local high school.
Ryokusui-an Kagashima shop eating area 
The interior of the Kagashima shop is inspired by the pristine Nagaragawa River. The table shaped as an ayu-gashi is a lovely spot for a break with some sweets and matcha tea. 
【Ryokusui-an Kagashima shop】
Address:2-6 Nishino-sho, Gifu City, Gifu Prefecture
Phone:058-255-3003
Shop hours:9:00~19:00
3. Kansendo-so-honten: discover Gifu's smallest ayu-gashi
Kansendo-so-honten's mini-sized ayu-gashi (1,100 yen per box)
Kansendo-so-honten is also among Gifu's older confectioners, being founded in 1879. This store is worth dropping by for its "Chiisana, Chiisana Ayu-gashi" (tiny, tiny, ayu-gashi) -- which is one of Gifu's smallest ayu-gashi pastries, measuring about five centimeters long. That's about the size of an adult thumb, and is significantly smaller than a regular-sized piece.  
The rice paste filling is rotated according to the season
In spring, the filling features yomogi mugwort, which is rotated out for shiso perilla herbs in the summer, and yuzu citrus in the fall and winter. The appeal of Kansendo-so-honten's ayu-gashi lies in its refined sweetness and bite-sized shape. The confectionary has even been presented to the previous Emperor Heisei during an annual tree-planting festival. 
【Kansendo-so-honten】
address:46 Mitono-machi, Gifu City, Gifu Prefecture 
phone:058-262-2533
shop hours:9:00〜18:00(Sundays & holidays: ~12:00)
Services and products to elevate your ayu-gashi experience!
Various projects are underway in Gifu to further promote the popularity of ayu-gashi.
Take an ayu-gashi taxi tour
The Nihon Taxi Company based in Gifu launched its ayu-gashi taxi service in October 2018. 
These taxis are specially designed for the job
The taxis are modeled after ayu-gashi sweets. Ayu fish-shaped cushions and other goods are placed inside the car to help promote ayu-gashi to tourists visiting Gifu. 
The cute fish shaped cushions make for perfect company
Book an exclusive taxi tour and a female driver with abundant knowledge of ayu-gashi will show you around town, stopping at several ayu-gashi shops in the city. The tour will visit about four stores in the city, where you can enjoy many different kinds of ayu-gashi while hearing the stories of each shop owner. This service is for anyone hoping to delve deeper into the intricate world of ayu-gashi.
【Ayu-gashi taxi overview】
・Nihon Taxi 
Address:3-7-1 Tsuruta-machi, Gifu City, Gifu Prefecture 
Phone:058-246-4511
Make your own ayu-gashi! (Sweets-making experience) 
Make your own ayu-gashi
Ryokusui-an's Kawaramachi store runs two ayu-gashi-making workshops per day. Participants bake their own pancakes, fill them with gyuhi rice paste, and finally draw the faces with chocolate, to make their own unique ayu-gashi!.
Face drawing with chocolate
The freshly made pieces smell and taste especially wonderful, and might give you a new kind of appreciation for the sweets. The workshop is reasonably priced at 1,030 yen per participant and includes three ayu-gashi pieces and one drink. 
【Ayu-gashi workshop overview】
・Ryokusui-an Kawaramachi store 
Address:48 Minato-machi, Gifu City, Gifu Prefecture 
Phone:058-215-5476
Fee:1,030 yen per person  (minimum 2 participants)
Duration:about 60 minutes
※ booking required one day in advance 
Charming ayu-gashi related merchandise 
New everyday items designed with an ayu-gashi motif are also gaining popularity.

Ayu-gashi pencil case (8,580 yen)  and ayu-gashi pencil cap(880 yen)(photo courtesy: NPO corporation ORGAN)
These pen-cases have been crafted into the shape of an ayu-gashi. Each case is handmade by artisans using tanned cowhide with a similar texture to ayu sweetfish. The leather gradually becomes softer and easier to handle with repeated use.
【Nagaragawa Department Store Minatomachi store basic information】
Address:45 Minatomachi, Gify City, Gifu Prefecture 
Phone:058-269-3858
Shop hours:10:00~18:00
Closed: Year-end, New Year holiday period  *May close on occasion without notice
Click here for the WEB shop
Discover your favorite ayu-gashi sweet
Did you enjoy this written tour through the world of Gifu's specialty sweet, ayu-gashi?
For those of you who would like to experience it yourself, the Ayu-gashi Tabeyo-haku (let's eat ayu-gashi expo) held every May in Gifu City showcases all of the city's ayu-gashi confectionary shops (The 2020 event was cancelled as a means to prevent the spread of COVID-19). 
The event is aimed at publicizing ayu-gashi, and about 9,000 participants joined in 2018. The entire city of Gifu is working hard to boost ayu-gashi's reputation, and the sweets are sold at stations and gift shops around town too.