Kichijoji, Tokyo, is a neighborhood popular to people of all ages from young couples to families, which is also consistently voted highly as one of the best places to live in Tokyo. The Kichijoji area draws people in with its trendy thrift stores and cute cafes, and alongside those, with the rich greenery of Inokashira Park.
Inokashira Park is a symbol of Kichijoji that straddles the two cities of Musashino and Mitaka, that has been loved as a place for relaxing respite for many of the area's residents. The lively nature of the park, as well as the sight of rowboats in Inokashira Park's pond have become icons of the Kichijoji neighborhood.
This article will take you through Inokashira Park's history, must-see places within the park, and nearby destinations that might also interest you!
History of Inokashira Park
During the Edo period (1603 – 1868), the Tokugawa family used the park area as a hawk hunting ground. Entering the post-Tokugawa Meiji period (1868 – 1912), the pond in the center of the area was drawn and used to distribute as a part of Tokyo's first water pipe system. The pond water was actually used as drinking water back in the day.
During the Meiji Restoration movement, the city government of Tokyo bought the park land and put it under the hands of the Ministry of the Imperial Household. After being used by the imperial family for about 20 years, the area was donated to the prefecture and opened as a public park.
The name "Inokashira", literally translating to "head of the well", derives from back in the Edo period days. The third Tokugawa shogun, Iemitsu, liked the pond so much that he called it "Edo's number one well", resulting in the name "Inokashira".
List of Inokashira Park's highlight spots
Inokashira Pond and Benzaiten
From the eastern part of the park to the center area lies the Inokashira Pond. There are four bridges spanning across the pond. The one extending over the center of the pond, called Nanai-bashi, is great for a wide view of the park.
The fountain at Inokashira Park
Boat area
As you cross Nanai-bashi, you will reach the boat area. From here, you can ride 3 different types of boats and explore the pond.
The boat area of Inokashira Park's pond
■ Fees
・Rowboat (holds up to 3 adults):
 - 60 minutes: ¥300
 - Every additional 30 minutes: ¥300
・Cycle boat (holds up to 2 adults and 1 child):
 - 30 minutes: ¥600
・Swan boat (holds up to 2 adults and 2 children):
 - 30 minutes: ¥700
■ Opening hours
・April to July:
 - 10:00 a.m. – 5:50 p.m.
・August
 - 10:00 a.m. - 6:20 p.m.
・September
 - 10:00 a.m. - 5:50 p.m.
・October
 - 9:30 a.m. - 5:20 p.m.
・November
 - 9:30 a.m. - 4:50 p.m.
・December to February
 - 9:30 a.m. - 16:50 p.m.
・March
 - 9:30 a.m. - 5:20 p.m.
At the west end of the pond, there is Benzaiten, a small shrine colored in beautiful red.
Benzaiten
Ochanomizu and Inokashira's wells
The water in Inokashira Pond was once used as drinking water. In fact, Tokugawa Ieyasu would make tea using the water from Inokashira Pond, giving the pond the nickname "Ochanomizu" (tea's water). You can still find a well in the park area, where you can see how they used a pump-style well to draw up the water.
Ochanomizu
Inokashira Park Zoo
In the western area of the park is Inokashira Park Zoo. The zoo was completed in 1942, and takes up a third of the park's grounds. Inokashira Park Zoo specializes in animals native to Japan and aquatic creatures. Inside are areas where you can hang out with animals such as guinea pigs and smaller creatures like insects. With features like a merry-go-round and a coffee shop, the zoo is perfect for a day of family fun.
Inokashira Park Zoo
■ Entrance Fees
・General:
 - ¥400
・Junior high school students:
 - ¥150
・65 years and older:
 - ¥200
*Group discounts and annual passes available.
■ Opening hours
9:30a.m. – 5:00p.m.
■ Closed
Mondays and year-end holidays (Dec. 29 – Jan. 1)
Between the Japanese animals and aquatic creatures area is Gotenyama, a green forest area. Here you can take a walk surrounded by ferns and oaks.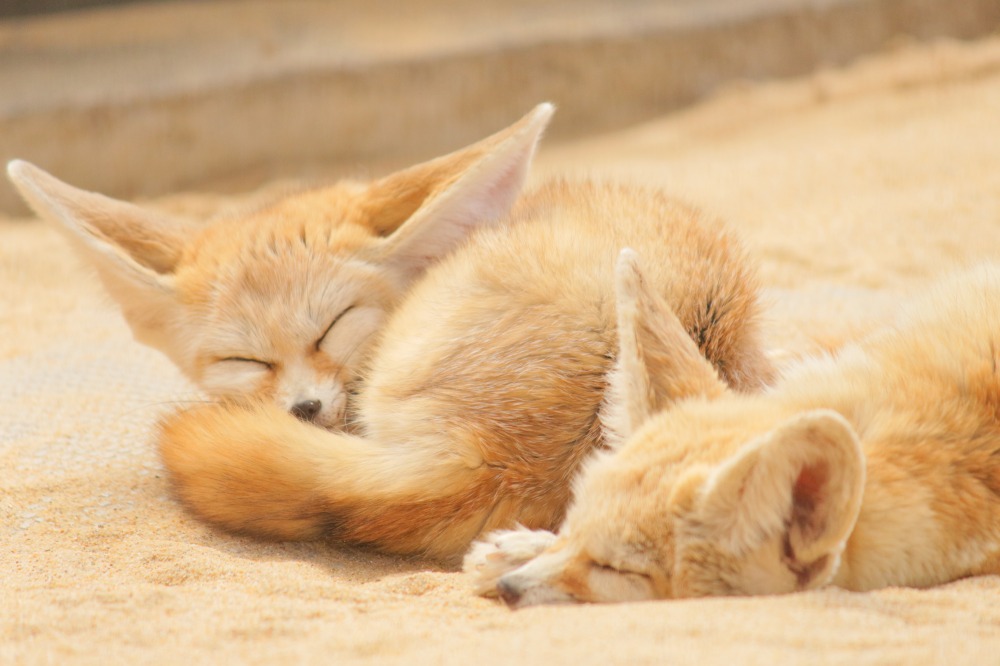 The sleepy Fennec Fox at the Zoo
Inokashira Park: One of the Most Popular Parks in Tokyo!
Inokashira Park is among Tokyo's most popular parks, and is a great destination for an afternoon stroll or a day of sports. Drop by after a day of shopping, and you will be greeted by a space full of refreshing greenery.
Inokashira Park also hosts a variety of events, and the rental boats in the pond give visitors a chance to fully experience the park's nature. Whenever you stop by Kichijoji, especially if it's the season for cherry blossoms or autumn leaves, be sure to visit Inokashira Park as well!
A view of Inokashira Park
Access
Nearest station:
・Kichijoji Station 吉祥寺駅 (Keio Inokashira Line IN17, JR Chuo Line JC11 and Chuo-sobu Line JB02)
・Inokashira-koen Station 井の頭公園駅 (Keio Inokashira Line IN16)
From Shinjuku Station
【Shinjuku Sta.】JR Chuo Line / for Hachioji
→【Kichijoji Sta.】 from South exit → about a 10-minute walk
From Tokyo Station
【Tokyo Sta.】JR Chuo Line / for Takao
→【Kichijoji Sta.】from South exit → about a 10-minute walk
From Narita Airport
【Narita Airport Sta.】Keisei Skyliner / for Keisei Ueno
→【Nippori Sta.】JR Yamanote Line / for Ueno・Tokyo
→【Kanda Sta.】JR Chuo Line / for Takao
→【Kichijoji Sta.】from South Exit → about a 10-minute walk
From Haneda Airport
【Haneda Airport Sta.】 Keikyu Airport Express / for Aoto
→【Nihombashi Sta.】JR Chuo・Sobu Line direct to Tokyo Metro Tozai Line / for Mitaka
→【Kichijoji Sta.】 from South Exit→ about a 10-minute walk
Nearby Destinations
Mitaka Ghibli Museum
Explore the world of Miyazaki films at the Ghibli Museum! This interactive museum invites visitors to experience the world of Studio Ghibli with all senses, and brings everybody back to their childhood dreams. You can even view museum-only short films at the end of your visit. The museum is reservation-only, so be sure to book in advance.
Harmonica Alley
Harmonica Alley places just in front of Kichojoji Station. The narrow alleys resemble shops and restaurants from the Showa period. The retro passages are home to bars and izakayas, and even non-even Japanese choices like Chinese or Italian cuisine. Grab a drink and get lost in the maze that is Harmonica Alley.