From a long time ago tools have enhanced the daily lives of the Japanese. Even if modern electrical appliances can seem to solve almost any problem, why not stop for a moment and rethink the value of the great tools that Japanese people have used for years?
This time I will introduce 5 stores, ranging from specialty shops in Tokyo that sell everyday tools such as a brushes and brooms, to a store which handles miscellaneous tools from throughout Japan. With these Japanese tools, your everyday life is sure to become richer!
*Store information might change. Please check the store's official site before you visit.
1. Three specialty stores that inherited Japanese culture
First, I will introduce 3 specialty stores selling brushes, brooms, and hand towels. Each shop handles genuine tools hand-made by professional craftsmen. 
Edo broom specialty shop Shirokiya Denbei
Shirokiya Denbei is located in the Kyobashi area of Chuo ward, Tokyo. It is a specialty store making and selling Edo brooms.
Shirokiya Denbei Kyobashi main store. 3 minutes by foot from Kyobashi station.
While it is widely unknown, the Kyobashi area flourished as a market for bamboo in the late Edo period. Flexible bamboo with a tough texture, which also burned well as fuel, was an important item for daily life in Japan during that era. Shirokiya Denbei was founded in 1830 handling bamboo products. 
During the Edo period, Shirokiya Denbei also sold household goods and stationery. However, as the times changed and large manufacturers took over the production of these products, Shirokiya Denbei took up the sale of bamboo brooms. This store became a specialty shop for "Edo brooms", using techniques handed down since the Edo period.
Inside Shirokiya Denbei. Displayed are several varieties of brooms.
■Edo brooms by Shirokiya Denbei. What makes them special?
Shirokiya Denbei makes Edo brooms using bamboo for the handle and a special type of sorghum, called broom corn, for the bristles.  Designed for inside use, just one broom can be used on a variety of surfaces such as tatami mats, hard flooring, and carpets. 
The store has a deep commitment to producing brooms witha lightness that fits the hand, and the perfect amount of flex. Selecting from many stems of broom corn, the craftsmen utilize their experience to choose pieces with a balance of stiffness and flexibility, and put them together into a single broomstick. 

Edo brooms made by professional craftsmen. The brooms are classified as Top, Special, or Superior according to the bristle density.
Once you hold a broom in your hand and use it, you will recognize how comfortable it is to handle. Since the bristles of the broom are adequately stiff, it is easy to sweep without breaking its form. Shirokiya Denbei brooms have pursued a style of weaving and design, that results in the lightest possible weight, making them pleasurable to use every single day. 
Only 3 craftsmen weave and produce Shirokiya Denbei brooms. One of the craftsmen, Mr. Takano, taught me about the elegance of Edo brooms.
"After all, a broom has little environmental impact. The materials all come from plants and it is made by hand. Of course, no electricity and gas are used for manufacturing. And once a broom is past its useful life, it can be disposed of by burning. I believe that the broom's benefits are how they are ecological from the beginning to end.
If a broom has been used for a long time and the tip of the broom becomes too fractured, then that part can just be cut off with scissors for the limberness to be revived. As it gets used even more and the bristles become shorter, the broom can be switched to outdoor use. If used properly, a broom lasts approximately 10 years. The long durability is also one of things making them special.

The broom can be used for a long time by trimming the tips of the bristles when they are too broken.
Mr. Takano taught me that incorporating the broom into one's everyday sweeping not only cleans the floor, but also clears the mind. Although it is not bad to clean a floor quickly using a vacuum cleaner, cleaning a floor corner to corner with your own hands, with a broom that fits well in your hands, simultaneously clears and enriches the mind. I felt as though the broomstick embodied many features of the Japanese soul. 

Designer's product "Soujirushi Hanging Broom". You can hang this broom on a window sill or door knob
Edo brooms from Shirokiya Denbei can be purchased on the internet, but I recommend visiting the store in Kyobashi and searching for the best broom that fits your hands. Although every broom is an Edo broom, each one has a different feel and flexibility when held in the hand. Also, the staff will assist you in choosing the best broom to match the size of the space where it will be used. 
Tenugui (hand towel) specialty store Kamawanu
The Tenugui specialty store Kamawanu opened 33 years ago in Daikanyama, Tokyo, making Tenugui hand towels, in modern stylings. In addition to the main office in Daikanyama, there are 7 other stores in central Tokyo and 1 store in Aichi Prefecture,  
Kamawanu main office in Daikanyama
The Tenugui, or hand towel, has been found in records dating back to the Heian period (794-1195 AD). It is a piece of woven cotton cloth with great breathability, and is a perfect tool for Japan's hot and humid climate. Tenugui means "hand-wipe" and in general, it was used to wipe things such as hands or furniture. However, recently an increasing number of people are using Tenugui for its artistry, hanging them on walls as tapestries.
■Kamawanu Tenugui is a great item for a present.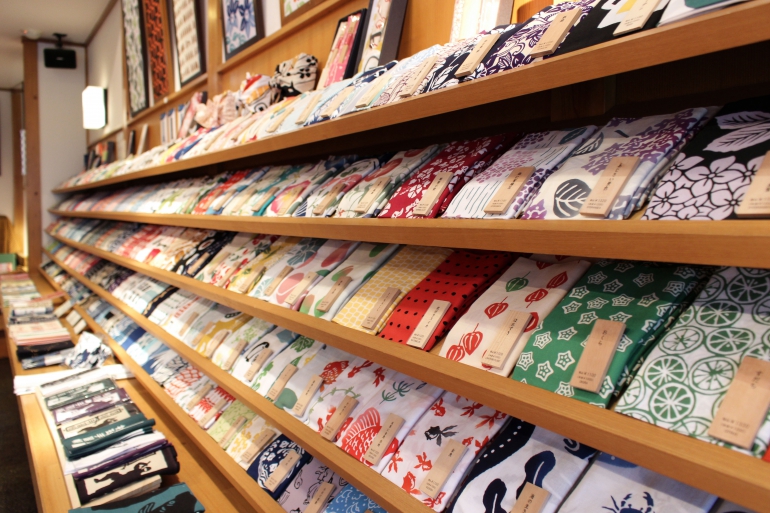 Various Tenugui
Kamawanu's Tenugui are made with a dyeing method called "chusen" (pouring and dyeing). As the name of the process implies, liquid dye is poured through the fabric, resulting in the consistent patterning on the front and back.
These Tenugui, handmade by craftsmen using techniques of the Edo period, make great gifts thanks to Kamawanu's beautiful original designs
Kamawanu produces two types of Tenugui designs. "Standard" designs which can be found all year, and "seasonal" designs with seasonal themes. Kamawanu designs all of their Tenugui to be a communication tools to be gifted. For example, traditional patterns that are culturally perceived as lucky are good gifts for a celebrations. On the other hand, Tenugui with flowers, vegetables or fruit patterns are good for seasonal greetings. They are all great designs that make you want to send them as gifts. 

From left: "Fine Yellow Wheat Pattern"  "Modified Cloisonne"  "Okra"
Of course, you can also use Tenugui for yourself. Simple and modern Tenugui designs encourage use for daily life, and have a timeless beauty to them.
In the kitchen, a Tenugui can be used to wipe hands, as an oven mitt, or as a mat for a hot pan. In the living or dining area, if you drape a Tenugui on a computer or mirror, it will protect it from dust. During tea time, it can be used as a napkin to put on your knee or used as a place mat. With a little bit of creativity, Tenugui is a versatile tool for a wide variety of uses.
Enjoy Japanese lifestyle with Tenugui
Kamawanu's Tenugui are reasonably priced at 800 yen per piece. Why not purchase your favorite Tenugui and incorporate ancient Japanese knowledge into your daily life?  
Edoya Hake (flat brush) and brush specialty store
The last specialty store I will introduce is the historic brush shop Edoya, established during the Edo period (1603-1868) and located in Nihonbashi, Tokyo. 

Edoya's modern outside appearance
Even Edoya's building is fascinating. The outside design, said to symbolize a flat brush, followed a western architectural style when it was built in 1925. This building was born from a carpenter's creativity and is now designated a Nationally Registered Tangible Cultural Property.
■Change your brush from a daily necessity to a desired item
Edoya mainly handles "hake" (flat brushes) alongside standard hand brushes. In addition, they sell scouring brushes and more. During the Edo period, "hake" (flat brushes) existed but hand brushes as we know them now were not popular. In the later Edo period after the arrival of Commodore Perry and his black gunships, western culture was imported and western-style brushes gradually became popular. 
Edoya hair brushes
Hair brushes can be separated in two large categories of pig's hair or and boar's hair, with. Pig's hair brushes are divided into 4 kinds, called premium black pig hair, premium white pig hair, pig hair, and black white mixture hair. 

Each brush's amount and length of animal hair are all different
I recommend to not only choose a hair brush according to the hardness, softness, or amount of damage of the user's hair, but also to visit the store, try various brushes, and choose one that feels the most right in hand. Since the hair brushes use animal hair, you can expect to make your hair very smooth only brushing one time. Instead of using plastic or rubber, utilizing animal hair is effective to prevent static electricity.

So many choices of brushes that are all great in usability and quality. It's not easy to decide.
Other than hair brushes, clothing brushes are also one of the tools that you should prepare at home. Whether your everyday attire is Japanese or western, there is a brush made just right for you. Brushes made by traditional hand-made methods have stiffness and are long lasting masterpieces.
The brushes of Edo-ya, all made with great attention to comfort and functionality, are great tools that make you love using them in your daily life. 

Popular western clothing brushes
2. Tool stores in Tokyo where you can find specialty items.
Besides Japanese specialty tool stores, scattered in central Tokyo are several stores dealing tools from throughout Japan, and miscellaneous daily items. The two stores I will introduce both directly buy tools from the craftsmen, supporting the creator's thoughts and connecting us with these specialty tools.
Yanaka Matsunoya: tools for daily life
Yanaka Matsunoya is located after passing the slope called "Yuyake Dan Dan"
Yanaka Matsunoya is located in the Yanaka area of Tokyo, famous for preserving a traditional downtown atmosphere. This store handles handmade tools for daily life. Miscellaneous items such as baskets, strainers, and bowls made from natural materials and produced at local factories or farms are displayed everywhere in the store. At Matsunoya, staff purchase and verify items directly from suppliers nationwide or throughout Asia as well as focus on developing original products for modern life style trends.
Matsunoya stocks items referred to as "aramono" (miscellaneous commonly used items)  such as brooms, dustpans, strainers, or baskets. 

Miscellaneous daily items like handmade baskets. Each item makes you feel the high quality craftsmanship. 
For example, baskets located at the front of the store have all been carefully hand woven one by one with locally grown wood. They are made to be flexible and tough with a comfortable size and feel in the hand, making them unlike many others. They also last for a long time. The store sells items matching the company's logo motto of "Not 'best', not 'better', but 'nice' manufacturing". 
Tough original canvas bag series "Heavy Canvas Tool Tote bag S"(13,000 yen + tax)
An original bag series made from thick canvas is popular too. The tote bags use canvas woven in Okayama and sewn by craftsmen in Tokyo, producing tough and durable bags that can be cleaned with a scrubbing brush. There are various sizes and colors available, so please check them when you visit the store!
Pottery and Tools Tsumikusa
Pottery and Tools Tsumikusa is located at a 6-minute walk from Kichijoji Koenguchi. High-quality handcrafted tools and pottery from craftsmen and young artists throughout Japan are available. 
Pottery and Tools Tsumikusa
At first glance, I thought Tsumikusa only handled pottery from nationwide, but decorated earthenware pots and "magewappa" (wood lunch boxes handmade by a special technique) were also on the shelves. Tsumikusa buys tools and pottery directly from nationwide, from creators and artists committed to producing handmade items, and sells them to convey their deep craftsmanship and dedication. 

The center two greenish baskets are rare bamboo baskets from Okinawa. Craftsmen of these baskets are rare, and Tsumikusa spent many years finding one that they could buy from.
Craftsmen who continue to preserve traditional techniques are becoming rare, and have few inheritors to keep their craft alive. Many of these traditional crafts may become unavailable time. What you will find at Tsumikusa is a wide selection of handmade crafts, all embodying the passions and techniques of their creators; I greatly recommend stopping by, and feeling them in your own hands. 

Handmade handicrafts from various prefectures
Among various products, Tumikusa focuses on "kyodo gangu", or "regional toys". These traditional toys are deeply rooted in the cultures of their respective locales, and have been collected from all around Japan.

Wonderful traditional toys
For example, Fushimi dolls from Kyoto are considered the oldest traditional toy in Japan and Akabeko (red bull) from Fukushima are popular as a souvenir. All traditional toys for sale at Tsumikusa are bought directly from various local areas.
The day I visited there were many colorful hariko (paper-maches), such as Hamamatsu Hariko and Ryukyu Hariko. The variety of hariko included vibrant options that would be great interior additions to one's doorstep, as well as modern, stylish designs crafted by young artisans. Although traditional toys are not tools for daily life they will make your life and mind richer.
Enrich somebody's daily life; gift traditional Japanese tools as souvenirs!
Although their numbers are decreasing, Japanese daily life tools produced with traditional techniques continue to exist. There are many tools which have been used from ancient times, that reflect Japanese traditional knowledge and designs. They should make great additions to one's everyday life, and enrich their busy lifestyles by even a little bit. 
When you visit, you should not only purchase the tools but also try asking about the creator's passions and the history behind the tools. Those stories will give your tools an extra special meaning, making them even will become more valuable to you.