Japan's landscape is surrounded with colorful blooms throughout the year. Each season has its star flower, such as cherry blossoms in spring, sunflowers in summer, and cosmoses in fall. Pretty flowers blanket the ground even during the winter cold. 
In this article, we will focus on daffodils, the elegant and fragrant flowers that brighten up Japan's dark winters. They grow in various locations across Japan, and the Tokyo Metropolitan Area is no exception. The article will not only explore the Japanese daffodil's characteristics and stories, but also introduce multiple spots in the city of Tokyo that have a great scenery of daffodils.
Daffodils - Japan's darling winter blossoms
Let's take a quick look at daffodils. They're one of Japan's most loved winter flowers, and part of the amaryllis family.  They have straight stems with elegant, white, trumpet-shaped flowers. 
Japanese narcissus are common winter flowers
Daffodils come in various shapes and sizes. The most common type in Japan is the Japanese narcissus, which blooms during December to February. The flowers are said to have been introduced from China during the late Heian period (which runs from 794 to 1185.) Japanese narcissuses grow three to four pretty flowers on each stem with a hint of sweet scent, but the flowers are toxic, so be careful when handling them. 
  
Japan has three major daffodil habitats -- the Echizen coast in Fukui Prefecture (on the Sea of Japan coast), Kyonan-machi in Chiba (southeast of Tokyo), and Awaji-shima Island off Kobe Prefecture (in western Japan).
 
■Echizen coast, Fukui Prefecture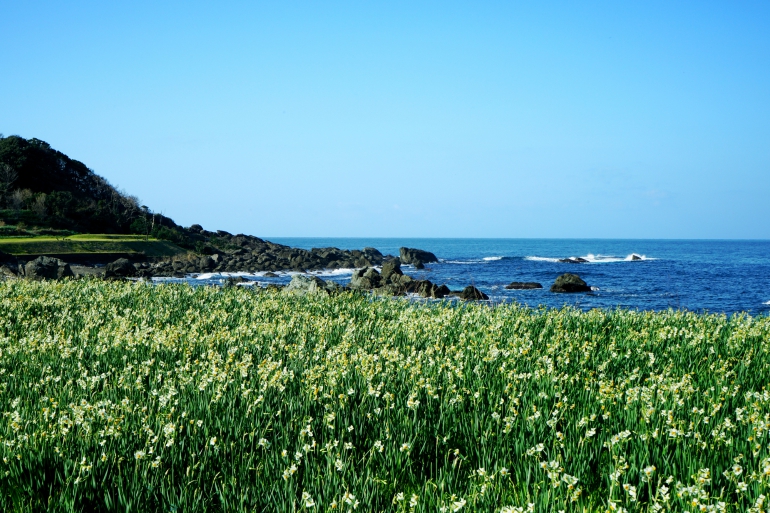 Echizen narcissus proudly carry the local "Echizen" brand name.
■Ezuki Narcissus Road, Kyonan-machi, Chiba Prefecture

Hiking trail dotted with narcissus flowers
■Tachikawa Suisen-kyo, Awaji-shima Island, Hyogo Prefecture

Tachikawa Suisen-kyo boasts 4 million daffodils
The Japanese name for daffodil is suisen(水仙),  which literally means hermit by the water. It is said that the flower's was named after its fragrance and elegant demeanor. 
Daffodils: self-love  
In the language of flowers, daffodils symbolize self-love. Despite their white, innocent appearance, daffodils are associated with the negative connotation of narcissism. This goes back to the ancient Greek myth of Narcissus (of which there are several variations.) 
As the story goes, Narcissus was an incredibly handsome young man who was promised a long-life as long as he did not see his own face. One day, he visited a pond and fell in love with his own reflection. Not realizing it was himself, he bent down to kiss his reflection and drowned. 
Daffodils grow along the water
A daffodil is said to have appeared near the spot where Narcissus died, and that's how the flowers came into being with an association with narcisissm. Will this tragic myth make you see daffodils in a different light?
Tokyo's four best spots for daffodils 
Now that we've covered the basics of daffodils, let's go out and visit them. Our list focuses on the best spots in Tokyo. The peak season for Japanese narcissuses is December to February, while other daffodil types bloom from February to April. This means that daffodils can be enjoyed in Japan all winter long. Visit the daffodils at the locations below to enjoy the seasons change from winter to spring. 
 
Kasai Rinkai Park
Kasai Rinkai Park is a municipal park facing Tokyo Bay. The lush green space is an oasis of calm for Tokyoites. The park's daffodils come into full bloom in January. 
Daffodil field near the ferris wheel(photo courtesy:Tokyo Metropolitan Park Association)
The five-thousand bulbs planted in the park have produced 200-thousand flowers. Some of them are Echizen daffodils donated from Fukui City -- home to one of Japan's three major daffodil colonies. 
Take a ride on the park's landmark ferris wheel and enjoy the pleasant beauty of the flowers blooming below. 
■Annual Daffodil festival: February 8th ~ 9th
Every year, Kasai Rinkai Park hosts a daffodil festival when the flowers are at their best. 
In 2020, the event took place on February 8 (Saturday) and February 9 (Sunday). 
Daffodils in Kasai Rinkai Park(photo courtesy:Tokyo Metropolitan Park Association)
During the two-day event, Echizen daffodils are sold along with local produce and specialties of Fukui City. For visitors of all ages to enjoy, activities such as bird walks and flower arrangement classes take place. The festival is also a wonderful opportunity to be close to nature. 
【Kasai Rinkai Park daffodil info】
Population:200,000 flowers(50-thousand bulbs)
Type:Echizen suisen daffodils (Japanese narcissus)
When to see:mid-January 〜 mid-February 
Address:6-2-1 Rinkai-cho, Edogawa-ku, Tokyo, 134-0086
Access:JR Kei-yo Line Kasai Rinkai Koen Station (about 1-minute walk from station)
【Daffodil Festival details】
Date:February 8, 2020 (Sat)・February 9, 2020 (Sun)
Time:each day 10:00 〜15:00 
Place:Kasai Rinkai Koen Park, daffodil field, lawn and other areas 
Events :Daffodil guide, merchandise from Shimoda city, Shimada city, Fukui city merchandise, street performance (featuring Tokyo-certified "Heaven Artist" SOBUKI)  
※ Details may vary according to date. For more information check official website
Showa Kinen Koen Park 
The Japanese garden at Showa Kinen Koen Park on a snowy day (photo courtesy :Showa Kinen Koen Park)
Showa Commemorative National Government Park (or Showa Kinen Park for short) in Tachikawa,  western Tokyo, opened in 1983 as part of a project commemorating Emperor Showa's Golden Jubilee. The park covers an area of 1.8-kilometer square meters, and is home to beautiful daffodils. 
Japanese daffodils at Showa Kinen Park(photo courtesy :Showa Commemorative National Government Park)
Daffodils grow in two areas of the park -- the Japanese Garden and the Flowering Tree Garden. Japanese narcissuses are planted together with yellow trumpet daffodils. They're easy to tell apart, as trumpet daffodils have a corona, or a cup in the center that sticks out like a trumpet, while Japanese narcissuses have much smaller ones. 
Large, yellow trumpet daffodils. Much larger than the Japanese Narcissus (photo courtesy:Showa Commemorative National Government Park)
■Other flowers to enjoy
Showa Kinen Park boasts a rich variety of flowers that bloom year-round. Here are two more flowers to enjoy during winter, that bloom around the same time as the daffodils.  
Setsubun-so: tiny and cute (photo courtesy:Showa Commemorative National Government Park)
Setsubun-so are white flowers that grow across Japan. Their pale, feather-like blossoms are like droplets on the dark brown soil. They usually flower around February 3rd on setsubun (節分) day, which is traditionally observed in Japan as the day before the first day of spring. The delicate flowers can be enjoyed from end January to around late February, in areas around the Komorebi Village Rest Place.

Delicate, nodding snowdrops(photo courtesy:Showa Commemorative National Government Park)
Snowdrops have petals resembling their namesake. The bell-shaped flowers grow downwards towards the ground. In Japan, they are also called matsuyuki-so, or snow-waiting flowers, and come into bloom from early January to early March. Since ancient times, snowdrops have been cherished in Japan as harbingers of spring. To see them, visit the area around the Flowering Tree Garden exhibition hall. 
【Showa Commemorative National Government Park daffodil info】
Population:about 5,000
Types:Japanese narcisuss, trumpet daffodils 
Best time of the year:early January 〜 early March
Address: 3173 Midori-cho, Tachikawa-shi, Tokyo,  190-0014
Access:JR O-me Line, Nishi-Tachikawa station (about a two-minute walk)
Hamarikyu Oncho Gardens 
The Hamarikyu Oncho Gardens stand in Tokyo's Chuo Ward. The vast site has a seawater pond and two 
duck hunting grounds which were frequented by feudal lords during the Edo period. 
Daffodils growing everywhere in the park
Hamarikyu Gardens is a well-known venue for spring cherry blossoms and autumn foliage. It's also a pleasant spot to enjoy daffodils in the winter. The flowers grow in all corners of the Gardens, but one of the best places to find them is near the plum trees in the northeastern side of the park. 
 
■Other flowers to enjoy in Hamarikyu Oncho Gardens
Hamarikyu Gardens has many flowers in bloom during the winter, such as rapeseed flowers. They are in full bloom in early March, when spring is just around the corner.
One of the few places in central Tokyo to enjoy rapeseed flowers (photo courtesy: Tokyo Metropolitan Park Association)
During peak season, bright yellow rapeseed flowers blanket certain areas of the park (These areas are marked as "flower garden" on the park's map). Plum flowers are also in full bloom from early to mid-March, creating a lovely contrast of yellow, red and white. Take an early spring walk inside Hamarikyu Gardens before the cherry blossoms arrive. 
【Hama-rikyu Oncho Gardens daffodil info】
Type:Japanese narcisuss 
When to see:Early January 〜 April 
Address: 1-1 Hamarikyu Gardens, Chuo-ku, Tokyo, 104-0046 
Access : Tsuki-ji Ichiba Station and Shio-dome Station (Tokyo O-edo Line) / Shio-dome Station (Yurikamome Line).  About a 7-minute walk
Shinjuku Gyoen National Garden
The massive Shinjuku Gyoen National Garden stands in Shinjuku, Tokyo. The Garden blends three distinctive styles of natural space; landscape garden, formal garden, and Japanese traditional garden. Shinjuku Gyoen is a wonderful place to escape city life and relax and be close to nature. The Garden is surrounded by diverse flowers throughout the seasons.
Shinjuku Gyoen in winter(photo courtesy: Shinjuku Gyoen National Garden, Management Office)
Three types of daffodils grow in Shinjuku Gyoen -- Japanese narcissuses, trumpet daffodils and paperwhites.
Japanese narcissuses bloom from December to February(photo credit:Shinjuku Gyoen National Garden, Management Office)
Late bloomers: trumpet daffodils flower from mid-March to early April (photo credit:Shinjuku Gyoen National Garden, Management Office)
Paperwhites are bulbous flowers originating from the Mediterranean. This daffodil type is recognized for its translucent white color and paper-thin petals. These fragrant daffodils bloom around the same time as Japanese narcissuses, from early December to early February.  
Paperwhite daffodils - delicate white  petals (photo courtesy:Shinjuku Gyoen National Garden, Management Office)
■Other flowers to enjoy
Besides the daffodils, be sure to make time for the Garden's other blooms, such as camellias and ro-bai shrubs ( wintersweet) which flower from end November to early January. 
Ro-bai shrubs originated from China, and are said to have arrived in Japan during the Edo period (1603〜1868.) The flowers have distinctive yellow, waxy petals, and appropriately in Kanji characters, ro-bai is spelled 蝋梅,  which translates to "wax plum."  Robai gets its name from its blooming season -- "ro-getsu (蝋月)" literally means "wax month" and is the final month of the year under the traditional Japanese lunar calendar.  
Small, yellow robai flowers(photo courtesy:Shinjuku Gyoen National Garde, Management Office)
【Shinjuku Gyoen daffodil info】
Types:Japanese narcisuss, trumpet daffodils, paperwhites
When to see :early December 〜 early April 
Address:11 Naito-machi, Shinjuku-ku, Tokyo 160-0014 
Access:<Shinjuku gate>
Exit 1, Shinkuku Gyoen Station (Tokyo Metro Marunouchi Line) Walk about 5 minutes.
E5 exit. Shinjuku San-chome Station (Tokyo Metro Fukutoshin Line) Walk about 5 minutes. 
Note: Drinking alcohol, using sports equipment and musical instruments in the garden are prohibited (excluding Kid's Area)
Tokyo's winter daffodils burst with color
Japan is a wonderful place to enjoy flowers throughout the year. The Japanese narcissus -- the main feature of this article -- is one of Japan's most loved winter flowers. While Tokyo doesn't get much snow in winter, the city's parks are instead blanketed with delicate, yellow daffodils.  
Apart from the spots featured in this article, daffodils can be found in many locations across Tokyo. Brave the cold and venture out to find some beautiful daffodil fields for a romantic winter walk.