Shirokiya Denbei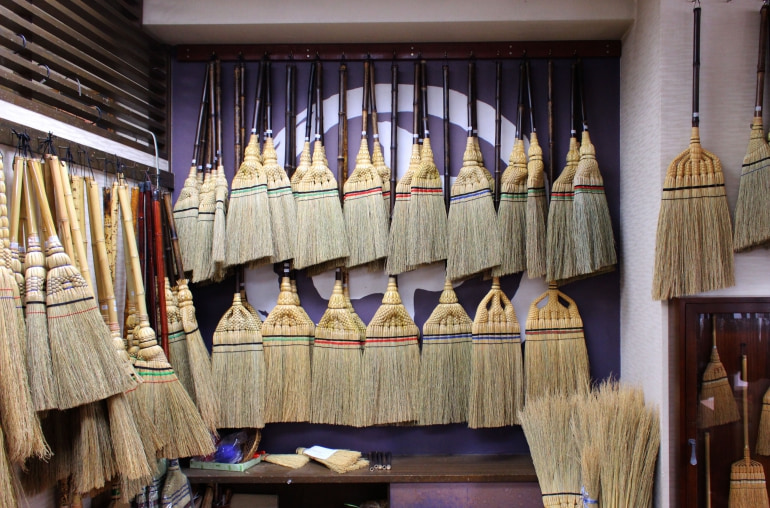 Shirokiya Denbei is an "Edo broom" store located in Chuo ward, Tokyo. It is a business selling handmade brooms, with a very long heritage dating back to 1830.




The brooms are made with a bamboo handle and bristles of "broom corn", a special type of sorghum, that gives the final broom a light weight and flexibility. The design results in easy handling suitable for daily use. You can clean an entire house using this type of broom, from the tatami mat and hard flooring, all the way to carpet floors.




In addition to room brooms, there are various sizes and shapes of brooms suitable for various purposes such as cleaning clothes or a desktop. The dust pans are made with washi (Japanese paper) coated with persimmon tanning dye for stronger durability and water resistance. I recommend that you pick up one as a companion to go with a broom.



Basic Information
Address
〒104-0031
1F Hakuden Building, Kyobashi, Chuo Ward, Tokyo 
Phone
0120-375-389 (toll free) 
Fee
Edo hand broom Top: 8000 yen (tax excluded)
Edo hand broom Special: 10,000 yen (tax excluded)
Edo hand broom Superb: 14,000 yen (tax excluded)
Lazy broom with long handle: 3,500 yen (tax excluded)
Access
From

Toei Asakusa line, Takara-cho station

From A3 exit: about a 1-minute walk

From

Tokyo Metro Ginza line, Kyobashi station

From No. 2 exit about a 3-minute walk