Kunenan, in the eastern part of Saga prefecture, is well known as a fall foliage spot. The former villa is only open in the spring and autumn months, and visitors are in for a treat of some breathtaking scenery. This year, Kunenan is scheduled to open from November 15 to 23. Travel down to Kyushu this autumn to catch the fall foliage at Kunenan!
About Kunenan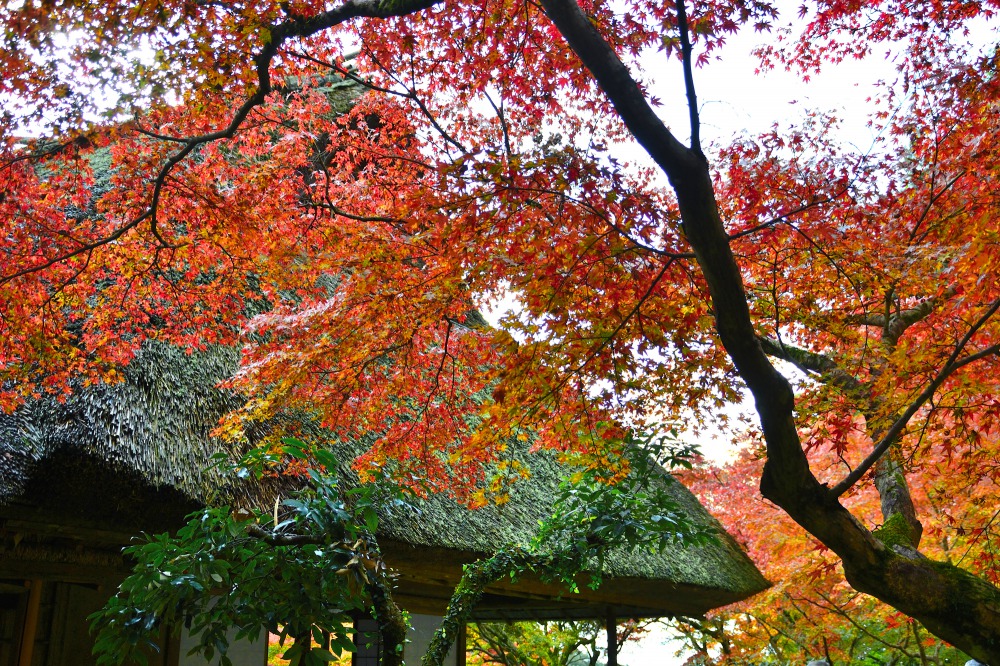 Sukiya-zukuri style building
Kunenan was built during the Meiji Period (1867 - 1912) as a villa for Itami Yataro, a prominent businessman. In 1995, it was registered as a National Site of Scenic Beauty.
The villa was named "Kunenan 九年庵" since it took nine years ("kunen"; 九年) to finish the garden in this small simple building ("an"; 庵).
The building's cedar bark walls and the thatched roof are made from carefully picked materials. The building is made in the simple sukiya-zukuri style, with a tearoom and a study inside.
Kunan-an locates in the Kyushu region's northwestern prefecture of Saga. It lies in the city of Kanzaki, and there, you can find other attractions like Yoshinogari Ruins.
Kunenan during autumn
Kunenan is only open to the public for a few days in the autumn. Here are some tips to help you enjoy Kunenan's fall foliage to the fullest.
Get a numbered ticket
To get into Kunenan, you will need to get a numbered ticket. They will begin distributing tickets at around 8:00a.m. at the tent set up at the parking lot.
Try to get a ticket as early as possible. If you get there too late, they may stop distributing tickets and there may be an entrance restriction.
Follow the designated route to get to Kunenan from the parking lot. It locates a bit into the mountains, and once you arrive you will see a gate.
Avoiding congestion
Visitors at Kunenan
Since Kunenan is only open for a few days during the fall, it tends to get congested and quite busy. Here are some tips on how you can avoid the crowd at Kunenan.
Weekends and national holidays are usually the busiest, so go on a weekday if possible. Also, Kunenan opens at 8:30a.m. If you arrive at the tent around 8:00a.m., then you will most likely be able to avoid lines and crowds and get straight inside.
If you end up having to wait for a long time, then visit some nearby spots. Have some food at the street food vendors around Kunenan, or visit Niiyama Shrine, located right next door.
Kunenan's fall foliage
Fall foliage and moss
Throughout Kunenan's 6,800㎡ ground premise, you can enjoy the colors of the fall leaves.
In one particular area, you can find a patch of moss. The fallen red leaves contrast the striking green of the moss and is a stunning sight.
Kunenan in the spring
Kunenan in the spring
Kunenan is also open during the spring for a few days in May. In the spring season, Kunenan is covered in fresh greenery. You can check out the opening dates on Kunenan's official homepage.
Other fall foliage spots around Kunenan
Around Kunenan, you can find other beautiful fall foliage spots. Here are some spots near Kunenan with stunning views.
Niiyama-jinja Shrine
Fall at Niiyama-jinja
Niiyama-jinja Shrine is right next to Kunenan. It enshrines the deities of the mountain and agriculture.
On the shrine grounds, there are many old maples that change colors in the fall. In the spring, the shrine is surrounded by greenery.
Yoshinogari Historical Park
Yoshinogari Historical Park
During Kunenan's opening period, there is a special shuttle bus running between Kunenan and Yoshinogari Historical Park.
At Yoshinogari Historical Park, you can see one of the biggest ruins in Japan. The ruins are of a village from the 4th century BC. At the park is also an exhibit where you can see documents and items relating to the villages of the ruins.
Access
Nearest station: Kanzaki Station
From Hakata Station
【Hakata Sta.】Fukuoka City Subway Kuko Line / for Fukuokakuko (Airport)
→【Fukuokakuko (Airport) Sta.】Nishitetsu Bus / for Saga-daini-godo-chosha
→【Kosoku Kanzaki Sta.】→ about a 15-minute walk
From Fukuoka Airport
【Fukuokakuko (Airport) Sta.】Nishitetsu Bus / for Saga-daini-godo-chosha
→【Kosoku Kanzaki Sta.】→ about a 15-minute walk
From Saga Airport
【Saga Airport】Saga Municipal Bus / for Saga-eki BC
→【Saga-eki BC Sta.】Fukuoka Airport Line Bus / for Fukuoka Airport
→【Kosoku Kanzaki Sta.】→ about a 15-minute walk
Spend a special fall afternoon at Kunenan!
The fall foliage in Japan is beautiful all throughout the country. Visiting a place like Kunenan though, is sure to be a unique autumn experience that you'll never forget.
Information
Address
1692 Kanzaki-machi, Kanzaki-shi, Saga
Hours
〈Opening Dates〉
Spring: early May (varies annually)
Autumn: Nov. 15 - Nov. 23

〈Time〉
8:30a.m. - 4:00p.m.
Fee
¥300 (free for junior high school students and below)