Get a head start to spring at Suzuka Forest Garden! There, you can see the one of the largest weeping plum blossom gardens in Japan. The plum blossoms at Suzuka Garden bloom from late February to March.
Keep reading to learn about plums and cherry blossoms in Japan and Suzuka Forest Garden's plum blossoms.
Plum Blossom Festival at Suzuka Forest Garden
Suzuka Forest Garden locates in the city of Suzuka in Mie prefecture. The Plum Blossom Festival is held annually in early spring.
en no Ryu
In the garden, there are a variety of weeping plum blossoms. Suzuka Forest Garden is particularly well known for its kureha-shidare weeping plum blossom trees.
Chi no Ryu
The Ten no Ryu and Chi no Ryu kureha-shidare trees, pictured above, are both over 100 years old, and said to be the oldest kureha-shidare trees in Japan.
There are many other types of weeping plum blossom trees throughout the garden, such as the Kagoshima-beni, Yae-kanbai and Fujibotan-shidare. You can also find unique weeping plums trees, such as Omoi-no-mama, which has pink and white blossoms. These impressive weeping plum trees throughout the garden are managed by weeping plum experts
View of the Suzuka Mountains
In the garden, there is an area where you can get a view of the plum blossoms with the Suzuka Mountains.
Snow on weeping plum blossoms
The weeping plum blossoms' vibrant pink colors stand out even more in the snow. However, you can only catch this sight once every few years, since it isn't common for it to snow in early spring.
Don't Miss the Light-up!
Light-up after sunset
On some days, the weeping plum trees are lit up after sunset. Don't miss this dreamy sight!
Festival Information
Here is some basic information on the Plum Blossom Festival.
Dates and times
Dates: From Feb. 23, 2019 (Sat.) to Mar. 31, 2019 (Sun.)
Times: 9:00a.m. to 4:00p.m. (last entry 30 minutes before closing)
*until 9:00p.m. during light-up period
Entrance fees
General: ¥500 to ¥1,500
Elementary school students and below: half off of general price
Toddlers: free
*Fees vary on blooming forecast
Access
Suzuka Forest Garden locates a bit far from its nearest station. If you want to use public transportation, you can use busses or taxis.
During a part of the festival period, there is a Mie Kotsu bus from Yokkaichi Station that will get you directly to the park. Busses and taxis can get very crowded on weekends, so it is recommended that you reserve a taxi beforehand.
About Weeping Plum Blossoms
What are weeping plum blossoms, and what is the difference between plum and cherry blossoms? Here are some facts on plums and cherry blossoms.
How to Tell Apart Plum Blossoms from Cherry Blossoms
At a glance, the flowers of plum and cherry blossoms look very identical. However, there is an easy to tell the two apart.
To differentiate the two, focus on their buds, petal shape and bark.
First the buds: while cherry blossoms can have multiple flowers bloom from one bud, plum blossoms only have one flower per bud.
Cherry blossom flowers
The second characteristic to look out for is the shape of the petals. The end of the petals on a cherry blossom flower have a split, while the ones on a plum blossom flower don't. Also, plum blossom flowers tend to be a bit smaller than that of a cherry blossom.
Plum blossom flowers
Lastly, the barks on the two trees have a different design. The bark of a cherry blossom tree tends to be rougher and bumpier.
Plum vs. Weeping Plum
There are over 500 kinds of plum blossom trees. Generally, they can be differentiated as those that are eaten and those that are not.
Weeping plum trees are made for viewing, not eating. Plum trees that have droopy branches are considered weeping plums trees.
Types of Weeping Plum Trees
Reddish pink
There are several different kinds of weeping plum trees, varying in size, shape and color.
The naniwa-shidare is one of the representative weeping plum trees in Japan. The flowers of the naniwa-shidare are a vibrant pink. The fujibotan-shidare, on the other hand, are a softer pink, and have large flowers.
Pruning Weeping Plum Trees
Pruning plum trees
Pruning is when excess branches are trimmed off to improve the appearance and health of a tree. It even helps prevent pests and diseases from getting into the tree.
Plum trees are usually pruned between October and January.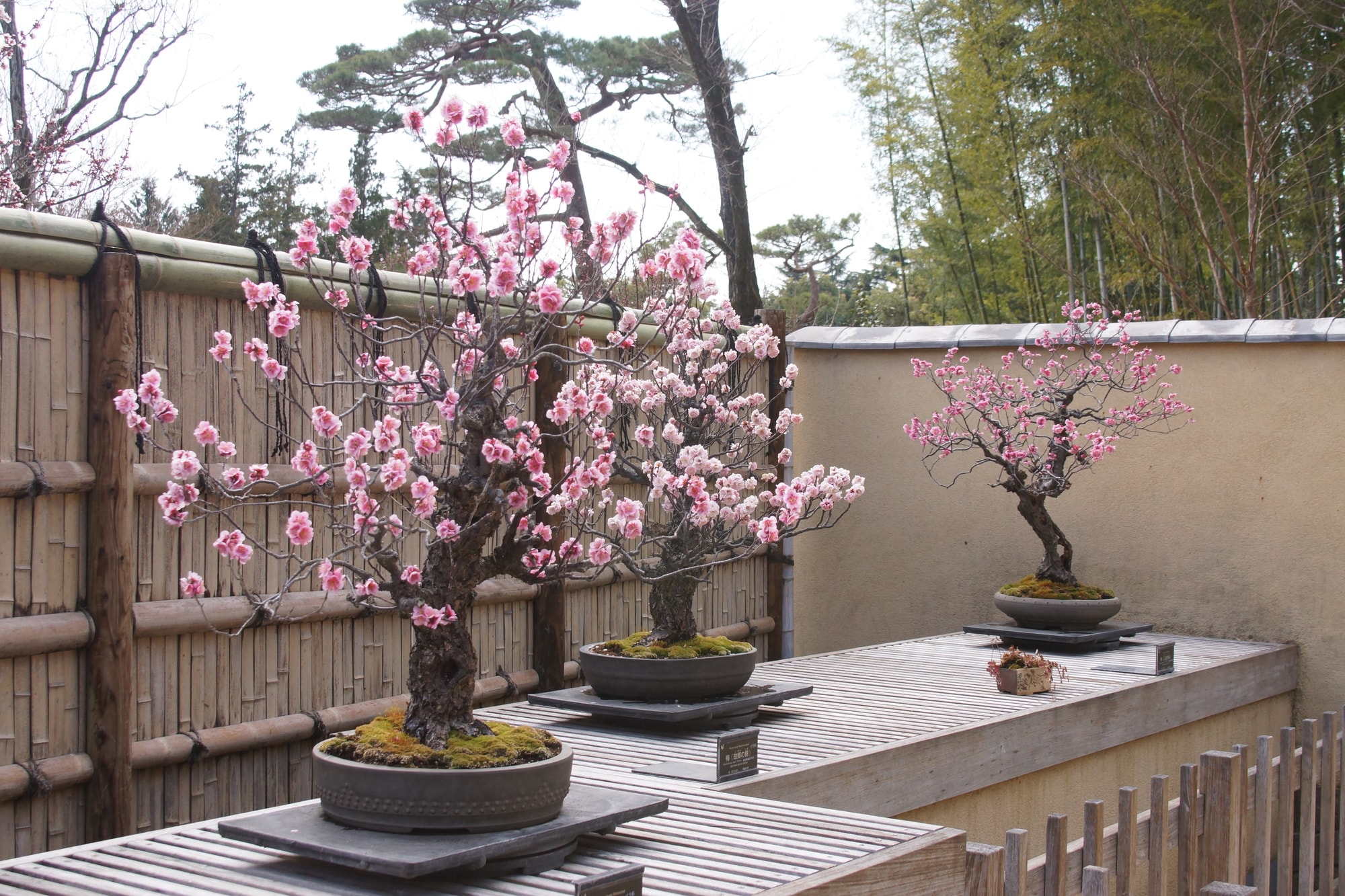 Plum bonsai
Plum pruning techniques greatly by whether the tree is planted in the ground or in a pot. For trees that are planted in a pot, appearance is an important factor when pruning.
Welcome Spring with Plum Blossoms!
Cherry blossoms aren't the only flowers that are representative of the spring season. Plum blossoms signal the start of spring with its lively, pink flowers. This spring, before heading straight to the cherry blossoms, head out a little earlier to see the plum blossoms in full bloom.
Sightseeing Near Suzuka Forest Garden
Here are some spots not too far from Suzuka Forest Garden.
Ise Grand Shrine
Ise Grand Shrine locates about an hour drive away from Suzuka Forest Garden. It has been revered by the Japanese people for around 2,000 years, as one of the most important shrines of the Shinto religion.
Okage Yokocho
Okage Yokocho locates right by Ise Grand Shrine in Ise, Mie. It is a street that opened in 1993, and has buildings that resemble the architecture of the Edo Period (1603 – 1867).