It is said that tofu, or bean curd, has been produced in Japan since the Nara and Heian eras. Produced in various parts of Japan, tofu has evolved according to each region's unique production method. 
In this article, we will provide information on tofu in Hakone, Kanagawa Prefecture, in which tofu is produced in abundance. Tofu is considered one of Hakone's good eats, but how is tofu associated with Hakone? We definitely recommend you try tofu made in Hakone along with exquisite must-eats of a couple of renowned restaurants.
The Hakone area has tofu shops all over
Hakone was a "post town" where tofu was actively produced
The Hakone area was once a post town
Tofu has long been known as a representative food of Japanese culture. It is an essential to Japanese cuisine because of its great health benefits.
Did you know that you can try exquisite tofu in various shops in Hakone-machi in the Western Kanagawa Prefecture? Since Hakone-machi is surrounded by mountains, clean water flows in this area, allowing us to enjoy high quality tofu as one of the local eats. 
Hakone is not conspicuously famous nationwide as a production site for tofu, but if you actually go there, you should be able to find the finest tofu shops and tofu dishes. 
So, why are there so many tofu shops in the Hakone area?
First, Hakone-machi was once a post town. Tofu, a protein filled food made from soybeans, was one of the most important sources of nutrition for travelers who came to rest in the town. The Hakone area was used as a short resting area in between long hikes. Travelers consumed tofu In order to gain energy and strength for the rest of their trip.
Hakone is one of the Fifty-Three Stations of the Tokaido
Hakone is the 10th post town of the Fifty-Three Stations of Tokaido, which was established in the Edo era. It is believed that tofu was actively produced to serve travelers who visited Hakone.
Oyama in Kanagawa Prefecture is also famous for tofu
Oyama Tofu
Kanagawa Prefecture, where Hakone-machi is located, is actually a tofu producing area that boasts over 10 billion yen in annual production of tofu and deep-fried bean curd. In Isehara City in the Central Kanagawa Prefecture, "Oyama Tofu" is a popular local food. Oyama is a mountain that towers over Isehara City and Atsugi City. Oyama has been regarded as an object of mountain worship since ancient times and attracts many worshippers every year.
At Oyama, tofu has been produced not only as an ingredient of Buddhist cuisine but also as a preservable food to serve the worshippers. Currently, the Isehara City Tourism Association sponsors the "Oyama Tofu Festival" every year. At this festival, more than 30 tofu-related events are held.
This is an area we should keep in mind as one of the tofu production areas in Kanagawa Prefecture.
##Exquisite tofu must-eats in Hakone
Tofu has satisfied travelers' hearts and stomachs in the post town of Hakone-machi. Now, let's focus on the restaurants that serve excellent famous tofu dishes.
The signature food is healthy tofu cutlet "Tamura Gin Katsutsutei Head Restaurant"
Its Makabe (half-timber) structure creates a Japanese atmosphere
"Ginkatsutei" in the Gora area in Hakone-machi also represents Hakone's signature tofu dishes. Located just a minute's walk from Gora Station, Ginkatsutei is a long-established small restaurant which was opened in 1973. Large beams run across the ceiling, and from the round fixed sash windows and lattice doors, you can see the Japanese interior and the extensive garden. Seats are available in tatami rooms and tables. 
Tofu Katsuni Plate (1,380 yen/tax included)
Here you can enjoy "Tofu Katsu-ni," which is known as Gora's specialty. Its main ingredient are "Shakkuri tofu," purchased from a nearby tofu shop, "Gindofu. They deep fry sandwiched domestic ground pork between slices of tofu, all over egg. For the soup, they use rich, sweet dried mackerel, and natural sweetener is added from Japanese leek and onion. The perfect ratio between the ground meat and tofu creates a fresh, juicy dish.
For one person: an entire block of "Shakkuri Tofu"
Tofu Katsu-ni, a staple must-eat of Hakone, is a creation from many trials and errors. The popular Tofu Katsu-ni Plate is served directly in an earthen pot, allowing you to enjoy it very hot.
A variety of delicious tofu dishes "Tofu and Yam Dishes Shika Jaya"
The traditional charm has remained since it was opened
"Tofu and Yam Dishes Shika Jaya" is a 5-minute walk from "Hakone Yumoto" Station, the gateway to the Hakone area. The former hot spring inn is now a famous restaurant where you can enjoy exquisite tofu dishes while chatting with a friendly hostess. When you open the sliding door, you can see the door (on the left side of the photo) leading you to the dining room.
the restaurant is filled with traditional Japanese designs
There is a fireplace in a corner of the dining room
There is a table with a sunken fireplace in a corner of the dining room, which is a heart-warming Japanese tradition. The restaurant's appearance has remained the same since it was opened in 1938, allowing you to feel traditional Japanese ambiance the moment you step in.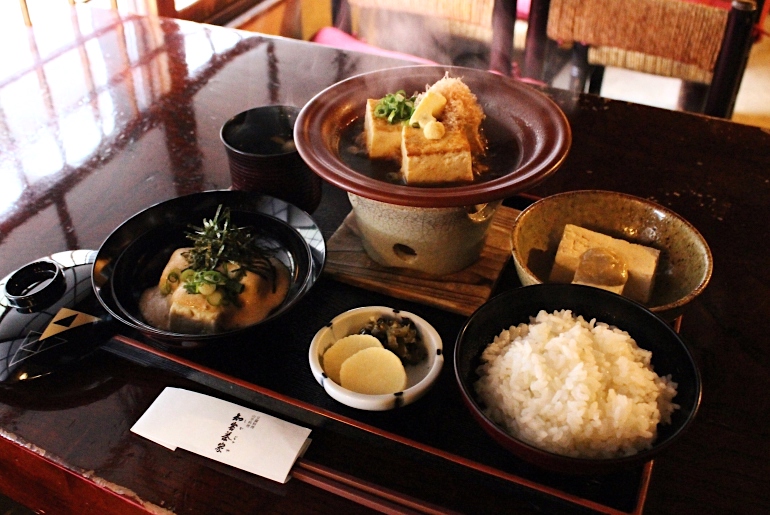 "Tofu Dim Sum," which offers a variety of tofu dishes
Shika Jaya serves "Tofu Dim Sum," a meal that has various tofu recipes with various seasonings. You can enjoy "Wasabi-miso Chilled Tofu," cold tofu topped with wasabi-miso mixture, the restaurant's specialty "Soun Tofu," and the main dish "Tofu Steak".
Above all, the "Soun Tofu" is most recommended. The tofu is heated up in kelp soup and then topped with tororo (grated Japanese yam) seasoned with miso soup. The gentle smell of kelp soup and the sweet, elegant flavor of miso are a perfect combination. You should be able to feel the beauty of Japanese food for the delicate taste that only tofu can produce.
The main Tofu Steak is a delicacy dressed with a mixture of soy sauce-based sauce and butter specially made at the restaurant. While the rich flavor of leek, ginger and shavings of dried bonito increases your appetite, the Tofu Steak tastes fresh at the same time. 
Tofu Dim Sum allows you to enjoy various tofu recipes that make the most of the rustic and elegant taste of tofu. It would be underestimating to think that tofu alone may not be satisfying enough. The three tofu dishes with different seasonings are unexpectedly voluminous, so both your stomach and your heart will surely be satisfied. 
The restaurant offers English menus as well as "Okabe-zen Meal" for vegetarians and vegans. The soup, which is the key to its taste, is all made from kelp. Rest assured that no bonito is used. 
Japan's Charmful "tofu"
Healthy food that has been popular since ancient times
"Tofu" has long been loved in Japan
People eat tofu on a daily basis mainly in Asia. As described earlier, Japan is no exception. So why is tofu loved by so many people?
The main reason probably has to do with it being known as "longevity food." An ingredient for Buddhist cuisine, tofu, is not only essential for  monks' diet but also has been said to increase your lifespan. In recent years, it has been scientifically proved to be a good protein source, and is also attracting attention as a functional food that controls the symptoms of diseases such as diabetes, hypertension, and arteriosclerosis. It has always been an essential health food for Japanese dishes.
Easy on the digestive system and rich in nutrients
Its simple taste goes well with any dish
Tofu is popular as a health food and a diet food as it is low-calorie while being rich in protein level. Tofu is easy on the digestive system, so it is a safe food for people of all ages. Although soybeans are considered to be hard to digest, it is not the case with tofu since in the production process, the tissues of the soybeans are destroyed and the indigestive fiber is removed. Then nutrients and fat are pressed together into tofu, which makes tofu easy to digest and absorb. Aside from your everyday diet, tofu is also a convenient food for when you are sick.
Longevity food "Tofu," which is loved in Japan
Also, Japanese tofu is so rooted in Japan that is sold as "TOFU" in the US and other foreign countries. Vegetarians and vegans can also eat tofu, so make sure you enjoy delicious tofu dishes when visiting Hakone. If you are interested in tofu, the representative longevity food of Japan, you should definitely try the many dishes offered in Hakone.