"Koukashitas (railway underpasses)" have progressively developed mainly in Tokyo in throughout the recent years. The stores are attracting attention as popular spots because they are easily accessible from the stations and many of the stores are open until late at night. Each store has its own unique charm to itself, making it fun to go around the whole area. The Koukashita area is also great for a casual date spot.This time, we will introduce the Nakameguro Koukashita, a commercial facility under the railways of Nakameguro Station in Tokyo. The Koukashita was opened in 2016 and the space extends approximately 700 meters long with 38 stores in total. "NAKAME GALLERY STREET" is located furthest from the front . We will introduce three recommended stores in this hidden getaway area.
"Koukashitas of the new era" is under development in Tokyo
Did you know that in recent years unique Koukashita areas have developed one after another?
In the past, Koukashitas were associated with solely businessmen. However, after renovations, many stylish stores have made its presence in these areas, creating a welcoming atmosphere for all. All stores located in the Koukashita area have their own original "concept", and all stores make up this popular commercial facility. It is also a good idea to find your favorite spot by comparing different "Koukashitas of the new era" from all over Tokyo.
One nice feature of Koukashitas is the easy access. In addition to close proximity from the station exits, it is easy to visit many stores at these Koukashitas.Since there are many late night restaurants.You can briefly stop by a store on your way home from work. Another benefit is that you can relax at Koukashitas until the last minute before the last trains leave.
A Koukashita you would love to walk along, the "AKI-OKA STREET"
Tokyo Manufacturing Space "2k540 Aki Oka Artisan"
This is "AKI-OKA STREET", a Koukashita that utilizes the space between the JR
Akihabara Station and the JR Okachimachi Station. The concept of the facility is
"a Koukshita you would love to walk along". In addition to the manufacturing space "2k540 Aki Oka Artisan", the underpass commercial facility has many Japanese delicacies, including "CHABARA AKI-OKA MARCHE" and "Okachimachi Ramen Yokocho".
"mAAch ecute Kanda Manseibashi", which boasts historic remains and special stores
mAAch ecute Kanda Manseibashi with a chic, red brick look
The mAAch ecute Kanda Manseibashi, which features a red brick exterior, is a railway underpass that utilizes the facility of the old Manseibashi Station, which boasts a history of over 100 years.The historic remains of the specialty stores have a concept of "a place of cultural exchange". It is derived from the culture of the old Manseibashi Station and the Kanda area from the station's active days.
"The Nakameguro Koukashita", attraction of Nakameguro compacted in one area
the Nakameguro Kokashita
Now , we will introduce "the Nakameguro Koukashita", which was established under the concept of "SHARE". It is a unique commercial facility with a casual, compacted atmosphere.
With a goal to achieve the concept of "sharing time, space and thoughts", all stores were designed to be "under one roof".
What is the Nakameguro Koukashita?
"Nakameguro" has a relaxing atmosphere where the stylish, the good and the old mix in harmony. With unique stores and restaurants standing quietly, the area somehow feels friendly and has a relaxing and unique ambiance. While Nakameguro has unpretentious commercial streets and bars, there are also stylish cafes and stores. Therefore, the area is loved by a wide range of people.
an illumination Event "NAKAMEGURO JEWEL DOME
Nakameguro is also famous amongst fashion-conscious celebrities.This area is very popular as a date spot for adults because of its variation according to seasons. In the spring, the cherry blossoms along the Meguro River beautifully bloom, and a large-scale illumination event "NAKAMEGURO JEWEL DOME" is held in the winter.
Tokyu Toyoko Line · Tokyo Metro Hibiya Line trains stop at Nakameguro Station
In Nakameguro, "the Nakameguro Koukashita" was newly completed in 2016. The facility utilizes the space under the railways of the Tokyu Toyoko Line and the Tokyo Metro Hibiya Line. The straight-street facility extends approximately 700 meters long. In the area around the station, there are many original stores.
the stylish external look of Nakameguro Tsutaya Bookstore
In addition to the "Nakameguro Tsutaya Bookstore", located in front of the station, there are many unique stores that are classic to Nakameguro. This time, we will introduce the charms of "NAKAME GALLERY STREET", a hidden area that is only known to experts of the Nakameguro Koukashita.
What is NAKAME GALLERY STREET?
The Nakameguro Koukashita extends as long as 700 meters long.
the Koukashita is divided into sections by alphabetical order from the of "A-site" to "K-site", with restaurants concentrated in the areas covering "A-site" to "H-site". Many are surprised to see such an endless straight line of shops.
an overview of the Nakameguro Koukashita
Proceeding to the back in the Yutenzi direction, opposite to the Nakameguro Station direction, you reach the "I-site" "J-site" and "K-site". NAKAME GALLERY STREET is at the end of the Nakameguro Koukashita, furthest from Nakameguro Station. Only the Nakameguro experts are aware of the many unique and creative shops.
the Nakameguro Koukashita that leads to NAKAME GALLERY STREET
In order to fully enjoy the charm of the Nakameguro Koukashita, we recommend you go all the way to NAKAME GALLERY STREET to explore. This time, we will introduce three recommended stores in this area.
At "artless craft tea & coffee", enjoy their special coffee.
"Artless craft tea & coffee" is located in the J-site of NAKAME GALLERY STREET.
This tea and coffee stall is the only café in this area.
the exterior view of artless craft tea & coffee
■an interior decoration themed with a contemporary tea room
Themed with a contemporary tearoom, the space is a fusion of a traditional Japanese ambiance and a modern chic taste.
An interior view of artless craft tea & coffee
As you enter the café from the entrance, you find a black counter that is the most noticeable.The orderly arrangement of drippers and cups presents a sense of high quality.
An interior view of artless craft tea & coffee
The store is run by a design company called "artless inc.", The interior represents a worldview of the representative designer and artist, Shun Kawakami. Paintings by Mr. Kawakami are also on display, and you can sit relaxed while seeing the artworks.
■They offer tea & coffee made with elaborate crafting.
Focusing on the word "craft", they manually make coffee and tea from beans and tea leaves selectively purchased from farms. Furthermore, they carefully hand drip their coffee, and serve the tea in Tokoname ware. The process of making these drinks is part of the experience. Watch the baristas as they make the drinks one by one.
serving tea
This time, I had Japanese "sumibi tea". Traditional charcoal fire is used in the tea-heating process. Because charcoal is used
to slowly remove moisture, you can enjoy the original taste of tea.
Enjoy the gentle aroma of the tea leaves before taking a sip. A deep, luxurious taste of sweetness and bitterness spreads throughout your mouth.
The tea reminded me of the ultimate taste of Japanese tea. The tea is an original blend of artless craft tea & coffee made by Wada Chouji Shouten, a tea manufacturer in Shijuoka, which was opened about 60 years ago.
The contents of the food menu changes on a irregular basis and the "castella (a type of sponge cake)" was available on this day. They serve foods that go well with both coffee and tea.
■ Another highlight is the very stylish original goods
They also sell goods that are only available at the café including "original leather sleeves",made by the manager who used to be a shoemaker. Their original items and tea leaves are also available online, so we definitely recommend you check them out.
They also sell the store's original leather sleeves along with other items
Take your time to enjoy the cafe's special tea and coffee for a nice break. We definitely recommend this café to those who are tired from the hustle and bustle of cities. Also if your partner is tired from work, why don't you take him or her here as a hidden date spot?
"WASH & FOLD the Nakameguro Koukashita Store" offers laundry experiences of the new era!
"WASH & FOLD the Nakameguro Koukashita Store" is located at the I-site of NAKAME
GALLERY STREET. It was opened in 2017, as the main store of WASH&FOLD, which runs a laundry agency service.
WASH & FOLD the Nakameguro Koukashita Store with a stylish ambiance
■ Features ofWASH & FOLD
WASH & FOLD provides a "laundry agency service"; you can leave your laundry to have them washed dried, folded and even packed. This kind of service is commonly known in Europe and the US . WASH & FOLD is run by Apish Co., Ltd.. The CEO, Ms. Mika Yamazaki, came across this kind of service on a business trip to the US. She then turned the service what its present form.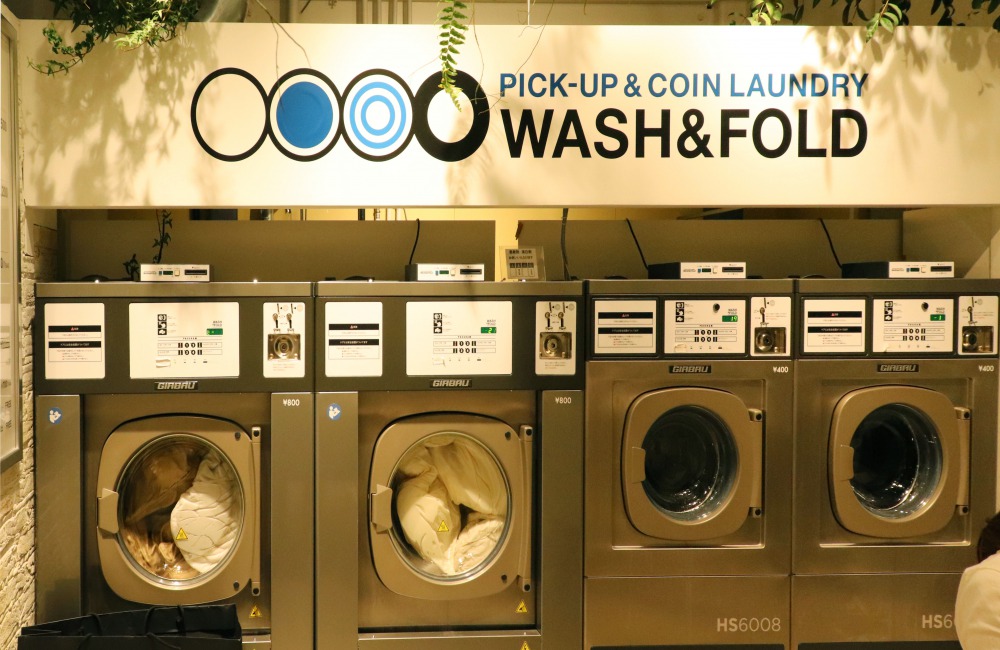 the interior is coherently white and has a sense of cleanliness
The service is perfect for those who are busy with work since you can request a pickup by phone as an alternative to bringing your laundry to the shop. The delivery area varies from store to store. This store covers part of Meguro-ku, Shibuya-ku and Shinjuku-ku. The laundry is carried in dedicated laundry bags.
Also, for a fixed price, customers can put a customized amount of clothing in the bags.
Customers can use a water cleaning service "LICUE" , which does not use petroleum-based organic solvents. A lot of thought is put into this clothing-cleaning service, since clothing is the most likely to touch the skin.
In Europe and America, people are careful about using petroleum-based products while such awareness is still low in Japan. LICUE is a reputable service for its high quality finishes and environmental safety.
■Stylish foreign-made laundry machines stand inside the store
The store with white as the base color presents a sense of cleanliness. In the store, there are large powerful laundry machines and dryers made by GIRUBAU, the industrial laundry-related machines maker with the longest history in Europe. The fluffy finish by the gas dryers is such that the linen hair of the towels can stand up.The gas dryers are energy saving and environmentally friendly.
laundry in the store
In addition, the store is equipped with washing machines and dryers for stylish clothing and sneakers. Therefore, many customers use theservice since they would like to carefully handle the clothes and shoes that they love.

The store also has a section where detergents and other laundry-related items are sold
In addition, in a corner of the store, you can find collections of laundry detergents and fabric softeners that are environmentally and health friendly. At the coin laundry, you can also try stain removers and softeners.
■the very thoughtful service by WASH & FOLD
There is also a rest area where you can read magazines with and free water and coffee. Wi-Fi is also available, so that customers can wait in comfort. Since it is a manned laundry, it is safe for customers to use the service alone at night.
the interior view of WASH & FOLD
This place is a perfect place to rest while waiting for your laundry.
Why don't you try the latest laundry service that has top notch service?
Experience the frontier of DIY at "Fe ★ NEEDS WELDERS POINT Nakameguro Store"!
"Fe ★ NEEDS WELDERS POINT Nakameguro Store" is located at the K-site of NAKAME GALLERY STREET
Iron items are everywhere
This is the second store that is run by SUZUKID (Star Electric Manufacturing Co., Ltd.), which manufactures and sells welding equipment. The first store is located in Kamakura, Kanagawa Prefecture.
■Passion Fe ★ NEEDS has for welding
This is a shop and DIY experience studio for iron welding. The studio is devoted to "delivering fun and joy of manufacturing to many people through welding". The studio is drawing attention after its segments on television.
By welding, you can make "industrial-type" interior items, which are rough and fully vintage. You can freely make DIY interior items made of iron, which are simple, noticeable and fun.
Behind the studio, there is a welding space
"Welding" refers to the technology to melt metal and combine two metal products together. Welding has an image of flying sparks and is considered a wild activity, so it may seem like work for strong men. However, in recent years, the word "welding girls" has appeared as it is increasingly getting popular among women as well.
Many people who like DIY get hooked on the charm of welding.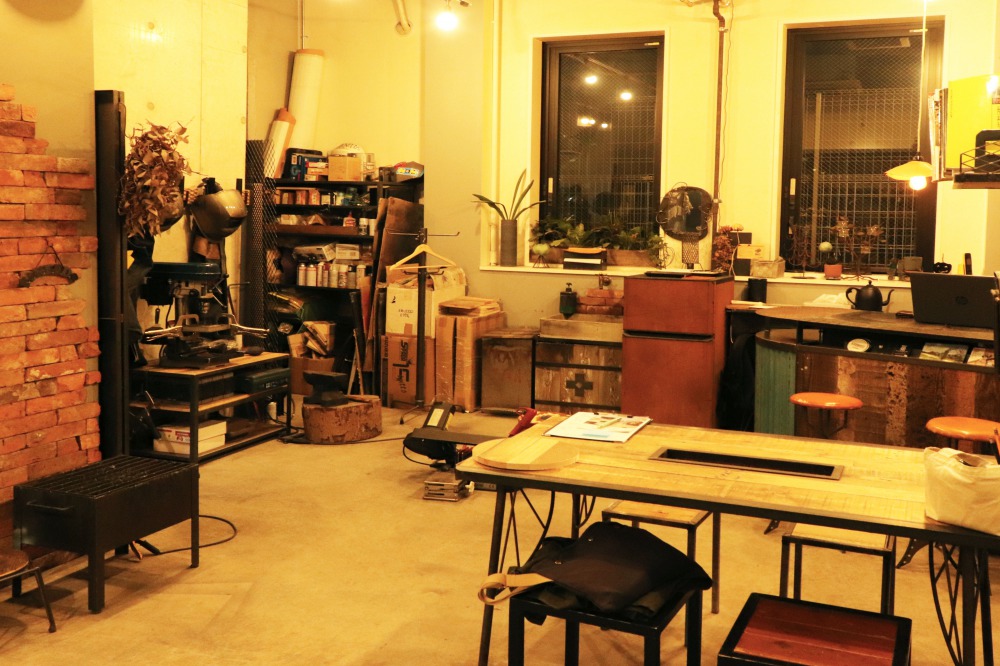 the tasteful Interior
Welding work is deep takes detailed knowledge and techniques.At a first glance, it has an daring impression with sparks flying, but in fact, it also has a detailed aspect. Various devices are required, such as calculating the warpage after welding and figuring out the order of welds. Proficiency in the skills is essential for satisfactory finishes.
Since the quality of finished products also increases as you learn the techniques, it is natural that DIY fans are fascinated by welding.
■Welding experiences provided by Fe ★ NEEDS
In addition to various workshops, the studio also offers free hands on production courses and technical lesson courses. The experience features access to powerful industrial equipment that is different from home-use welding devices. By wearing a mask, you can safely proceed with your work amid scattering sparks.
You can also experience making original sign plates and nameplates
No need to worry even if you are just a beginner. There will be staff assisting you through the process. The home decor sign plates, name plates and"round stools" are the three most popular workshops.
A couple trying welding for the first time
On this day, I met a couple visiting from Chiba Prefecture. Using the workshop gift pack, they were trying a stool production. It was their first time welding and they were working with assistance from the staff. They were continuing with their work carefully while feeling nervous. We also recommend that you try welding on your dates.Working on a project together as a couple will certainly be memorable!
The details of the workshops can be found here>> workshop menu
The experiences are worry-free thanks to assistance from the staff
People participating in the workshops wary in level of experience. The programs are perfect for those who are interested in DIY and would like to experience legitimate production. In these workshops, you can also make special items, such as "drip stands" that are used to drip coffee.
We recommend these workshops to those who enjoy DIY projects, interior decorations, and those in need of a good idea for a present.
At "Fe ★ NEEDS Nakameguro store", the staff DIY all products from scratch!
Videos of the production processes are available on
YouTube, so we definitely recommend you take a look. >> Videos
Night life of the Nakameguro Koukashita
This time we featured the Nakameguro Koukashita, where many restaurants stand next to each other. Apparently, many people do not go farther than the area where those restaurants are concentrated. However, we recommend you go all the way to NAKAME GALLERY STREET and discover hidden appeals of the Nakameguro Koukashita! In addition to the three stores we introduced this time, there are also interior stores and accessories and fashion stores, making the area perfect for dates.
How about exploring in an adventurous mood?
the Nakameguro Koukashita with many people