Yanaka Ginza shopping street is in Yanaka, a Tokyo neighborhoodknown for its retro ambience that is full of vendors selling street food and everyday-use goods, that have long been cherished by locals and visitors. All while being the laid-back, charming old town that it is, the sheer number of shops can be rather overwhelming for first timers.
There is so much to explore here, but if you know where to go, it is very possible to experience its charm to the fullest even on a short visit! Below is our pick of the five best places to eat street food, drool over delicious sweets, and browse unique souvenirs on Yanaka Ginza shopping street.
About Yanaka Ginza shopping street 
Yanaka Ginza shopping street is in Tokyo's Yanaka area, which is about 5 minutes on foot from Nippori Station. 
The shopping street Yanaka Ginza, as well as the neighborhood of Yanaka are both known as preserving the slower, retro vibes of the "shitamachi". This Japanese word translates directly as "downtown", but is quite different from the English nuance of the word. The Japanese shitamachi refers to the bustling merchant communities and vernacular cultures of the Edo-period castle town Tokyo, and the areas associated with them. The ever-popular Asakusa is a well-known hotspot of this shitamachi culture.
Yanaka Ginza shopping street emerged organically around the end of World War II, when many small shops gathered around to serve their local neighborhood. Today's street is about 170 meters long with approximately 60 stores, and offers a variety of street food, restaurants, goods and services. It has also become a popular destination for travelers in Tokyo, attracting many tourists every day.
View of shopping street from Yuyake Dandan steps
Yuyake dan-dan, which literally means sunset stairs, is one of the neighborhood's most visited spots and is hard to miss if you arrive from Nippori Station. It has wonderful views of the bustling shopping street below. 
Yanaka Ginza a.k.a. the "Town of Cats"
Yanaka is known as the town of cats
Once inside Yanaka Ginza shopping street, you will notice many cats going about their daily business. The Yanaka district is known as the "town of cats", and you may come across several cats during your visit too.  
Yanaka Ginza shopping street even has a feline mascot called Senchan and cats are featured at many storefronts in the form of signs, curtains, and statues. At times, you could even be greeted by a real life cat too!
These cat statues are the street's most popular photo spot
Yanaka Ginza Shopping Street's official mascot Senchan is named after a former Yanaka resident called Osen, who according to legend was one of Tokyo's three most beautiful women. Osen worked in a local teahouse and was popular for her beautiful looks. As the story goes, huge crowds gathered at the teashop hoping to get a glimpse of her. Like Osen, Senchan the cat is meant to attract customers to shops along Yanaka Ginza street. The mascot is featured on stamp cards to earn rewards, so get a card if you plan to do a lot of shopping here. 
Why is the street named "Ginza"?
Normally, "Ginza" refers to the luxury shopping district in central Tokyo. However, there happens to be over 300 other shopping streets in Japan, including Yanaka Ginza, that have adopted the word into their name!
 
Let's travel back to Edo Period Japan for a moment. The area that is today's high-end Ginza thrived as the center of silver minting during the Edo period. This begs the question, was silver produced in other parts of Japan with "Ginza" shopping streets? Interestingly, it turns out that the names of such streets were inspired by another district of Tokyo. 
Yanaka Ginza shopping street. One of many shopping streets with Ginza in its name
Now, fast forward to the early 20th century. Various reconstruction projects were launched after a massive earthquake struck Tokyo in 1923. Rubble collected from Ginza was reportedly used to rebuild the local shopping area in Togoshi, in Tokyo's southwest. This street was later named Togoshi Ginza shopping street.  
 
The Togoshi area rapidly recovered from the quake and its local shopping street developed into one of Japan's leading shopping streets.  Other municipalities adopted the name Ginza to their local shopping streets in hopes of emulating Togoshi's success. 
You have 1 Hour at Yanaka Ginza! Where should you go?
Our best picks from around 60 shops at Yanaka Ginza Shopping Street
Let's return to the subject of this article -- Yanaka Ginza shopping street!
Are you somebody on a tight itinerary, or otherwise want the most out of Yanaka Ginza on the shortest possible stay?
The following list of 5 stores is perfect for sampling street food, buying gifts and getting familiar with the local culture even on a short visit. Friendly shopkeepers await you in this town, all brimming with down-to-earth vibes. The current time is 13:00, and a 1 hour timer is set; time for our condensed experience of Yanaka Ginza's best!
13:00 Bamboo crafts at "Take-Kogei Midoriya"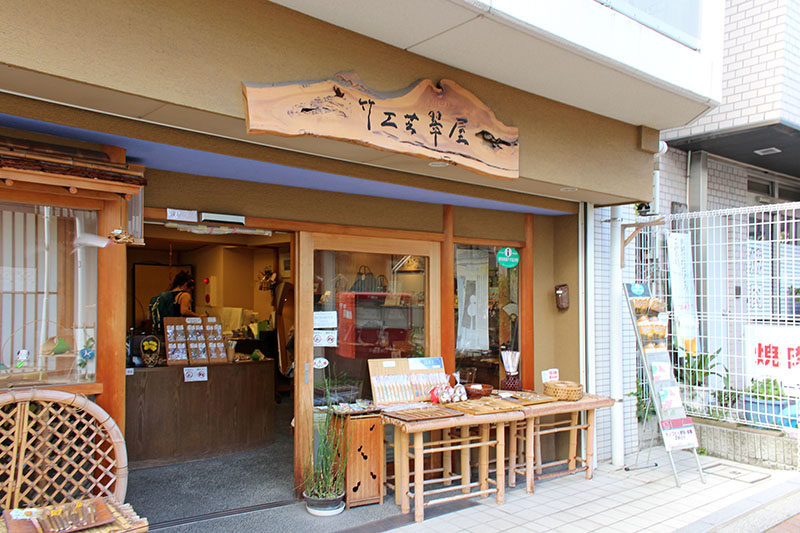 Midoriya has a vast selection of bamboo handicrafts
The first on our list is Midoriya, which specializes in bamboo handicrafts. It is about a six-minute walk from Nippori Station, and just a few steps away from the entrance of Yanaka Ginza shopping street.
Midoriya has been in business since 1908. The founder began production here after honing his bamboo crafting skills in Yushima, another historical area of Tokyo. 
The displays will tell you that almost anything can be made from bamboo. The shop is full of bamboo products such as flower baskets, chopsticks, coasters, bookmarks, and accessories. Some of the goods were made from other types of wood. 
Bamboo is light and flexible and is the perfect material for items such as flower baskets. The baskets are durable and pleasant to hold in your hands. 
Bamboo bookmarks make for nice small gifts, with special local designs
Bamboo chopsticks are light and durable
Some of the items are made from a special type of bamboo known as susutake, or smoked bamboo, which is collected from thatched roofs of traditional Japanese farm houses.  Susutake bamboo is the result of prolonged exposure to soot released from sunken hearths and cook stoves. The smoke from such cook-fires also helped keep insects away. 
Susutake bamboo has a beautiful dark tone and is flexible and light. It has found modern applications,  and is used to make items such as flower baskets. 
Cute bamboo boars --zodiac animal of 2019 (550 yen each)
Midoriya is the perfect place for gift hunting. The vast selection makes it hard to choose from, but why not take home an item exclusive to this store? Bookmarks featuring local landmarks and motifs, and the figurines of local deities will make wonderful mementos of your visit to the Yanaka neighborhood. 
■Shop Information
 Hours: 11:00 - 18:00
 Closed: Monday
 TEL: 03-3828-7522
13:15 Sweet potato snacks at "Chon-mage Imo Tamaru"
After pleasing our eyes with beautiful bamboo work, we decided to satisfy our stomachs too. We visited a dessert shop called Chon-mage Imo Tamaru. 
Chon-mage Imo Tamaru has many original dessert items
It was hard not to notice this place, as the storefront was decorated with boldly colored kites of Akita, northern Japan, where the shopkeeper is from.  Each kite had a face with a tongue sticking out.
Akita owns a special place in the shop owner's heart. We stepped inside the store and found more  local specialties such as smoked radish pickles. 
Akita's traditional colorful "Noshiro" kites
The store's signature item is a sweet potato snack called  "chon-mage imo" which is apparently named after its shape similar to the topknot haircuts worn by Japanese feudal lords. 
This snack is a warm, sweet potato coated with black sesame. The sweet potato is sweet enough by itself and only a minimal amount of sugar has been added. It was light and very delicious.
Chon-mage imo (black sesame)(300 yen per piece)
The menu also included many summer favorites such as shaved ice, soft serve ice-cream, and anmitsu, which is chilled agar-agar jelly served with fruit, rice dumplings and red bean paste.  
If you want to eat inside, you need to pair your dessert with a drink, such as coffee. 
Pick up delicious desserts to eat on the go
■ Shop Information
 Hours: 11:00 - 19:00
 Closed: Monday (Tuesday, if Monday falls on a public holiday)
 TEL: 03-5814-3460
13:25 Street Food at "Niku no Suzuki"
By the time we finished our sweet potato snack, we began craving for something salty. Our next stop was Niku no Suzuki (Suzuki butcher), which was less than a minute away from Chon-mage Imo Tamaru. 
Niku no Suzuki sells various meat-based appetizers. Minced meat croquet is its most popular item.
Niku no Suzuki is a famous meat shop often featured in the media
The croquettes are non-greasy as the frying oil is changed three times a day. The minced meat croquet is a hearty piece made of pure minced beef coated with fine bread-like crumbs known as "panko." (230 yen per piece)
The frying oil contains both pork and beef lard, which is said to bring out the sweetness of the meat. Be warned! This minced meat croquet is very addictive.
The perfect blend of savory and sweet
■ Shop Information
 Hours: 10:30~18:00
 Closed:Monday(occasionally closed on Tuesday and other days)
 TEL:03-3821-4526
13:30 Browsing Tea & Tableware at "Kanekichi-en"
We had enough street food for now, and continued shopping. We visited Kanekichi-en, which specializes in teas from Shizuoka and ceramic tea ware. The store has been here for more than 50 years.
The red parasol and signboard give the storefront a Japanese feel
Teacups and rice bowls stacked in baskets at the shopfront
We were lured into this store by the baskets outside full of Japanese tableware.
Once inside, we found items such as teas, tableware and cutlery, and even traditional handicrafts. The store directly sources its ceramics from kilns producing traditional Kutani-yaki ware and Mino yaki ceramics. Both are famed ceramics of central Japan.
Vast selection of handcrafts
We also spotted summer accessories such as wind chimes and fans, which make for nice gifts.
Yanaka's beloved cats are also showcased here in the form of figurines and chopstick rests. Many of the items are the shops original pieces, all handcrafted by artisans.
You will easily lose track of time admiring the beautiful ceramics and handcrafts. But why rush? Visitors can also taste various Japanese teas, so take time to savor each cup while you find the perfect tea and teaware to take home with you.
Find teas and tableware of your liking
■ Shop Information
 Hours: 10:00 - 19:00
 Closed: Wednesday
 TEL: 03-3823-0015
13:45 Delicious Confectionery at YUZURIHA
YUZURIHA: our final stop
We spotted YUZURIHA at the end of Yanaka Ginza shopping street.
This is a branch of a store in neighboring Sendagi, which is also an authentic downtown Tokyo area.
YUZURIHA is full of contemporary ceramics and cute Japanese confectionary.
The small packets of sweets will make perfect gifts. The shelves are lined with old-school Japanese snacks such as colorful Kompeito candy and carbonated drinks.
Cute packets of confectionary and bottled cider line the shelves
If you feel spoiled for choice, we suggest getting any of the items containing Yanaka's famed ginger. The Yanaka shoga jelly (ginger gummies) taste soft, chewy and sweet, before a pungent sensation hits your nose.
Ginger gummies containing Yanaka's famed produce (one bag 300 yen + tax)
Crowd pleasers: Yanaka ginger crackers (one bag 300 yen + tax)
YUZURIHA is a wonderful place in Yanaka to search for gifts with a local twist.
■ Shop Information
 Hours: 10:00~19:00
 Closed: year-end to New Year holiday period
 TEL:03-5842-1735
14:20 Browsing Homeware at "Yanaka Matsunoya"
Yanaka Matsunoya is at the top of Yuyake-dandan stairs
After our one-hour visit of Yanaka, we spotted another lovely shop on the way back to Nippori Station. As soon as we finished climbing Yuyake-dandan steps, we found Yanaka Matsunoya, which specializes in household necessities made from natural material. The store was full to the brim both inside and out with handcrafted items such as baskets and brooms. Most of the goods were directly sourced from domestic and Asian suppliers, which include small factories and farmers.
The store also focuses on designing original items for daily use.
All the miscellaneous goods at Matsunoya are beautiful artifacts that would make for pretty home décor. But these items are meant for everyday home use.
Carefully crafted items
The baskets that line the store shelves are carefully woven with wood material harvested from various regions of Japan. The baskets are durable yet light with handles that are soft and easy to grip.
The store's concept is to focus more on producing enjoyable goods, rather than pursuing perfection.
The shop's original "heavy canvas tool tote bag" comes in various sizes (S size: 13,000 yen + tax) )
Matsunoya is a hidden jem full of daily homewares of simplicity and beauty.
Experience Japan's warm hospitality at Yanaka Ginza shopping street
Although Yanaka Ginza shopping street has transformed into a busy tourist destination, its purpose at heart remains unchanged - to support the daily lives of the local communities.
Soak up the charming atmosphere as you sample the tasty street food and have fun mingling with boisterous shopkeepers. If you wish to linger longer in Yanaka, explore the quaint back alleys full of cats.