The Gono Line travels through Japan's northern prefectures of Akita and Aomori, along the Sea of Japan coast and the bucolic fields of the Tsugaru plains. The Gono Line runs near many spots worth visiting, such as the Shirakami Sanchi Highlands (which was designated Japan's first World Natural Heritage Site in 1993) the famed Mount Iwaki, as well as Hirosaki-koen Park, which is known for its cherry blossoms in spring. 
This time, we boarded the rapid train service Resort Shirakami (which makes three round trips per day) for a spring trip along the scenic Gono Line.
(Main photo courtesy of  JR East Japan Akita branch)
Three train services inspired by the Shirakami Sanchi Highlands 
"Resort Shirakami map" (photo courtesy of JR East Japan Akita Branch)
The Gono Line is a local line in northern Japan that is often praised as a train experience that should be experienced at least once in a lifetime. This time we boarded the Resort Shirakami train service, which runs between the northern prefectures of Akita and Aomori (No. 3 and No. 6 terminate at Hirosaki). The route offers stunning views of wild, rocky shores and the scenic Mount Iwakiwwewqr, and you can also go around the Shirakami Sanchi Highlands - a World Natural Heritage Site - if you disembark mid-way. 
3 trains configurations of Resort Shirakami (photo courtesy of JR East Japan Akita Branch)
The Resort Shirakami features three unique train configurations. Let's take a look at them in the order they were launched. 
・"Ao-ike (blue pond)" train (center)… This train gets its name from Ao-ike (blue pond) - the most famous and popular of the Jyuni-ko "twelve" Lakes. This train type has been in service since Resort Shirakami debuted. The current cars were relaunched in 2010, fitted with a hybrid engine system. 
・The "Buna" train (right)…This train was inspired by the Buna Japanese beech trees of the Shirakami Sanchi Highlands. It has been operating since 2003 and was relaunched in 2016 as a hybrid train. 
・The "Kumagera (black woodpecker)" train(left)…Modeled after the black woodpeckers that inhabit the Shirakami Sanchi Highlands and the Sea of Japan's sunset. This train debuted in 2006.
If you love trains, you will definitely want to ride all three train configurations. Travel northward on the Resort Shirakami and switch trains along the way, and you will get to board all three of them!
The routes featured in this article *train configurations are samples
*The details above are examples. Train configurations may vary. For more details, check the "list of timetables / operating dates / configurations"  on the JR East Japan Akita Branch homepage.
*The odd numbered trains travel outbound, and the even-numbered are inbound trains. The trains are numbered in the order of their departure times.
Large windows to enjoy the view
Regular seats inside "Resort Shirakami". Photo of Ao-ike train. (Photo courtesy of JR East Japan Akita Branch)
The interior is built with buna (Japanese beech), Akita-sugi (cedar) and Aomori hiba (cypress) and other trees that grow along the train route. The floor has been lowered to make room for large windows that let passengers enjoy a full view of the landscape. The seat area is also spacious. 
 

Resort Shirakami's Observation room in the Buna (beech) train  (photo courtesy of JR East Japan Akita Branch)
The first and last carriages double as observation rooms. These spaces host various onboard events too, such as live "shamisen" (traditional three-string guitar of the Tsugaru region) performances or storytelling sessions in the Tsugaru dialect. Take note that the train service featured in this article does not run these events. 
The box seats inside the Kumagera train can be adjusted to a full-flat position(photo courtesy of JR East Japan Akita Branch)
The spacious box seats in the second carriage have a comfortable feeling of privacy. They are popular with groups and families, because the seats can be flattened for passengers to stretch your legs out and relax. Note that seat numbers 3 to 7 on the Buna train are not full flat seats like the one in the photo!
Starting from April 17,2020 (Fri) until the end of March 2022, scenic images and tourist information narrated by Aomori native and singer Ikuzo Yoshi are shown, while the train travels between parts of Iwadate and Shin-Aomori stations (between Iwadate and Hirosaki Stations for train No. 3 and No. 6).
*Video may be unavailable due to circumstances. Some of the video content is different depending on the train configuration. 
All seats on the Resort Shirakami require reservations. In addition to a basic ticket, passengers also need to purchase a reserved-seat ticket (530 yen), which can not be purchased onboard. Resort Shirakami is a popular train service, so it is essential to book in advance!
【Akita Station: 8:20 Departure】Board the Resort Shirakami No.1 for Juniko Station 
We began our trip by boarding the Resort Shirakami No. 1 train from Akita Station. Our first destination was Juniko, which literally means Twelve Lakes. 
Of the reserved seats, the "A" seats facing the ocean have the best views of breathtaking spots. About 50 minutes after leaving Akita Station on the Oh-u Main Line, the train reverses its direction following a railroad switch at Higashi-Noshiro Station. This is where the Gono Line begins. It takes about 1 hour and 10 minutes from Higashi-Noshiro Station to Juniko Station. Sample some of the region's famous lunch box sets, or soak up the breathtaking view of the Sea of Japan. Make the most of your time on the Resort Shirakami!
Try your hand at basketball at Higashi-Noshiro Station! If you get hungry…
We spotted a basketball hoop at Noshiro Station.
About 5 minutes after the switchback, the train arrived at Noshiro Station. During the roughly 10-minute stop there, we tried shooting hoops at the basketball court. Successful throws can earn you a little prize!
A popular lunch box sold at local train stations:  Hinai-dori chicken with rice (¥1,200)
Now, it was time to sample an "ekiben" (lunch boxes sold at train stations), a popular element of Japanese train travel.  "Hinai-jidori-no-torimeshi (比内地鶏の鶏めし)"  or rice served with locally raised Hinai-dori chicken, is a very popular lunch box available at Noshiro Station. It is prepared by Hanazen, an eatery in Oodate City. You need to book 2 days in advance with the New Days Kiosk stand at Noshiro Station. Pick up your lunch box on the reserved date and enjoy it on the train.
The lunch box is also sold at Akita and Higashi-Noshiro Stations, but they often sell out. To avoid disappointment, it is recommended to book in advance and collect your lunch box at Noshiro Station. 
【New Days Kiosk Noshiro Station branch】
Phone:0185-53-5075 
 
 Enjoy the scenery between Noshiro and Juniko Stations 
Resort Shirakami "Aoike" train passing by cherry blossoms (photo courtesy of JR East Japan Akita Branch)
At the next stop, Akita Shirakami Station, we enjoyed cherry blossom viewing from inside the train. Resort Shirakami trains run along cherry blossoms, allowing passengers to soak up the beautiful spring landscape outside. 
 

Resort Shirakami "Buna" train travels through a breathtaking area between Iwadate and Oo-makoshi Stations (photo courtesy of JR East Japan Akita Branch)
The rocky shores of the Sea of Japan emerged after the train passed the following Iwadate Station. The train slowed down at scenic points, which was a thoughtful service on the train's part. Take this opportunity and snap photos of the natural landscapes shaped by the rough Sea of Japan.
【Juniko Station: 10:28 Arrival】Walk around Ao-ike pond and Wakitsubo Pond in Shirakami Sanchi Highlands 
The World Natural Heritage site Shirakami Sanchi Highlands is the collective name of roughly 13 hectares of mountainous terrain that straddles the prefectural borders of southeastern Aomori and northeastern Akita. This forest, mainly composed of Japanese buna beech trees, is an internationally rare example of vast, protected virgin forests. Juniko, or Twelve Lakes, is one of the most popular spots of the Shirakami Sanchi region. Juniko Lakes is an area belonging to Tsugaru National Park dotted with 33 small lakes and ponds.The Juniko Lakes are not included in the World Heritage-designated area, but are equally marvelous samples of natural preservation. For details on Fuka-ura town where the Jyui-niko Lakes are located, check the official website.
Upon arriving at Juniko Station, we took the bus to Shirakami Sanchi Highlands. Bus departures to Juniko Lakes coincide with the arrival times of Resort Shirakami trains, making them a convenient method of sightseeing that easily takes you to through the Shirakami Sanchi Highlands. The bus terminates at Juniko, from where you can follow the walking path (about 60 minutes) to Ao-ike Pond and Wakitsubo Pond. 
Ao-ike, one of the waters of the Juniko Lakes (photo courtesy of Fuka-ura town Tourism Section)
We walked for about 10 minutes with Ketoba Pond to our left. We spotted Aoike Pond to our right. Ao-ike Pond is one of the most popular waters of the Juniko Lakes, and gives its name to one of the Resort Shirakami trains. The pond surface was a clear and deep blue, and it almost seemed as if blue ink had been poured over it to give it its beautiful hue. The surface of the pond reflected the surrounding Japanese beech trees and leaves, creating a mystical atmosphere.
Natural Japanese beech forest at Juniko Lakes(photo courtesy of Fukaura town Tourism Section)
We spotted a walking path at the edge of Ao-ike Pond. We stopped for a while and took some deep breaths. The smell of nature's bloom relaxed our hearts and minds.
Wakitsubo Pond, Juni-ko Lakes (photo courtesy of Fukaura Town Toursim Section)
We walked another 15 minutes from Ao-ike Pond beyond the Japanese beech forest, turned right at the fork of the path and found Wakitsubo Pond. The calm cobalt blue water had a unique rich hue that was different from Ao-ike Pond. 
We walked downstream along the riverbank from Wakitsubo Pond and onto the road. We found a tea shop named Juniko-an, and a spring drawn from Wakitsubo Pond that is ranked among 100 remarkable waters of the Heisei Era. Juniko offers free sweets and matcha green tea prepared with spring water from Wakitsubo Pond. Make time to drop by the tea shop while waiting for the bus!
Matcha green tea prepared with spring water drawn from Wakitsubo Pond (photo courtesy of Fukaura Town Tourism Section)
Facing the road at Juniko-an, we walked left to reach "Juniko Yoshoku-jo-mae (hatchery in front of Juniko)" bus stop.  That was the last point of our roughly 60-minute walk around the mystical Juniko Lakes. We boarded the bus and returned to Juniko Station.
【Jyuni-ko Station: 13:07 Departure】Board Resort Shirakami No. 3 to Mutsu-Tsuruda Station
After we fully enjoyed walking around the Juniko Lakes, we boarded the Resort Shirakami No.3 train from Juniko Station for Mutsu-Tsuruda Station. This section of the railway is full of fun activities when the train stops at the stations, such as visiting the scenic Senjojiki, and sampling a popular rice bowl topped with marinated flounder.
Kumagera train travelling along the coastline (photo courtesy of JR East Japan Akita Branch)
The Sea of Japan coastline continued outside our window. The sunset viewed from this area is ranked as one of Japan's 100 best sunsets, so it might be a good idea to schedule your ride to see the sunset!.
Senjojiki
We arrived at Senjojiki Station about an hour after leaving Juniko Station. The train makes a 15-minute stop here, so go out and visit the Senjojiki rock formations. Walk above the spacious plateau of rocks, where Tsugaru's feudal lord is said to have once laid 1,000 tatami mats to host a banquet. The train whistle blows 3 minutes before the train leaves, so make sure not to miss it!
If you make reservations, a local dish of rice topped with marinated flounder will be delivered to your seat at the following Ajigasawa station. You need to book at least one day ahead, so if you wish to try the famous speciality be sure to make arrangements in advance. 
 

Super Tobishima's rice bowl topped with marinated flounder (¥540)
【Super Tobishima】
phone:0173-72-2141
The landscape gradually changed to apple orchards and rice fields of the Tsugaru plains, with Mount Iwaki in the distance. About an hour from Senjo-jiki Station, we arrived at our next destination -- Mutsu-Tsuruda Station. 
The Resort Shirakami "Kumagera" train traveling through the Tsugaru Plains (photo courtesy of JR East Japan Akita Branch)
 【Mutsu-Tsuruda Station: 15:17 Arrival】Visit the crane-inspired Tsuru-no-mai hashi Bridge and Tancho Crane Nature Park
We disembarked at Mutsu-Tsuruda Station to visit two spots with deep connections to cranes. We hired a taxi to reach Tsuruno-mai Bridge (literally meaning Crane Dance Bridge), which is famed for its stunning views. The bridge became famous after being featured in a 2016 travel ad run by JR East Japan.
 
The Tsuru-no-mai bridge is Japan's longest three-arched-wooden bridge, and was built in 1994 as part of efforts to revitalize the town. The bridge was built with 700 Aomori hiba cypress trees that were 150 years old, using traditional architectural techniques. The bridge is characterized by its gently shaped arches resembling a pair of flying cranes and two small gazebo-like shrines standing between the arches. 
Tsuruno-mai bridge (photo courtesy of Tsuruta Town Office Tourism Planning Section)
It took about 10 minutes by taxi from Mutsu-Tsuruda Station to the parking lot at Fujimi-ko Park, which is situated at the foot of Tsuru-no-mai Bridge. To get to the bridge from there, we walked past a row of cherry trees that were planted when the bridge was built. 
The 300m bridge is step-free with gentle slopes, and easy to walk. Clap your hands in the middle of the big gazebo, and listen to the reverberating sound similar to a dragon's cry. At the end of the bridge, the three-arched bridge, the cherry blossoms across the pond, and the snow-capped Mount Iwaki await you in a stunning scenic collaboration.
Crane Nature Park
After taking in the breathtaking scenery, we left for our second stop, Tancho Crane Nature Park. Many cranes are said to have flown to this area in the past. The town launched a campaign to attract Tancho red-crowned cranes ― the town's symbol ― and currently seven red-crowned cranes are kept at the Nature Park.
【Crane Nature Park information】
Address:〒038-3542 Mawari-zeki Ohsawa, Tsuruta-cho, Kita-Tsugaru-gun, Aomori Prefecture 
Opening hours:9:00〜16:00
Holidays: open year-round 
Official website here
【Mutsu-Tsuruda Station: 16:38 Departure】Resort Shirakami No. 6 to Goshogawara Station 
We left Crane Nature Park and returned to Mutsu-Tsuruda Station by taxi, but we still had about two hours left until our next train, the Resort Shirakami train No. 5. 
We made the most of our spare time and hopped on a train that took us one station back to Goshogawara.
【Goshogawara Station Arrival time 16:45】  See giant floats up close at Tachineputa Museum 
Giant "Tachineputa" floats seen from above
The Tachineputa Museum, which is a 5-minute walk from Goshogawara Station, displays three giant floats in the exhibition hall. All three floats are about 23 meters tall and featured in Akita's famous Neputa Festival. Visitors can examine the intricate decorations from top to bottom as they descend a spiral staircase from the fourth floor. It is a spectacular sight that is sure to set any visitor aback.
You can also sample local dishes at the observation lounge inside the museum. It is a great spot to stop by for an early dinner. 
【Tachineputa no Yakata (Tachineputa Museum) "Tachineputa Exhibition Hall" information】
Address: 〒037-0063 506-10 O-machi, Goshogawara-shi, Aomori Prefecture 
Phone: 0173-38-3232
Admission: adults ¥600 / high school students ¥450 / elementary, junior high school students ¥250 *10% admission discount for visitors who present a Resort Shirakami boarding certificate (found inside the train)
Opening hours: April 〜 September 9:00〜19:00 / October 〜 March 9:00〜17:00
*Opening hours may change temporarily. Check official website for details. 
Holidays: January 1 *May be opened. Contact museum for details. 
【Goshogawara Station: 18:18 Departure】Board Resort Shirakami No. 5 for Hirosaki Station 
After taking our time examining the artistic floats, we boarded the Resort Shirakami No. 5 train for our final destination, Hirosaki Station. During our 40-minute ride, the landscape outside our window changed to night.
【Hirosaki Station: 18:58 Arrival】End the trip with night time cherry blossom viewing at Hirosaki Park 
For the last leg of our trip, we took a bus from Hirosaki Station to Hirosaki Park to view the cherry blossoms. Hirosaki Park is widely known in Japan as one of the best spots for cherry blossom viewing in spring. The park is home to more than 300 cherry trees of the common somei-yoshino variety, all of whose trunks carry a history of over 100 years. The park holds a cherry blossom festival in late April, when the flowers start blooming. The trees are lit up at night, creating a magical view of the cherry flowers.
Hirosaki Station and Hirosaki Park are roughly half an hour away on foot, so we recommend using the bus. Take the "¥100 Dotemachi loop bus" from the No. 1 bus stop in front of the station and disembark at Bunka Center-mae bus stop. 
Enter Hirosaki Park from the east gate, walk clockwise and look out to your right after passing the Higashi-uchimon Gate. 
Japan's oldest somei-yoshino cherry tree at Hirosaki Castle(photo courtesy of Hirosaki Convention and Tourism Board)
This tree is said to be Japan's oldest cherry tree of the somei-yoshino variety.  The 137 year-old tree has a circumference of 410 cm, and is 9 m tall. This tree boasts an overwhelming scale that will surprise you by surpassing any imaginations.
Also, make sure to view the huge cherry tree from Gejo-bashi Bridge, which hangs over the left side of the Higashi-uchimon Gate. The old cherry tree can be seen from this angle for a limited time only. This is because renovation works are underway at Hirosaki Park's most popular vantage point, to reinforce the stone walls. The 14.4m tall and roughly 400 ton Hirosaki Castle main tower has been relocated without being dismantled to a spot about 70 meters inside the castle keep, using a traditional method called hikiya (loosely translated as "pulling the house").
The temporarily moved Hirosaki castle seen from Ge-jo-bashi Bridge (Photo courtesy of Hirosaki Tourism and Convention Bureau)
The castle is scheduled to return to its original position in 2021. The temporarily repositioned castle tower, the bridge across the moat, and the cherry blossoms in full bloom make for a truly exceptional angle.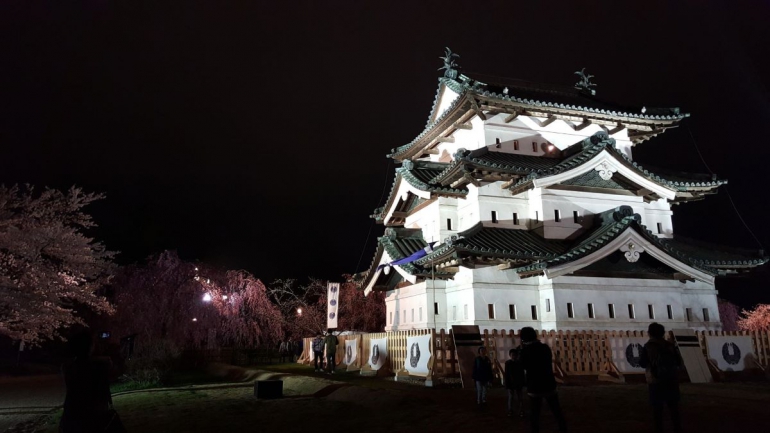 Hirosaki Castle tower has been temporarily moved without dismantling (photo courtesy of Hirosaki Tourism and Convention Bureau)
We crossed Gejo-bashi Bridge to see the castle tower in its temporary place. The castle tower was not quite the same as usual as it was standing alone without its stone walls. 
*Additional admission (¥320) required for areas beyond Gejo-bashi Bridge
 

Cherry blossom tunnel at Nishi Moat and Shunyo-bashi Bridge (photo courtesy of Hirosaki Tourism and Convention Bureau)
We returned to Gejo-bashi Bridge, and walked down the slope from Minami-uchimon Gate to a tunnel of cherry blossoms. The row of cherry trees surrounding Nishi (west) Moat reflected on the waters, creating a perfect reflection of the cherry blossoms. The point where Shunyo-bashi Bridge emerges at the end of the tunnel of cherry blossoms is a photo-worthy angle.
【Hirosaki-koen Park Information】
Address:〒036-8356  1 Shimoshirogane-cho, Hirosaki-shi, Aomori Prefecture
Phone:0172-33-8733
Opening hours : April 1 ~ November 23 9:00~17:00 (tickets sold until 16:30) / opening hours extended during the Cherry Blossom festival  7:00~ 21:00
admission:<paid zone・Hirosaki Castle paid zone> Adults ¥320 / Children ¥100 *group discounts available 
Visit official website here
Discovering spring's beauty along the Gono Line with Resort Shirakami
That is all for our one-day trip along the Gono Line on the Resort Shirakami train. There are plenty of other fascinating spots to see besides those featured in this article. If you wish to learn more about surrounding tourist attractions, check out the list of "tourist spots nearby" posted on the JR East Japan Akita Branch website. 
If you have time, why not stay the night at an onsen hot spring or a traditional inn with stunning views and continue exploring the regions?
JR East Japan also has a "Gono Line Free Pass" (¥3,380, valid for 2 days) which is reasonably priced even if you are visiting just for one day, so do check it out!
*Details are available here