Awamori is an Okinawan liquor, said to be the oldest distilled spirit in Japan. While there are various kinds of distilled spirits such as shochu, whiskey, and tequila, none of them are said to have a longer history in Japan than Awamori.
Most Awamori continues to be made in Okinawa, and in the small prefecture with a population of only 1.45 million, a grand total of 47 Awamori distilleries continue to produce and distribute their own brands of the liquor. What exactly is makes Awamori so special?
To discover the appeal of Awamori, Okinawa's local liquor, I visited a distillery and Awamori Meister (Okinawa governor certified). I will also introduce some perfect Awamori brands for souvenirs, and delicious concoctions to drink Awamori at home in!
What is Awamori? About the Famous Okinawan Liquor
When on says "Okinawan liquor", the first thing to come to the minds of many Japanese people is Awamori. Are you familiar with Awamori? If not, this next section will teach you everything you need to know!
What is Awamori?
Since 2004, all Awamori made in Okinawa is marked with a "Ryukyu Awamori" label (Ryukyu is the ancient name for Okinawa)
Alcohol production processes are widely divided into three categories: distillation, fermentation, and mixing. A fermented liquor is an alcohol produced by adding yeast to the base ingredients, and leading it to fermentation. If the fermented liquor is heated and distilled, then the alcohol is called a spirit. Spirits have a higher percentage of alcohol than fermented liquor.
Beer, sake, and wine are fermented liquors while whiskey, vodka, shochu, and Awamori are spirits. The defining characteristics of Awamori are its use of Indica rice from Thailand and black koji yeast, and its manufacturing process consisting of only one distillation cycle in a pot still.
You can find black koji yeast during the Kamimura Distillery tour in Uruma city
Using a pot still is said to preserve preserves the flavors of the original ingredients, enhancing Awamori's unique flavor.
The Origins & History of Awamori
Kamimura Distillery's "Danryu" brand and Tsukayama Distillery's "Kokka" brand
Awamori is considered to be the oldest distilled spirit in Japan. From the late 14th century into the 15th century, the technology of distillation entered Okinawa from Siam (modern-day Thailand). Next began the use of black koji yeast, and Awamori was born as a new kind of distilled spirit. Records indicate that Awamori production was controlled by the Ryukyu Kingdom, unified in 1429, and that Awamori was given as gifts in tribute to Japan and China. 
Awamori kept in a big jar for aging (photo courtesy: Tsukayama Distillery)
Modern Awamori that is aged more than 3 years is defined as "Kuusu" (aged liquor). New Awamori is put into a bottle or jar and aged to produce a rich, mellow Awamori. Unfortunately, due to the damage of World War 2's fires, almost all Kuusu older than 100 years no longer exist. The art of making Awamori is a part of the Okinawan culture and is preserved not only in the distilleries, but also in local households aging Awamori for future generations.
Seeing the Making of Awamori Firsthand! Awamori Distillery Tour
Currently in Okinawa, there are 47 Awamori distilleries producing exclusive brands. Many Okinawans are particular about their choice of Awamori with strong attachments to specific distilleries and brands, but distilleries also continue to innovate with their Awamoris and ways of drinking. Now, there are more ways than ever to enjoy Awamori. This time I will introduce two distilleries, both of which are recommended and offer tours. 
1. Tsukayama Awamori Distillery Tour
Tsukayama Distillery: the building is designated a nationally important cultural property
Tsukayama brewery is located in downtown Nago city in the north central part of Okinawa's main island. The building was designated a national important cultural property in 2009. This distillery makes the Awamori brand "Kokka".
It is said that the building was built and started producing Awamori around 1928. The main wing still remains from the beginning of the Showa era with a joint area for Awamori production and the living quarters. 
 

The characteristic red tiled roof (Photo: Tsukayama Distillery)
The building is among the largest remaining examples of a red-tile roofed wooden structure.
The pillar with black koji mold stains
Renovation efforts of the building attempted to preserve as much of the original pillars and structure as possible, replacing only the parts that were rotting away. The builders did not use any wood preservatives, so as to maintain the consistent flavor of Awamori preduced indoors. The many years of Awamori-making has caused black koji mold to clings to the pillars and other places. It has influenced the Awamori`s flavor and contributed to this distillery's unique taste. The mold attached to the pillars is called the "Kuratsuki-no-kin: Cellar-fixed mold".
 

Chief distiller Mr. Akimura guided me at the distillery
Only 2 people work at the distillery, Mr. Akimura and the factory manager. The Awamori brewing process is overseen almost entirely by Mr. Akimura alone.
Labels are attached by hand
All of the work is done by hand. "There is a saying about making things one by one with great care, but at our level it feels more like carefully carving buddhist statues one by one," said Mr. Kimura. The price is two to three times that of other distilleries, but when you hear about the miraculous story of how the distillery survived the Battle of Okinawa, and continues to preserve its taste of Awamori, it is easy to see why that is. 
The distillery and living quarters are together in one building with a bath behind the stills. I heard that in the past they used to boil the bath water from the distillery's steam. It is a great example of the wisdom passed down from previous generations about wisely using precious resources.
The bath area is behind the old stills
When we learn about Tsukayama distillery's past we get a glimpse of Okinawa's historical trajectory. After the distillery tour, full of Mr. Akimura interesting stories, you can sample the spirits and compare the various levels of alcohol in a variety of Kokka brand Awamori.
Tsukayama distillery's Awamori Kokka 
The Tsukayama Distillery also sells vintage Awamori aged in large jars. Each jar produces a different flavor of spirits, some resulting in superb Awamori. During the Tsukayama Distillery tour, you will of course learn about the making of Awamori, as well as the culture of the Okinawan people and their experiences before and after World War 2. 
【Distillery tour information 】
Schedule: Open year-round *May occasionally close without prior notice
Entrance time: 10:00〜12:00 / 13:00〜16:30(closes 17:00)
Fee: free (tasting available / tour guided by chief distiller)
Time required: about 30 minutes
notes: Reservation non-mandatory for less than 15 people *Group visits larger than a micro-bus require prior notice.
2. Kamimura Awamori Distillery Tour
Kamimura Distillery produced the first barrel-aged "Danryu" Awamori
The Kamimura Distillery was founded in 1882 and is located in central Okinawa, in Uruma city. The distillery's leading products are "Danryu" and "Shurei". The "Danryu" brand is very unique and a special product of the distillery. The oak barrel aging produces a special, sweet, rich Awamori that has many fans.
After the war, people in Okinawa preferred whiskey and Awamori's market share fell. In 1958 the Kamimura Distillery studied oak barrel aging to try and make a "Liquor having the good sides of both whiskey and Awamori". Thus, the Danryu brand was born. It was the first Awamori aged in oak barrels, and blew a fresh breeze into the Awamori industry. 
Danryu maturing in an oak barrel used in bourbon whiskey aging
Blending in Danryu's 3-year old amber-colored malt creates an Awamori with a unique aroma and rich body.
Moromi has a tropical fruit fragrance
In addition to Danryu, Kamimura Distillery makes a variety of Awamori brands, including "Shurei" that adequately draws from Awamori's a traditional flavor, and "Houjun Roman", which has a sweet fragrance and savory deep flavor. The Kamimura Distillery tour is not behind glass windows, allowing you to enjoy the scent of the steaming rice and the sweet fragrance from the fermenting and distilling process.
Stored in a tank, jar, or barrel
During the Kamimura Distillery tour one of the main points to notice is the three types of maturing methods. Stainless steel tank aging maintains the original flavor of the Awamori, jar aging allows you to check each batch's flavor and selectively sell them at their best timings, while barrel maturing is used to make the brand Danryu.
Popular keep service for vintage Awamori in a cellar
After finishing the distillery tour, visit the "keep service" cellar area storing vintage Awamori. Many people use Kamimura Distillery`s keep service to age their bought Awamori in the cellar. Families, friends, couples, and more use the service. After three or five years of aging, it would be fun to visit Okinawa again to find your Awamori matured in the distillery.

There are many varieties of Awamori. You can discover the flavor you like!
Following the tour, you can try various samples of Awamori or non-alcoholic drinks such as citric acid mash vinegar. The distillery further suggests seasonal drinking styles and recommends varieties of Awamori suited for you from the many available selections.
Mr. Nakasato guided the factory tour
At Kamimura Distillery there is a store where you can easily stop by without taking the tour. 
【Distillery tour information】
Reception hours: 10:00~16:00
Reservation: required  *Please reserve via e-mail form or telephone call 3 days before your visit. 
Fee: free (tasting available / guide available)
Time Taken:about 40 minutes (20-minute guided tour + 20-minute sampling)
Where to Drink Awamori in Okinawa? 2 Great Restaurants with "Awamori Meisters"
For those who want a real taste of Awamori with their Okinawa travels, I recommend that you to go to a restaurant with an Awamori Meister. You can get advice on how to best enjoy Awamori, along with dishes that combine exquisitely with Awamori. This time, I will introduce 2 restaurants. 
1. SMOKEHOUSE225 (in Yomitan village)
SMOKEHOUSE225 opened in 2019 as a bar with smoked foods
SMOKEHOUSE225 is located in Yomitan village, and Mr. Murakami, the store's owner and Awamori Meister, suggested a selection of homemade sausages and bacon to complement the Awamori.
Homemade sausages and bacon special sample plate
The sausages were absolutely packed with juices, and the bacon had just the right thickness and was perfectly seasoned with salt. Mr. Murakami said "They are a good combination with Awamori, both on the rocks or with water." He told me how to match the Awamori with pointers such as: 
"Rich simmered dishes are good with Awamori on the rocks or a stronger Awamori with water, sushi and salad are good with a clear and low alcohol drink like vacuum distilled Awamori, and fried chicken matches with Danryu-style barrel-aged Awamori mixed with soda water. 

Mr. Murakami said the aged Awamori called "Harusame" smells like sweet chocolate
Mr. Murakami told us about what makes Awamori so enjoyable:
"There are several distilleries around Okinawa where, unlike at a winery, we can see the face of the people who are making the Awamori, and each distillery has a variety of brands each with their own unique taste. Awamori is great, because by trying the creations of different regions and distilleries, you can enjoy the unique characteristics of each and every one. "
Awamori distilleries are located on Okinawa's main island, as well as remote places such as Ishigaki island, Miyako island, and Kume island. It is also fun to discover the local places while sampling Awamori at their distilleries.
2. Awamori Sakagura Joy (Nago City)
Awamori Meister and owner Mr. Tamaki
Awamori Sakagura Joy is located in the Midorimachi district of Nago city, and opens from 20:00 to 3:00. Originally, this restaurant was popular primarily with local residents, but began to attract more tourists as the area's taxi drivers began to recommend the restaurant as a "great place to eat delicious Okinawan cooking". The owner Mr.Tamaki cooked Japanese cuisine for ten years off-island, before returning to Okinawa to take over the restaurant owned by his parents.
Mr. Tamaki recommended the delicious combination of Awamori with the restaurant`s special deep fried "Tebichi"
"Tebichi" is the word for pork shin/foot in the local dialect. In Okinawa there is a wide variety of pork cuisines, and Tebichi is one of Okinawa's most well-known dishes. The deep-fried Tebichi is crispy on the outside, and is filled with jiggly, gelatinous collagen on the inside. It is served with french fries for 1,000 yen.
After you feast on the Tebichi, sipping Awamori with water refreshes your mouth, removing the oily aftertaste. This is a superb combination that makes you want to keep eating.
Spectacular displayed varieties of Awamori at the restaurant
This is the 28th year since Mr. Tamaki's father founded the restaurant. The father's hobby of collecting spirits has now become a premium collection of vintage Awamori.

Deep hobbyists collect the labels which change every few years
"If you put Awamori in a jar or barrel and let it sit for a while, then you can easily make aged Awamori at home. Okinawa has a custom to prepare a jar when a baby is born and drink the 20 year aged Awamori for the child's 20 year old birthday celebration" said Mr. Tamaki.
"Producing 300 or 400 year old aged liquor for the future is a great achievement. I believe we can be proud of Awamori's culture and introduce it to the world."
Please try to visit a restaurant with an Awamori Meister to learn about Awamori's deep and delicious taste.
Enjoy Awamori at Home! Recommended Concoctions & Awamori Souvenirs
There are a lot of people who always drink Awamori with water. However, Awamori has rich individual flavors that allow you to enjoy a variety of drinking styles. If you drink vintage Awamori, you can try it on the rocks or straight, slowly sipping as you enjoy the fragrance and savor the taste. 
Mr.Tamaki, the owner and Awamori Meister of Awamori Sakagura JOY, told me that if Okinawan people felt that the Awamori's smell was too strong, they added Sanpin tea (similar to Jasmine tea) or coffee. Here I will introduce the drinking styles recommended by the Awamori Meisters, and other novelty varieties of Awamori.
Concoction #1. Awamori with Cucumber
Awamori with water and cucumber (photo: SMOKEHOUSE225)
The owner of SMOKEHOUSE225 Mr. Murakami made Awamori with cucumber for me. The fragrance is sweet and similar to a melon. He said that the cucumber is a great combination with the light taste of vacuum distilled Awamori. It is a perfect fit for Okinawa's summer.
Concoction #2. The "Dan Ball"
Not a highball. "Danryu" + "soda water"= "Dan ball"!
Mixing soda water with Kamimura Distillery`s rich whiskey-like Danryu results in a drink called a "Dan ball", an Okinawa version of the high ball. Please try drinking it together with fried chicken or other rich foods. 
Unique Awamori #1. "Seifuku Yuzu & Shequasar Liqueur"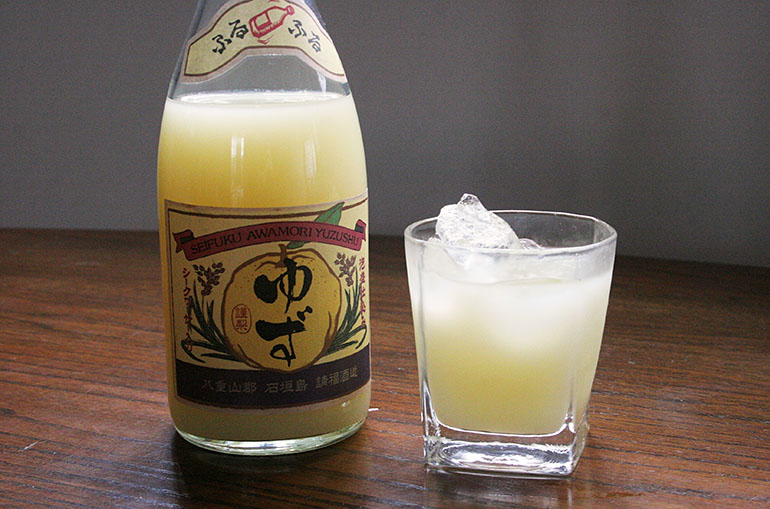 The rich flavor of yuzu with shequasar
On Ishigaki island is the Seifuku Distillery which makes yuzu and shequasar liqueur. As you open the bottle you can smell the fresh fragrance of yuzu, together with the impact of the shequasar flavor on the taste. Once you drink it, the flavor of the rich citrus acidity seeps into your body.  
The alcohol content of this liqueur is 10%. I recommend that you drink it on the rocks or mixed with soda water. During the hot Okinawan summer or when you are tired, the mild, citrus sweetness and sourness of this liqueur will help you feel refreshed.
Unique Awamori #2. Coffee Awamori "Coffee Spirit"
Jointly developed with Yoshimoto Coffee, a specialty coffee store located in Okinawa city
The invention of this popular drink came from a pursuit for the best beans and roasting method to match Awamori. While being sugar-free, the beautifully balanced coffee flavor makes it go down very easily.
Enjoy your Okinawa trip even more by learning about Okinawan culture through Awamori! 
The more you learn, the the deeper you get into the world of Okinawa`s unique Awamori. I reported about the distilled liquor Awamori invented in Okinawa. 
As you visit various regions in Okinawa, I recommend you check for Awamori products in local distilleries, bars, and souvenir shops. You will learn about the history and culture of Okinawa that you may have not known before.