Dogo-onsen Honkan (Main building) stands proud as one of Japan's representative hot springs. An annex facility to Honkan, called Asuka no Yu, opened in 2017. Asuka no Yu is a 3-minute walk from Honkan, and aims to create an environment that is reminiscent of the past yet artistically futuristic. Right from the entrance, cultural modern art works are displayed to portray the annex's theme of tradition-meets-contemporary. Here is an introduction and a step into Asuka no Yu.
History
Asuka no Yu was completed in 2017. Though the facility itself is new and modern, the hot springs treasures Dogo-onsen's long history. The architecture of the facility was inspired by the many legends describing the origin of Dogo-onsen. With pottery works from around 1000BC uncovered in the area as well, there are designs and creations influenced by them. Also throughout the building are many works of art created by local artists of both traditional and modern art.
Asuka no Yu Baths
There are three types of baths in Asuka no Yu.
Men's Bathhouse - The Sacred Mountain of Iyo
The large bathhouse is a popular choice. There is one for men and one for women. The art on the walls are mesmerizing, with designs of Tobe-yaki pottery all over them.
You can find a depiction of the famous poem "The Sacred Mountain of Iyo" (伊予の霊峰) on the wall of the men's bathhouse.
Women's Bathhouse - The Seto Inland Sea
On the women's bathhouse wall, the Seto Inland Sea is depicted, allowing visitors to submerge in the Shikoku atmosphere.
Men's Bathhouse - The Outdoor Bath
Another feature of Asuka no Yu is the outdoor bath, which you can't find at Honkan. The bath is made of hinoki wood from Ehime prefecture.
Yushinden
The Yushinden at Asuka-no-yu is a stunning hall. It is a replica of the one in Honden, and establishes a luxurious feeling as you bathe. The curtain-like drape you see hanging across is called misu (御簾), and is made from special tool used in making washi paper.
Large Lounge 大広間休憩室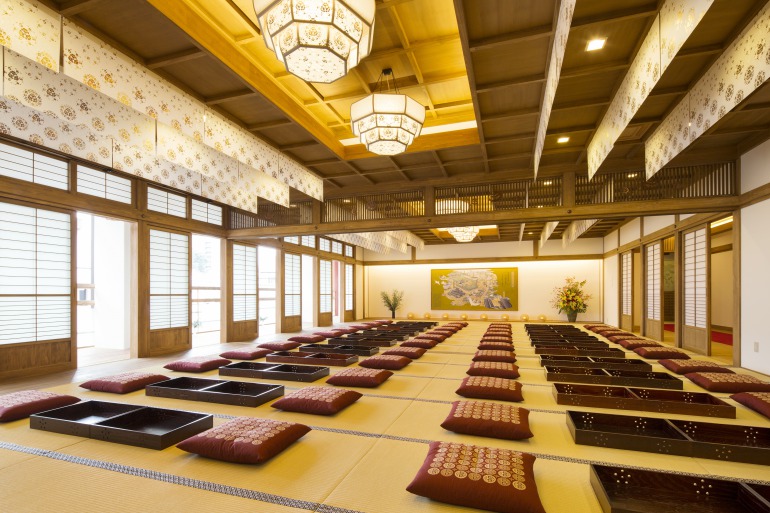 Large Lounge
On the second floor of the buildings is the Large Lounge, where you can relax after your long bath. The ceiling lights in the room are covered with a layer of gilding, adding a bit more bliss to your onsen trip.
Private Lounge 個室休憩室
There are 5 private lounges available at Asuka no Yu.
Shirasagi no ma Lounge 白鷺の間
Shirasagi no ma Lounge
The Egret Lounge is based on the Dogo-onsen creation myth, "the Legend of the White Egret", in which an injured white egret is cured when bathing in the springs of Dogo-onsen. You can find a representation of the white egret in this lounge.
Tama-no-ishi no ma Lounge 玉乃石の間
Tama-no-ishi no ma Lounge
The Tama-no-ishi Lounge is inspired by the "Legend of the Rock", in which a deity is cured from an illness after bathing in Dogo-onsen. The story is portrayed by the designs drawn in Tsutsugaki-zome style.
Tsubaki no ma Lounge 椿の間
Tsubaki no ma Lounge
Dogo-onsen has a tight historical tie with Prince Shotoku, a Japanese prince during the 6th and 7th century. After visiting Dogo-onsen, Prince Shotoku left an inscription. In the inscription was a depiction of a camellia (tsubaki; 椿) forest, and the lounge is a visual portrayal of it. The camellias are depicted by stacked rolls of Ehime prefecture's famous Imabari towels.
Karimiya no ma Lounge 行宮の間
Karimiya no ma Lounge
"Karimiya" refers to wherever the Emperor would stay when he wasn't at his palace. During the Asuka to Heian periods (592 – 794), emperors would frequent Dogo-onsen, which inspired the making of this lounge today. The wall is decorated with maki-e (蒔絵), a traditional Japanese design using gold flakes and lacquer.
Yugeta no ma Lounge 湯桁の間
Yugeta no ma Lounge
The Japanese proverb "Iyo no yugeta" (伊予の湯桁), meaning lots of something, derived from how popular Dogo-onsen was and the amount of baths (yugeta; 湯桁) there were. It was so popular that it even made an appearance in The Tale of Genji, one of the oldest works of literature in the world. This lounge depicts the prosperousness of Dogo-onsen.
[Fees]
First floor baths (90 mins):
・ General: ¥600
・ Children (2 to 11 years old): ¥300
Second floor large lounge (90 mins):
・ General: ¥1250
・ Children (2 to 11 years old): ¥620
Second floor private lounges (90 mins):
・ General: ¥1650
・ Children (2 to 11 years old): ¥820
Second floor special baths (90 mins):
・ General: ¥1650
・ Children (2 to 11 years old): ¥820
*+¥2000 per pair
Ehime's Traditional Art
Throughout Asuka no Yu, there are countless works of art. In fact, one of the concepts of the facility is merging traditional crafts and modern art. Over 40 artists and craftsmen come together to bring a fresh form of art to Asuka no Yu.
Tobe-yaki Pottery 砥部焼
The walls of Asuka no Yu baths are designed in tobe-yaki pottery style. Tobe-yaki is a style of ceramics originated in the city of Tobe in Ehime, and its main products are bowls and vases. This traditional craft has been around since the Edo period (1603 – 1868). The tobe-yaki designs on the bathhouse walls are created by craftswoman Yamada Hiromi, the only woman who is a nationally certified traditional craftsman.
Zeolite Washi Paper ゼオライト和紙
The Entrance of Asuka no Yu
Ehime prefecture is also a big washi paper manufacturer. In recent years, a special type of washi paper, named zeolite washi, is being produced in Ehime. Sato Yukari, an Ehime native, came up with using the mineral zeolite to create a new type of washi paper. This new type of washi paper has more breathability and on top of that, looks amazing in the entrance of Asuka no Yu.
Iyo-takezaiku 伊予竹細工
Traditional Ehime-style bamboo crafts, or iyo-takezaiku, are used in the lighting in the large lounge. A feature of iyo-takezaiku is the sporadically interwoven bamboo pieces. The lights coming through from the bamboo pieces are soft and warm.
Iyo mizu-hiki 伊予水引き
"Mizu-hiki" is the tied ribbon attached to a Japanese ceremonial envelope. Shikoku-chuo city in eastern Ehime is a well-known producer of mizu-hiki, and in recent years the design has been incorporated into everyday items like hair accessories, and handbags. At Asuka no Yu, you can find a mizu-hiki portrayal of a white egret.
Attractions await!
Come try out the one-of-a-kind experience at Asuka no Yu. You can walk around in a Yukata and special Onsen footwear and get a good grasp on the complete onsen culture. If you make a visit to Matsuyama, relaxing in a nice, calm onsen facility is recommended.
Access
Nearest station: Dogo Onsen Station
From Matsuyama Station ¥160
【Matsuyama Sta.】Iyotetsu No.5 / for Dogo Onsen
→【Dogo Onsen Sta.】→ about a 3-minute walk
From Matsuyama City Station ¥160
【Matsuyama City Sta.】Iyotestu No.3 / for Dogo Onsen
→【Dogo Onsen Sta.】→ about a 3-minute walk
From Matsuyama Airport
【Matsuyama Airport Bus Sta.】Iyotetsu Limousine Bus / for Dogo Onsen
→【Dofo Onsen Sta.】about a 3-minute walk
Information
Address
19-22 Dogo-yunomachi, Matsuyama-shi, Ehime
Hours
7:00a.m. to 10:00p.m. or 11:00p.m. (depending on facility)
Fee
Baths on 1F:
・Adults: ¥600
・ Children (2 to 11 years old): ¥300
Baths on 1F and Hall on 2F: 
・Adults: ¥1250 
・Children (2 to 11 years old): ¥620
Baths on 1F and Private Break Room:
・Adults: ¥1650 
・Children (2 to 11 years old): ¥820
Baths on 1F and Special Baths on 2F:
・Adults: ¥1650 
・Children (2 to 11 years old): ¥820 each