Japan opened a new chapter in its history in May 2019, when the current Emperor officially ascended to the Chrysanthemum throne following his father's abdication. The new imperial era is called "Reiwa", which loosely translates to "beautiful harmony," and was taken from Japan's oldest anthology of poems. Previously, era names were all drawn from Chinese classics. Reiwa is derived from a poem read in Japan's ancient city of Dazaifu, in the nation's southwest. 
Dazaifu was the political center of Kyushu island, and played a key role in diplomacy and national defense. Let's explore Dazaifu's historical allure with special focus on how it became the source of Japan's new reign name. 
main photo/creator: Yamamura Nobuaki,  owned by: Koto Dazaifu Hozon Kyokai (Dazaifu conservation society)
Dazaifu: the ancient city linked to Japan's new era  
Dazaifu city stands in Kyushu island, in Japan's southwest. The city is named after Kyushu's largest  government office during the late 7th century to the early 12th century. Back then, Dazaifu also served a pivotal role in Japanese diplomacy and national defense. The historical city recently returned to the spotlight, for its association with Japan's new imperial era name. 
※ Just a quick note for readers familiar with Japanese text. Although identical in sound, there are two ways to spell Dazaifu in Kanji characters The ancient Dazaifu is spelled 大宰府, while today's Dazaifu spelled 太宰府. 
The plum blossom viewing party that gave Japan its new era name 
The era name "Reiwa" can be traced back to around 727, when O-tomo-no Tabito was appointed as  Dazaifu governor. O-tomo-no Tabito, a powerful politician, was also a talented poet.  
During the New Year in 730, he is said to have invited Kyushu officials to a banquet held at his house. 

Diorama depicting the plum banquet (creator: Yamamura Nobuaki, owned by: Koto Dazaifu Hozon Kyokai) 
The main purpose of the event was to read poems about plum blossoms, which were originally from China. This is where Reiwa comes in. The first stanza of one of the poems included the kanji characters "rei" (令) and "wa" (和) to describe fragrant plum blossoms blooming in early  spring. That poem was an opener to the event and suggests the event was held on a fine spring day ideal for plum flower viewing.
The birthplace of ancient Japanese poetry
Now, let's take a look at some of Dazaifu's popular attractions. The Dazaifu Exhibition Hall has a diorama depicting the legendary banquet held under the plum trees.  Sakamoto Hachiman-gu shrine is said to be the same site as O-tomo-no Tabito's villa -- where the 32 poems were read under the blooming flowers. This shrine holds a special place in the world of Japanese poetry, as some of the verses from Manyoshu -- Japan's oldest poetry anthology -- were inked here. 
Monument engraved with the famed "Reiwa" poem
Besides the works of O-tomo-no Tabito, the streets are lined with monuments displaying verses by famous Japanese poets such as Yamano-ue-no-Okura. They are tangible reminders of how poetry flourished in ancient Japan.
Remains of the Dazaifu government office 
The Dazaifu government office played a key role in Japanese diplomacy and national defense. Not much is left of its glorious past, except a vast field scattered with what used to be the foundations of government buildings.
Ruins of Dazaifu government offices
Dazaifu eventually lost its influence and during the late 19th to early 20th century the foundations were removed and the land was left to waste.  This saddened local residents, who were proud of Fukuoka's historical role as an academic center. They erected three monuments celebrating Dazaifu's heritage, and launched conservation efforts. 
In the decades following the war, many attempts were made by developers to create a residential area on the former Dazaifu ground. The local residents opposed fiercely, and finally in 1968, research work began in the ruins with help from local residents. Full-fledged efforts to protect Dazaifu's remains were finally in place, as Dazaifu city and Fukuoka Prefecture joined hands with local residents. 
The Dazaifu government ruins survived its tumultuous past and is now a special historic site. Dazaifu -- known as the "plum capital" -- is a fascinating place to visit and ponder the city's past, present and future. 
Sakamoto Hachiman-gu Shrine
As mentioned earlier, the plum blossom banquet hosted by poet O-tomo-no Tabito produced 32 poems inspired by plum trees. Sakamoto Hachiman-gu is considered to be the most likely venue of that event. The shrine is dedicated to Emperor O-jin, who is locally worshipped as the protector of the land.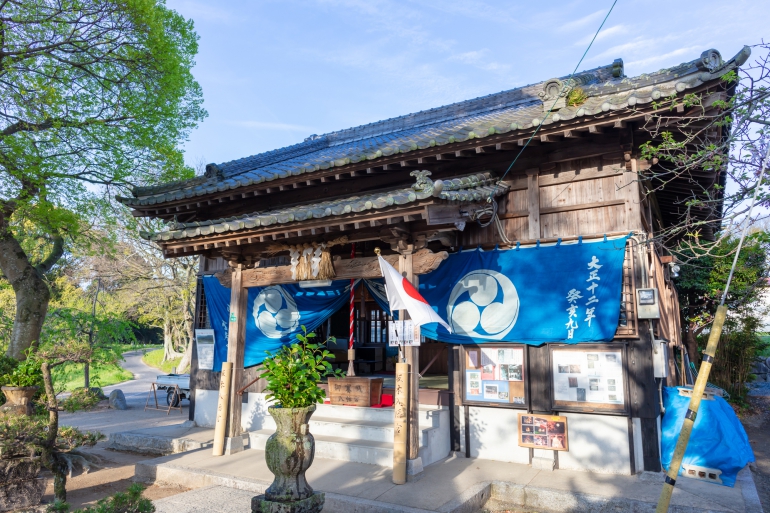 Sakamoto Hachiman-gu shrine
The shrine office issues goshu-in shrine stamps, which are a record of one's pilgrimage. These are usually pre-made presses, but you're lucky enough to be there at the same time as the head priest, he'll directly sign your stamp paper.
Sakamoto Hachiman-gu shrine seal (fee 500 yen)
The stylish stamps feature the opening verse from the plum blossom party. 
 
Dazaifu Exhibition Hall 
About a five minute stroll from Sakamoto Hachiman-gu shrine, leads to the Dazaifu Exhibition Hall, which showcases the history of Dazaifu. It stands next to the Dazaifu government ruins. 
 
Dazaifu Exhibition Hall entrance
The displays include replicas of ancient Dazaifu, and many items highlighting its past glory. Local volunteer guides are around to help visitors explore subjects such as food, clothing and architecture. 
The plum viewing banquet 
Make sure to visit the 3D exhibit reenacting the plum viewing banquet with miniature Hakata dolls. The almost real-life scene depicts poets and officials reading poems at O-tomo-no Tabito's villa garden. The costumes and food are based on the few existing documents related to the event. 
Diorama of plum viewing party(creator: Yamamura Nobuaki, owned by:Koto Dazaifu Hozon Kyokai)
The exact location of O-tomo-no Tabito's villa is remains unknown, as well as whether the banquet took place outdoors. The details of the event are often disputed by historians. However, they seem to agree on one point -- the banquet was a one-off event. There no records of it recurring.
Dazaifu Tenmangu-shrine 
There is still a lot more to cover in Dazaifu. Let us step away from Japan's new era Reiwa for now to visit one of Dazaifu's most popular attractions. 
A quintessential stop in Dazaifu
While Dazaifu is known for its many historical buildings, the city is also known as the plum capital. Many plum trees are planted around the Dazaifu Tenmangu shrine compound. The red and white blossoms can be enjoyed from late winter onwards. Dazaifu's plum flowers bloom earlier than other parts of Japan, around early February. 
Dazaifu's plum blossoms are best viewed in early February (photo courtesy: Dazaifu Tenmangu shrine)
The shrine celebrates the deity of learning -- Sugawara Michi-zane -- who is also belovedly known as Tenjin-sama. The shrine is said to grant better grades, and thus attracts crowds of students facing their entrance exams.
The temple street is lined with old houses selling gifts,food, and other goods. The thoroughfare has a truly Japanese feel that is popular with tourists from home and abroad. There is plenty to see at Tenmangu shrine, and the following is our list of the best spots.  
Main shrine 
The beautiful vermillion main shrine
The main shrine is built above the grave of Sugawara Michi-zane, where priests and shrine maidens offer prayers every morning at 8:30. Visitors are welcome to join. The more than 400-year old majestic shrine receives a constant flow of tourists every day.  
Flying plum 
The sacred plum is in full bloom early to mid February
The sacred Tobiume (flying plum) tree in front of the main shrine is an early bloomer. Dazaifu's has many plum trees that usually start flowering from around early to mid February. But the Tobiume plum blossoms always come out first. 
Sugawara Michi-zane is well known for his love of a plum tree in his Kyoto garden, to which he devoted a farewell poem when he was forced to live in Dazaifu.  Michi-zane urged his favorite tree to let the wind carry its fragrance to him and to remember him every spring. After his departure, legend has it that the plum tree uprooted itself and flew to Dazaifu to be with Michi-zane.
Shin-ji ike pond, Taiko-bashi (drum bridge) 
Flat bridge lies between two arch bridges
Three bridges span the heart-shaped Shinji-ike pond.  They represent the past, present and future, and crossing them is said to purify one's mind and body. The water flowing from the fountain has a calming effect that is both pleasant to the ear and eye. 
Sacred cow 
Holy cow
You may notice several cow statues placed around the shrine premises. Cows are considered sacred animals as Michi-zane was born in the year of the Ox, according to the Chinese zodiac. The creatures are also believed to have played a role in the shrine's founding. Crowds of people can be seen patting the head of the sacred cow statue, as doing so is said to make one wiser. 
Kirin statue 
Kirin statue
In many cultures, the Kirin is a sacred animal that symbolizes a virtuous ruler. Dazaifu Tenmangu shrine has a majestic Kirin that greets worshippers. Legend has it that the Kirin statue was offered to the shrine to honor Michi-zane's wisdom and sincerity, despite his fall from grace. 
Dazaifu Tenman-gu shrine stamp
Goshuin shrine seal of Dazaifu Tenmangu(fee 500 yen)
For those collecting "goshuin" shrine stamps, head to the left of the main hall. The stamp of Dazaifu Tenmangu shrine has a pretty plum blossom pattern in the center. The stamp is handed out along with a detailed map of the shrine's attractions.
Plum inspired merchandise
Dazaifu is full of tales linked to plums. Why not bring a little reminder back home? Here is our pick of the best plum-inspired souvenirs, including items exclusive to Dazaifu.
Umegae-mochi rice cakes
About 120 yen per piece. Buy more to bring home!
Umegae-mochi is a grilled rice cake filled with sweet red-bean jam. These traditional snacks are sold at most shops along the temple street. Again, enter Michi-zane. Legend has it that locals felt sorry for him as he was confined to Dazaifu, and they tried to console him with these rice cakes. Upon his death, he was sent off with rice cakes and plum branches, thus the name Umegae-mochi, or plum tree branch and rice cakes. Despite their name, these cakes are not plum-flavored, but they are said to protect one from sickness.
Be sure to try these tasty rice cakes stamped with a plum blossom design. They are best enjoyed freshly baked, but they can be taken at home. Warming them in the microwave or oven will give them a different texture, that is nevertheless delicious.
Plum hijiki seaweed
Plum hijiki seaweed 100g 550 yen(tax excluded
Another strong favorite among visitors is the plum flavored furikake rice seasoning sold at Jyuni-do Dazaifu Etoya. The furikake contains plum pieces and hijiki seaweed flavored with shiso herbs. The tart and sour flavor is best enjoyed over plain white rice. It is also available in smaller packets, making it an ideal gift to bring home.
Dazaifu Tenmangu's sacred sake
Dazaifu Tenmangu's sacred sake (plum wine) small 500 yen / large 800 yen
Dazaifu's star plums are even featured in the shrine's sacred wine. Dazaifu Tenmangu's plum sake is one of its best kept secrets. This is the only shrine in Japan that makes its sacred sake using plums. The plum wine is refreshing with no poor aftertaste, and is sure to please all taste buds, not to mention plum wine lovers.